Disabled pensioner Alan Barnes offers £10 to help woman who raised £330,000 for him after he was mugged
'It was given to me on the understanding that I use it for myself,' says Mr Barnes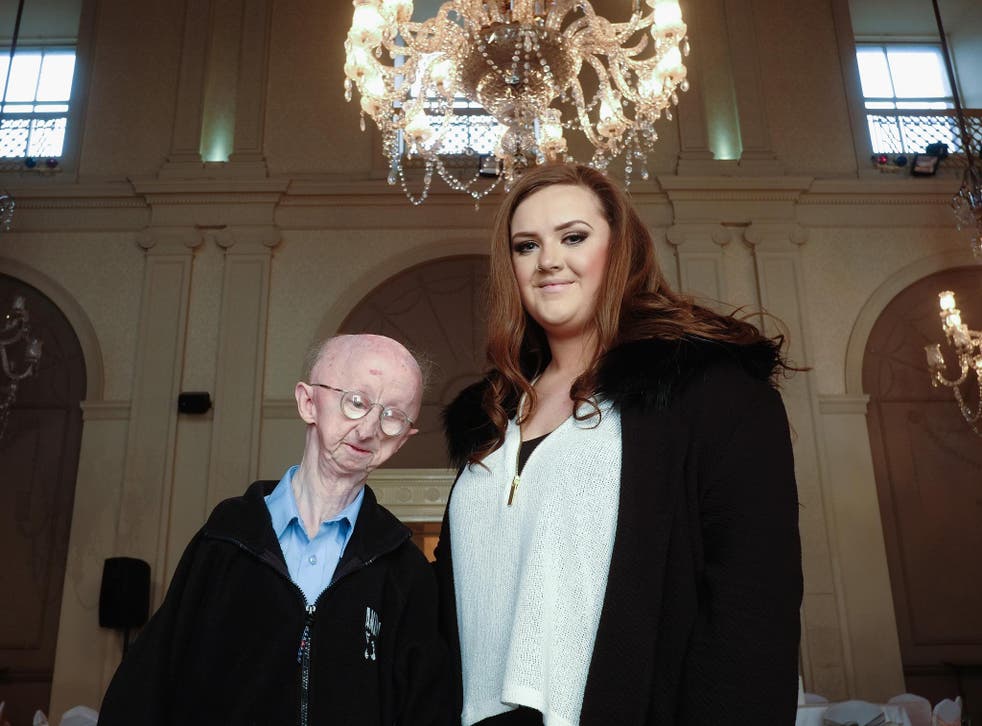 Alan Barnes, the disabled pensioner who received more than £330,000 in donations after he was mugged, has said he will give £10 to help the woman who raised the money pay a PR bill of thousands.
Mr Barnes, 68, had his collarbone broken by a man trying to rob him in January 2015 as he was taking the bins out at his home in Gateshead.
Beautician Katie Cutler, also from Gateshead, set up an internet appeal which raised hundreds of thousands for Mr Barnes in just four days following his attack.
Ms Cutler, 21, was awarded a British Empire Medal for her fundraising – but is now being taken to the small claims court by a PR company over an allegedly unpaid bill of £6,687.
"I would suggest that someone sets up a small fund to raise money to pay for Katie's PR," Mr Barnes told local newspaper the Chronicle.
"It's not a big amount and I think a lot of people would actually like to do that for Katie. I'm quite happy to put just a small donation in because I don't want to show off."
The pensioner, who is 4ft 6in and registered blind, told the newspaper a small amount to him would be "£10 or something" because if he started handing out his money, other people might ask for it.
"It was given to me on the understanding that I use it for myself," he told the newspaper. "A lot of people just want it to stay with me."
Alan Barnes meets fundraiser - London Live
Claire Barnes, who runs her own two-person PR firm Claire Barnes PR, told The Independent she started working with Ms Cutler to manage media enquiries in the months after her fundraising campaign.
"The cheque had already been given to Alan. I met her after that point, when I suppose she'd been catapulted into fame and she was floundering and didn't know how to handle it," said Ms Barnes.
"I'm not in a position to do free PR," she said, adding that they had offered Ms Cutler a payment plan when she did not respond to requests to pay the firm's £550-a-day bill.
In a Facebook post, Ms Cutler wrote that she had not exchanged an official contract with Claire Barnes PR, and that the only agreement they had had was an email.
"I believe the bill is unrealistic, and I've been wrongly charged, charged for services that were given to us as an organisation for free, charged for PR in connection to Alan Barnes which did not concern myself," she wrote.
"My close friends and family know of how the past year and a half has been horrendous not just for me but for my family.
"I did various good deeds for people in need not because I wanted recognition, or anything for that matter in return but it made me feel incredibly good about myself."
Ms Barnes said she had worked with Ms Cutler for four months to raise her profile, securing her TV appearances on channels including Sky, ITN, the BBC and Channel 4.
"We carried out an enormous amount of work and far more than we charged for. Not once did Katie ever ask [us] to stop working for her," she said.
Heartwarming news stories from around the world

Show all 30
Attacker Richard Gatiss, who knocked Mr Barnes to the ground and searched him for cash, was later sentenced to four years in jail.
The pensioner said he was so affected by the ordeal that he was too scared to return to his bungalow and moved to a new house in Gateshead – but later said he was planning a move to the Shetland Islands as he had received a "calling from God".
However, in the end he decided to stay in his new home in Gateshead. He told the Chronicle he plans to live off the money Ms Cutler raised for him and will donate anything left over to charity when he dies.
Register for free to continue reading
Registration is a free and easy way to support our truly independent journalism
By registering, you will also enjoy limited access to Premium articles, exclusive newsletters, commenting, and virtual events with our leading journalists
Already have an account? sign in
Register for free to continue reading
Registration is a free and easy way to support our truly independent journalism
By registering, you will also enjoy limited access to Premium articles, exclusive newsletters, commenting, and virtual events with our leading journalists
Already have an account? sign in