Alan Henning's daughter found out Isis had beheaded father when she saw photo of body on Instagram
Lucy Henning told Jeremy Kyle about her experience before her father's executioner was hit by a US drone strike
Lizzie Dearden
Friday 13 November 2015 13:24 Comments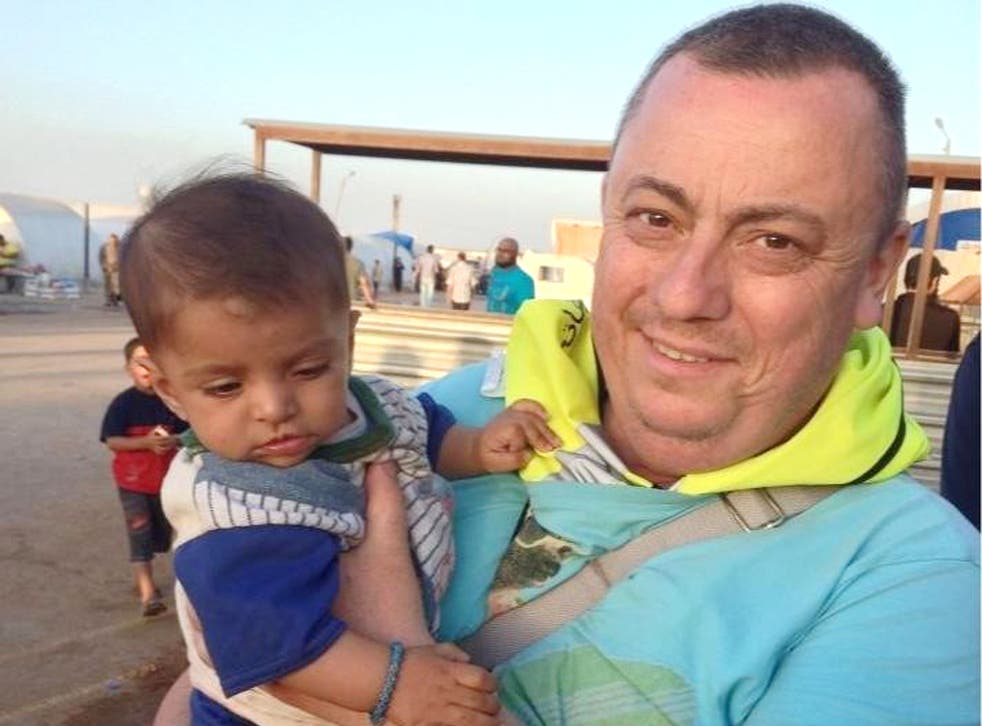 The daughter of murdered British hostage Alan Henning has told how she found out her father had died when she saw a photo of his beheaded body on Instagram.
Lucy Henning, 18, said her family did not realise how dangerous Syria was when he travelled to the war-torn country in 2013 with other volunteers from Rochdale.
The interview on the Jeremy Kyle Show was recorded before Mohammed Emwazi, the British militant in the video showing Mr Henning's death, was targeted by a US air strike.
His death has not been confirmed but officials said they were "99 per cent certain" the man known as Jihadi John had been killed.
Mr Henning's brother, Reg Henning, said he hoped Emwazi was dead but added: "I would have preferred him to face justice. "
His nephew, Stuart Henning, said he had "mixed feelings" about the strike."Wanted the coward behind the mask to suffer the way Alan and his friends did but also glad it's been destroyed," he wrote on Twitter.
Mr Henning was the fourth Western hostage murdered in gory propaganda videos starring Emwazi but his family was not notified until Isis had released the footage.
Video: Alan Henning's daughter on her father's death
Militants said he would be their next victim weeks before but hope remained that negotiations would succeed in freeing him.
Miss Henning said she thought the situation was "looking good" after days with no news and believed her father would come home safely.
"I was just lying in bed on Instagram and I saw the final picture, after the execution," she told Jeremy Kyle.
"I remember just pouncing up and down my room as we hadn't yet been told. It hadn't been confirmed.
"You just kind of go through in your head…I used to torture myself thinking, 'you don't know what he's going through,' so how can you sit there crying?
"So I used to just shout at myself, 'you can't cry, you can't be upset, think about what he's going through, think about what everybody else is going through'."
Mr Henning had been kidnapped after crossing the border from Turkey in December 2013, while driving a convoy of supplies for Rochdale Aid 4 Syria.
His daughter said that the humanitarian work, inspired by his friends, "changed him completely", turning the taxi driver from a sometimes "grumpy" dad into an outgoing, kind and caring man.
Mr Henning had been on two previous trips to the region to help Syrian refugees fleeing the country's civil war, visiting hospitals and camps.
"I thought it was safe," Miss Henning said. "The first time he came home everything was fine. He said of the dangers but really wanted to go again and he seemed happier.
"He had a purpose. It was something he had to do…it became his life, helping people."
The family had no idea that his third visit would be the final time they saw him and did not find out he was abducted until days after his disappearance on 27 December.
Miss Henning described family and friends frantically texting and calling his mobile phone, adding: "We were worried but thought he might have just had to have turned his phone off or didn't have signal… you don't think of kidnap."
But then they got a call on New Year's Eve from the Foreign Office confirming his abduction and telling the family they could not tell anyone.
"'At first, because he wasn't due back for a while, I didn't really believe it," Miss Henning said. "I thought they must have got it wrong. We were just waiting on him coming back. But he didn't.'
Worldwide appeals made for his release, including by leading Muslim clerics, were ignored on 3 October, when Isis released a video showing Mr Henning being beheaded in the desert. His murder was even condemned by Al Qaeda.
Timeline: The emergence of Isis

Show all 40
Mr Henning's daughter said she still feels numb over her father's brutal death and tries "not to think about" Isis.
Closure has been difficult for her family without a body, forcing them to bury some of his most treasured possessions instead.
A fundraising campaign set up after his death led to the creation of the Alan Henning Academy in Turkey, near the Syrian border, which is schooling 400 chid refugees.
David Cameron praised the aid worker in a speech today, calling him and fellow hostage David Haines "the best of British".
"Their courage and selflessness stand in stark contrast to the empty callousness of their murderers," he said.
"Their families and their friends should be proud of them, as we are.
"They were the best of British and they will be remembered long after the murderers of Isis are forgotten."
Register for free to continue reading
Registration is a free and easy way to support our truly independent journalism
By registering, you will also enjoy limited access to Premium articles, exclusive newsletters, commenting, and virtual events with our leading journalists
Already have an account? sign in
Join our new commenting forum
Join thought-provoking conversations, follow other Independent readers and see their replies