Albanian ambassador strenuously denies country will hold Britain's asylum seekers
Qirjako Qirko slams reports that country may hold UK migrants while they are processed as 'totally unacceptable', saying it 'would never happen, because it's against international law'
May Bulman
Social Affairs Correspondent
Thursday 18 November 2021 12:35 Comments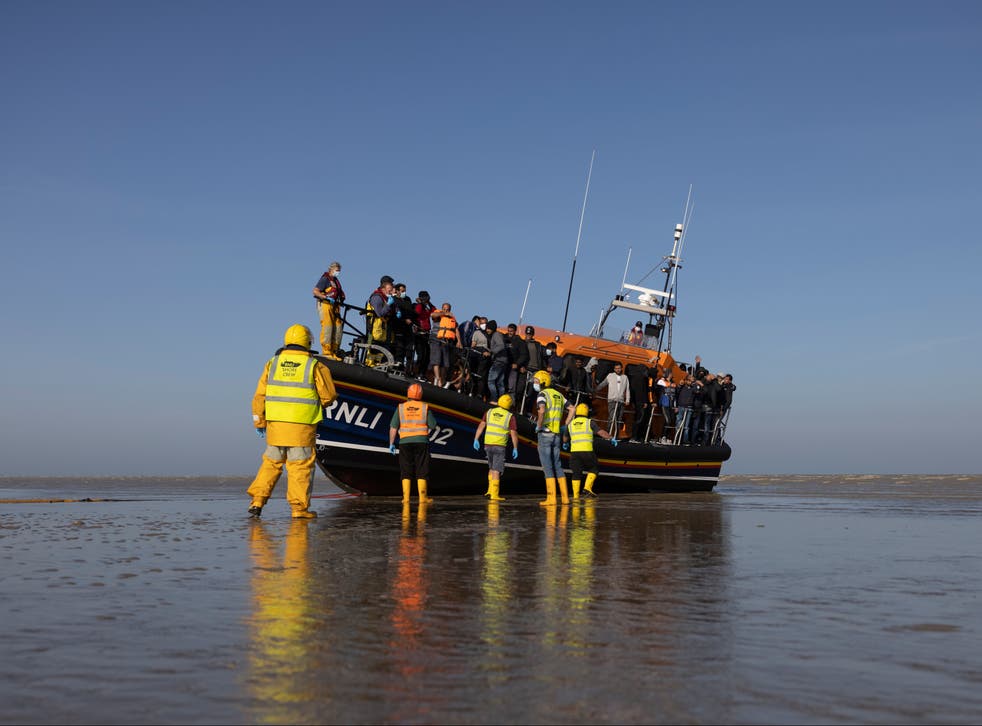 The Albanian ambassador to the UK has denied reports today that the Home Office is planning to fly asylum seekers who have crossed the Channel to Albania to be processed.
Qirjako Qirko told The Independent that such plans were "not happening" and "would never happen", because it would be "against international law" and "totally contrary to the position of [his] country".
Justice secretary Dominic Raab declined to deny on Thursday morning that ministers are hoping to reach a deal to send migrants to Albania for their asylum claims to be processed 1,500 miles away.
"We are looking at international partnerships that will take the processing out of the UK," he told Times Radio following a report in The Times that discussions were under way to remove migrants within seven days of their arrival in Britain.
However, Mr Qirko said the reports were "100 per cent fake", adding: "I have a legal background and I know very well the convention for asylum seekers and what the regulations are. We would never do something like this with immigrants because it's against the international law."
According to The Times article, UK ministers are hopeful at securing an agreement with Albania, with one reported to have said that the chances of a deal "are looking good".
It reports that a figure of £100,000 per migrant has been calculated by officials once flights to the country and accommodation are included - which is more than twice what it costs in England and Wales to keep an inmate locked up for a year.
The article states that it had approached Albanian officials in London this week and that they did not deny unofficial talks with their ministers over the plan.
"This is not true," Mr Qirko said. "It is totally, totally unacceptable, not realistic, totally fake."
He added: "In Albania we have 3,000 Iranians who we've been supporting for 10 years. There are 4,000 people from Afghanistan here – former politicians, former professors - who were are giving refuge, not in a processing centre, but because they were our allies in Afghanistan."
Albania's minister for Europe and foreign affairs Olta Xhacka echoed Mr Qirko's sentiments, tweeting on Thursday that the article was the "same old fake news".
In a letter to The Times on Thursday, Mr Qirko said: "I can firmly confirm that there are no bilateral talks between the Albanian and British government's officials regarding processing centres for illegal immigrants crossing the English Channel."
Meanwhile, Abul Rizvi, who was a senior official in Australia's Department of Immigration from the early 1990s to 2007, during which they introduced asylum offshoring on nearby island Nairu, said that even if Albania were to agree to the proposals, they would be "extremely difficult" to implement.
He told The Independent that the situation in the UK was "more difficult" than that which the Australian government faced, primarily because of the fact that in Britain's case asylum seekers would have already arrived in the country, whereas in Australia they were taken offshore before arriving.
"Once you have people on your shore, that's a very different kettle of fish. I imagine there are legal issues associated with removing anyone from the UK," he said.
"Certainly if they were in Australia and we tried to remove someone who had applied for asylum, we couldn't. The law would prohibit that."
He added that the UK government would also face more opposition from the public and the media given that the situation would be more visible. "The UK does not have the advantage that all of these people were completely out of sight," he said.
The rumours of plans to hold asylum seekers in Albania is the latest in a series of proposals floated by the UK government aimed at reducing the number of people crossing the Channel in small boats which have later emerged to be unworkable.
As part of the Home Office's new immigration plans, which are currently going through the House of Commons in the form of the Nationality and Borders Bill, home secretary Priti Patel is seeking to pave the way for offshore processing of asylum seekers.
Shadow home secretary Nick Thomas-Symonds said: "Instead of chasing headlines about unconscionable offshore processing, the government should address its own failures.
"The government's incompetence is dangerous, with ever-increasing numbers of people risking their lives in the English Channel."
Register for free to continue reading
Registration is a free and easy way to support our truly independent journalism
By registering, you will also enjoy limited access to Premium articles, exclusive newsletters, commenting, and virtual events with our leading journalists
Already have an account? sign in
Join our new commenting forum
Join thought-provoking conversations, follow other Independent readers and see their replies