Alex Salmond introduces 'next and last' British Prime Minister, David Davis, during his Edinburgh Fringe show
'Remember all the guests are my pals so watch how you treat them,' former SNP leader tells audience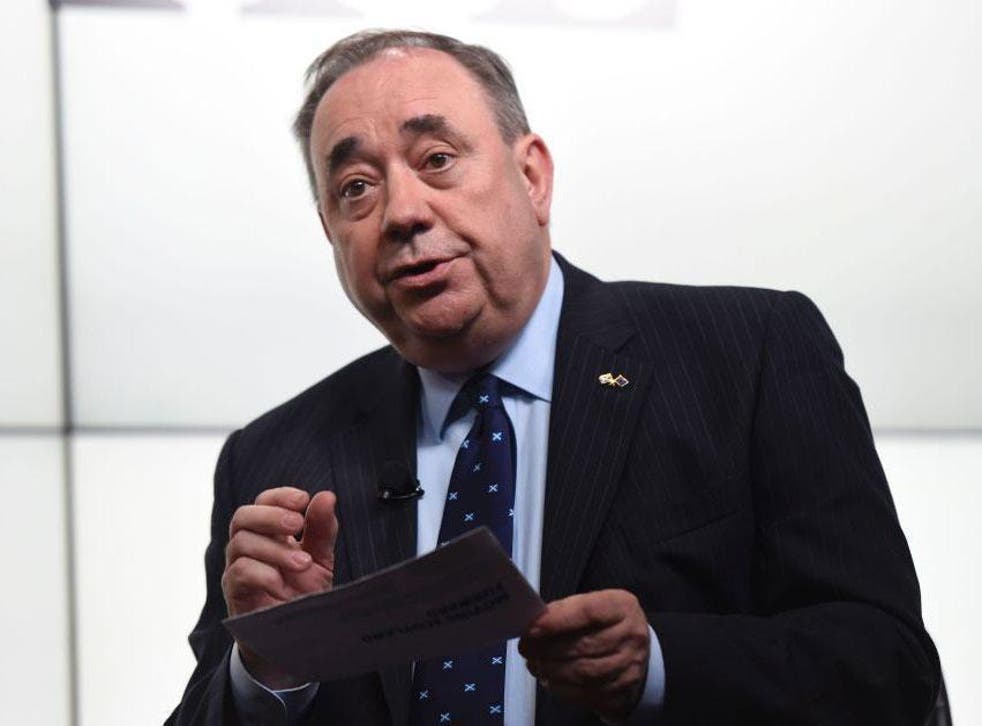 Alex Salmond put political differences aside as he welcomed his "good pal" and Brexit Secretary David Davis as his special guest on the opening day of his Edinburgh Fringe chat show.
The former first minister is staging a sold-out two week run of Alex Salmond Unleashed and promised a mix of music, politics and comedy.
He received a warm welcome from the crowd of 350 as he walked on stage and started by removing his tie to laughs from the audience as he explained the meaning behind the unleashed title.
Mr Salmond said the subject of his first show was Scotland In Europe and after talking about William Wallace and the country's European history, he introduced Mr Davis, to the surprise of the audience.
As he walked on stage Mr Salmond said: "Remember all the guests are my pals so watch how you treat them.
"Can I introduce you to the next prime minister of the United Kingdom, perhaps the last prime minister of the United Kingdom, Mr David Davis."
In a light-hearted discussion Mr Davis was pushed on cabinet divisions and the timescale for Brexit and said Mr Salmond was "trying to make me lose my job".
Mr Salmond told how they had worked together to try and impeach Tony Blair over Iraq but Mr Davis had to remove his name from the motion when he was appointed to Cabinet.
How Brexit affected Britain's favourite foods from Weetabix to Marmite

Show all 8
Questioned about his leadership ambitions should Theresa May step down, Mr Davis laughed and said: "I am really a very, very bad leadership candidate."
Mr Salmond said his friend was "the acceptable face of the Brexiteers and certainly the one who knows what he's talking about".
Elsewhere in the hour long show, Mr Salmond introduced comedian Janey Godley and house band Mikey And The Carloways.
Questioned by the audience, Mr Salmond said Nelson Mandela was the most impressive politician he had seen and that the only time he was nervous was the first time he met Sir Sean Connery.
He ended the show by raising £1,000 for charity from a member of the audience who paid to have lunch with Mr Salmond and Mr Davis in Edinburgh.
The cash will be donated to Macmillan Nurses, the charity chosen by Mr Davis.
The winning bid by Denise Wilson was also boosted by a further £300, donated by one of her guests, David Hill.
Ms Wilson said: "Macmillan Nurses is a charity very close to my heart as they looked after my late mother so well in her final days.
"My father, Alan, and I thoroughly enjoyed our afternoon tea with Mr Davis and Mr Salmond and I know it is something my mother would have loved to have done too."
Mr Salmond said: "I am absolutely delighted with our debut show. Not only was it a sell-out crowd, but we managed to raise £1,300 for a great cause.
"I would like to personally thank Denise for her generous donation and I would also like to thank everyone who came along today, especially Mr David Davis, to help kick off our festival of fun."
Press Association
Join our new commenting forum
Join thought-provoking conversations, follow other Independent readers and see their replies