All geared up for the ride of his life
James Bowthorpe begins an epic 18,000-mile trip in a bid to break a cycling world record tomorrow. He also hopes to raise £1.8m for a cause close to his heart.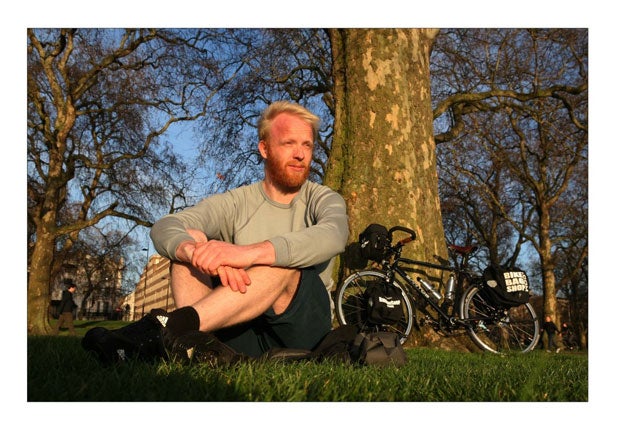 Few people who watched the BBC documentary The Man Who Cycled the World last summer would dream of emulating its star. On his way to smashing the world record for circumnavigating the globe on a bike, Mark Beaumont crashed into a donkey in Pakistan, was mugged in Louisiana, and endured nights locked in Iranian prison cells, for his "own protection".
At lunchtime tomorrow, however, another British cyclist will roll out of Hyde Park in London in an attempt not only to repeat Beaumont's feat, but to wrest from his calloused hands a record that some have called unbreakable.
James Bowthorpe, an apparently rational 31-year-old furniture maker from Balham, south London, will have to cycle 120 miles a day to complete his epic, 18,000-mile adventure in five-and-a-half months. If he hits his target, he'll knock three weeks off the time set by Beaumont, who also suffered saddle soreness and food poisoning en route to breaking the previous record by three months.
Bowthorpe's challenge, which The Independent is sponsoring, will take him through more than 20 countries and across deserts, mountain ranges and jungle, before, wayward donkeys permitting, he arrives back in the British capital in September.
On a chilly but sunny evening in Hyde Park, a few days before Bowthorpe leaves its leafy embrace, the bearded cyclist is quietly confident. "There's no doubt that this will be by far the hardest thing I've ever done," he says. "But I have to believe I can do it."
His understated steel will be his ally during long sections of solitary toil. Not only does Bowthorpe plan to pedal himself and 40kg of bike and kit around the world, he wants to raise £100 for every mile he rides, donating £1.8m to research into Parkinson's disease.
"My granddad had Parkinson's when I was growing up and I only knew him as a slow old man with sticks," Bowthorpe says. "About two years ago I decided I wanted to get into medical school and had to volunteer to get clinical experience. I wanted to explain to my younger self what was up with my granddad, so looked for work around Parkinson's."
Bowthorpe joined What's Driving Parkinson's, a research team based at King's College Hospital in south London. After two years of voluntary work with the group, whose groundbreaking research into the degenerative brain disease always requires new sources of funding, he was convinced he had to go that extra mile (or 18,000). "I've seen people who have been told elsewhere that their symptoms will get steadily worse come in to the clinic and improve to the point you wouldn't know they even had Parkinson's," he says. "It's something I believe in very strongly, and to raise enough money I knew I would have to do something really tough."
To sustain interest in his epic bike ride – surely the toughest there is – Bowthorpe will be armed with an arsenal of gadgets to track his progress and blog about the people and sights he encounters. His customised Santos touring bike, which has a sturdy drive belt in place of a chain, and whose gears are encased in a hub (no fragile derailleur to keep clean), also includes a GPS beacon. It will automatically update his progress on a map on his website, Globecycle.org. When he gets the chance to upload photos, GPS tags mean they will drop on to the map at the place they were taken. A solar panel on his pannier rack and dynamo in his front hub will power the gizmos.
His baggy shorts and beard ("I decided to go against tradition and start with one") don't give him the look of an athlete, but Bowthorpe has trained hard. On top of recent 120-mile-a-day rides in India, Sweden and North America, the Londoner has been visiting the gym six days out of seven and cycling more than 400 miles a week. Meeting supporters, poring over maps and securing visas have made the last few months busy. "I even rigged up a desk in my workshop so that I could answer emails while training on my exercise bike," he says.
Bowthorpe says it will be "a relief" to start his journey when he waves goodbye to his family and girlfriend, Nadja, tomorrow. "They think I'm crazy but know what I'm like," he says. He's also eager to see what his mind and body are capable of. And when things get tough – and they will be – he says he'll remember why he's there. "If it were for myself and simply to break a record, I'd probably give up halfway round," he says. "If I succeed it will be because other things are more inspiring."
To follow James's progress around the globe or to donate money, go to www.globecycle.org.
Join our commenting forum
Join thought-provoking conversations, follow other Independent readers and see their replies