All in it together? Big Six energy chiefs feel heat from MPs
Representatives from Big Six accused of behaving like a 'chorus line acting in concert' as they attempt to justify recent price hikes
Nigel Morris
Tuesday 29 October 2013 17:35 Comments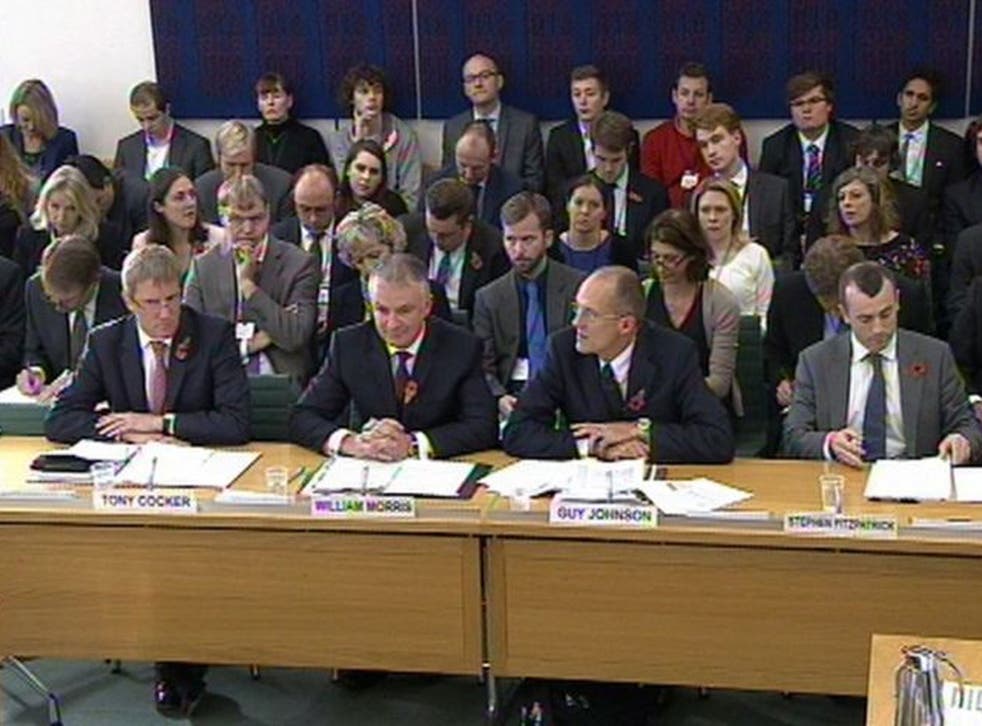 The Big Six energy firms were accused of behaving like a "chorus line acting in concert" as they closed ranks in the Commons to justify rises in gas and electricity prices of around ten per cent.
They blamed the sharp increases on green taxes, transport costs and surging wholesale prices, defended their profits and insisted they sympathised with families struggling to pay bills.
But the consensus was broken when a small company trying to break into the market claimed the Big Six sought to charge customers the "maximum they feel they can get away with".
Executives from the six firms, which have been accused of acting like a cartel over prices, insisted they behaved responsibly, were committed to transparency over charges and blamed their unpopularity on their failure to get their message across properly.
They denied cross-subsidising their businesses and argued that they were investing billions of pounds in British industry.
But the Labour leader Ed Miliband, who has called for an price freeze while the energy market is reformed, condemned the "list of excuses" from the companies. He said: "What we need is action, action against companies that are overcharging people and taking advantage of a broken market."
The companies presented their common front during a three-hour hearing of the Commons energy and climate change select committee in which they were repeatedly challenged over their business practices.
The Conservative MP Phillip Lee asked the executives whether they had hired public relations companies ahead of their appearance. He told them: "There is a suspicion that you are a chorus line acting in concert."
John Robertson, a Labour MP, voiced the same frustration, saying: "You have pretty agreed on everything."
Tony Cocker of E.ON, the only chief executive to attend, called for a Competition Commission investigation to demonstrate they were not acting as a cartel.
William Morris, the managing director of SSE, which has announced an 8.2 per cent rise, said he regretted having to increase bills for customers, who were "struggling to maintain their budgets".
He explained that environmental schemes had added 13 per cent to charges and called for the costs to be switched from bills to general taxation.
Guy Johnson, external affairs director of Npower, which has announced average rises of 10.4 per cent, said the largest driver of increases had been the cost of the so-called climate obligation on power firms.
But Stephen Fitzpatrick, the managing director of small-scale competitor Ovo, claimed loyal bill-payers are charged are a far higher rate, in some cases £200 more, and loaded with environmental costs than consumers who switch.
He said:"It looks to me like a lot of energy companies, a significant number of the Big Six, are charging the maximum price they feel they can get away with to the customers that they feel will not switch under any circumstances and then maintaining the illusion of competitive pricing with tariffs targeted towards a very small number of relatively well-engaged customers."
He accused British Gas of being the "most active" in terms of running a dedicated "win-back team" whose sole job was to call up customers that were leaving to say "now we can cut your bill".
British Gas, which recorded a £1bn-plus profit last year, was challenged by the Labour MP Albert Owen over the 38 per cent increase in prices over the last five years.
He compared it with the 36 per cent increase to £2.35m in the salary of the chief executive of its parent company, Centrica, over the same period.
Ian Peters, managing director of energy at British Gas, said his company "agonised" over the latest price rises because it was "acutely aware" of the pressures facing customers.
He said executive bonuses in the company were determined by a remuneration committee based on long-term performance.
Asked whether energy bosses were comfortable taking bonuses when bills were rising, Neil Clitheroe of Scottish Power replied: "I'm not comfortable with what's happening to my customers. If we don't deliver then we don't get our bonuses."
Register for free to continue reading
Registration is a free and easy way to support our truly independent journalism
By registering, you will also enjoy limited access to Premium articles, exclusive newsletters, commenting, and virtual events with our leading journalists
Already have an account? sign in
Join our new commenting forum
Join thought-provoking conversations, follow other Independent readers and see their replies