American man living in UK to care for disabled British wife ordered to leave country
'It feels like we're being divorced without our consent'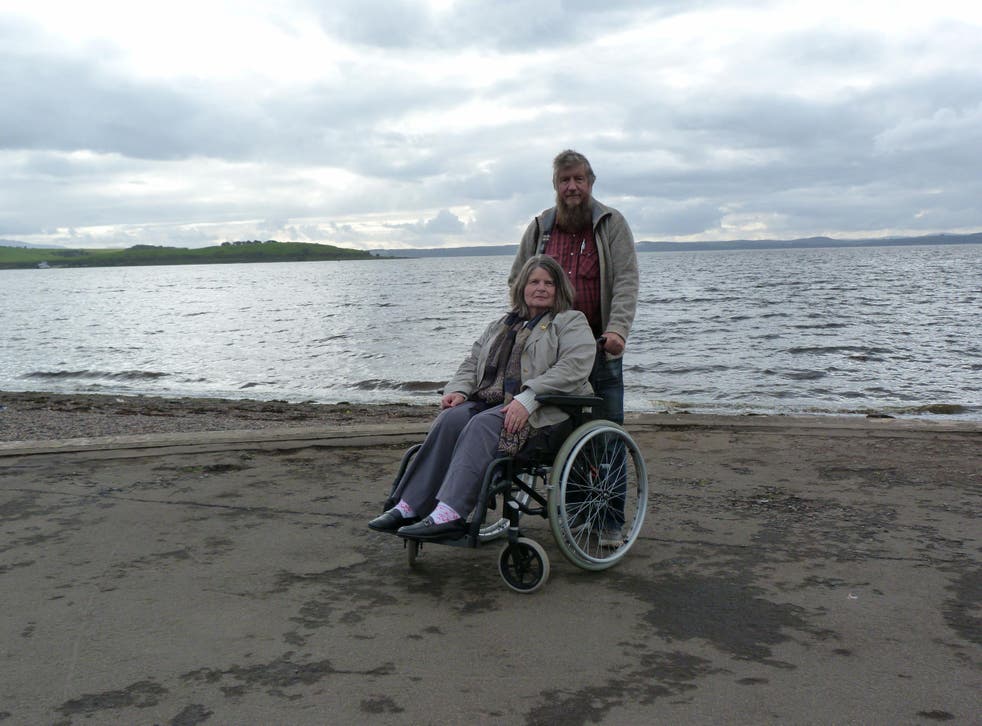 An American man has been told by a judge that he must leave the UK despite having a disabled British wife of seven years who is reliant on him to provide her care.
Dale McIntier, 62, came to the UK on a visitor's visa with his wife Sandra in April 2015 in order for her to receive medical treatment, with a plan to stay for six months and then return to their home in Idaho.
But this plan changed after five months when Ms McIntier, 65, who already suffered from a genetic bone condition, was diagnosed with a fast-growing cancer which led to her requiring round-the-clock care.
The couple, currently living in Largs, Scotland, then decided that it would be best to stay in the UK for the foreseeable future, so Mr McIntier applied for a spousal visa before his visitor status ran out in October.
However, five months later he received a letter from the Home Office giving him five days to leave of the country. It stated that the couple had failed to provide relevant paperwork from a doctor stating Ms McIntier's inability to travel, a requirement they say they had not been aware of.
After mounting an appeal against the decision, the couple were told by a court in a first-tier tribunal that Mr McIntier must return to the US in order to reapply for a spousal visa – a move that would leave his wife without a carer and having to rely on state support.
Under UK immigration law, spousal visa applications must be submitted from outside the UK, but lawyers representing Mr McIntier have said the "compelling circumstances" of the case mean the Home Office should allow the appeal to take place outside such laws, allowing him to stay in the UK to care for his elderly wife.
Speaking to The Independent, Mr McIntier said his wife's complex conditions would require more state-funded care without him in the country.
"I've had to look after her pretty closely. She has seizures in the night. She's been diagnosed with a mild form of epilepsy, which was made worse by medication she was put on in the States," he said.
"She really can't travel much. We can hardly take a day out without it wiping her out for sometimes days afterwards. She goes into depression really easily. She has no intention of going back to the States.
"Ever since we got married we've just needed each other. If I do have to leave, we'll probably both be in depression. It takes a certain amount to run a household. She would need someone to come in and take care of her. She needs me here pretty much 24 hours a day.
"She has a tendency to pass out. She has seizures at night and sometimes during the day. She can't be left unattended for a very long time. And I don't trust that the Government is going to have someone doing that if I leave."
Ms McIntier was born in the UK and lived and worked here until 2002, when she went on a trip to the US and met Dale, marrying him several years later. She said she felt as though the couple were being divorced without their consent.
"It doesn't make sense for Dale to have to go out of the country to apply to come back in. We've already been told he meets the financial criteria. Would they rather pay out money for the Government to provide workers for me?" she said.
"The prospect of him having to leave has made me really depressed. It feels like we're being divorced without our consent, like someone is unofficially divorcing us.
"We don't want to be separated. It's not going to be good for him or me either. I don't want to return to America and I could not do that journey again. It nearly killed me coming over."
There would also be heavy financial implications if Mr McIntier has to go back to the US, as with no family who can house him there he would have to pay rent. He said that with the cost of living and the airfare, as well as rent, it would take up to a year before he would be able to reapply for a visa.
"The cost of going back to reapply would end up amounting to more than I get in a month. And it takes months for the spousal visa to go through, so I'd have to have my life stabilised over there before I could have enough money to even start on the visa.
"We're talking, between paying rent, living, getting the car fixed so I can drive it, a minimum on a year before I could even start on getting a visa, which would mean leaving my wife for that long."
During the first-tier tribunal, the couple's solicitor argued that Mr McIntier was the only person who could provide his wife with all the support she requires, and that his departure to the US would cause "great hardship" for both of them.
"Mr McIntier provides her with physical, emotional and moral support. What alternatives would be open for her care needs if she returned to the US?" the solicitor said.
"Any care that she might be provided would only be physical and would not meet her emotional needs. Only her husband could provide both. His wife had cancer and she needs emotional support.
"He cannot leave his wife on her own and she would have to go back with him. If he had to return this would cause great hardship for both him and his wife. He cannot leave his wife even temporarily. She requires day and night care and no one else can provide this."
The solicitor added that there were "very compelling circumstances" under Article 8 of the European Convention on Human Rights – which protects the right to a private and family life – justifying allowing the appeal to take place outside the immigration rules.
UK news in pictures

Show all 50
But the judge said there was "insufficient supporting evidence about how this would impact on his wife if they had to live apart", claiming the public interest in maintaining effective immigration control was "justified and was proportionate" in this case.
He added that while it might be "difficult" for the couple, it would not be "sufficiently so to amount to an exceptional circumstance", saying that if Mr McIntier returns to America and she stays in the UK, they "can maintain contact with his wife using modern means of communication".
The couple's solicitor, who did not want to be named while the appeal is still ongoing, said the judge had not applied the law in the right way. The Home Office meanwhile declined to comment.
Register for free to continue reading
Registration is a free and easy way to support our truly independent journalism
By registering, you will also enjoy limited access to Premium articles, exclusive newsletters, commenting, and virtual events with our leading journalists
Already have an account? sign in
Register for free to continue reading
Registration is a free and easy way to support our truly independent journalism
By registering, you will also enjoy limited access to Premium articles, exclusive newsletters, commenting, and virtual events with our leading journalists
Already have an account? sign in
Join our new commenting forum
Join thought-provoking conversations, follow other Independent readers and see their replies