Anastasiya Novikova: Advertising company Media Gang unwittingly stage faked protest demanding justice for dead journalist
A High Court libel case has exposed the often shadowy world of international lobbying
James Cusick
Political Correspondent
Saturday 24 October 2015 21:55 Comments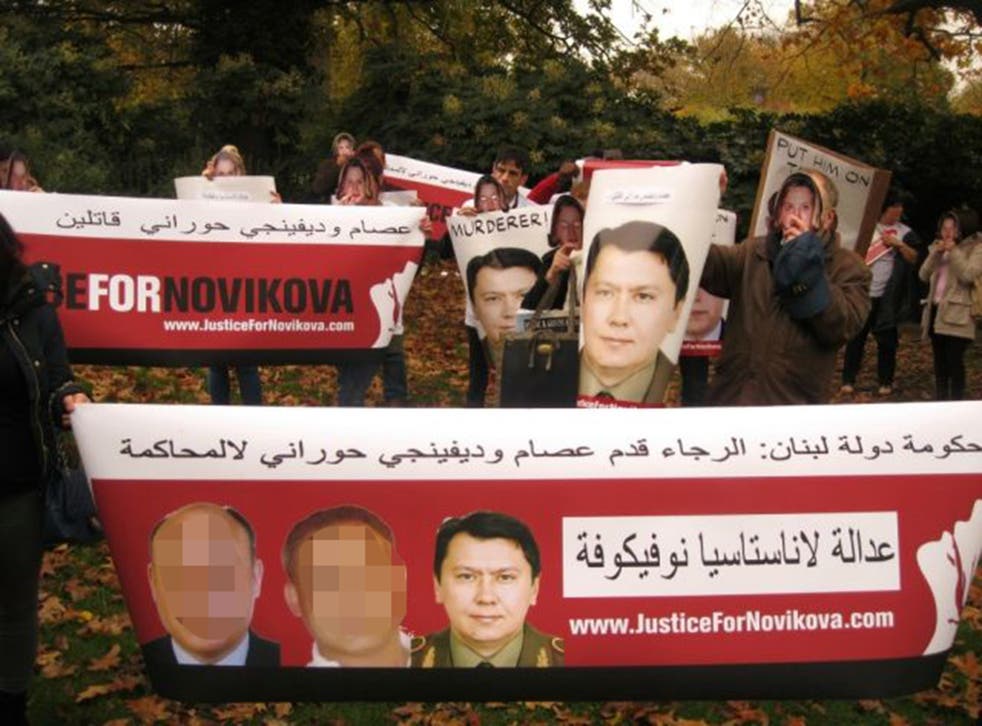 In the chic Knightsbridge square where some of world's wealthiest people have their London apartments, the demonstration looked angry and well organised. Huge banners and placards bearing the word "Murderer" were held aloft. Candles were lit and protesters sang emotional songs calling for justice. Some of them covered their faces with a mask displaying the face of a young woman who died in Beirut 10 years ago.
The crowd chanted "Justice for Novikova" and sang choruses of "We shall overcome". Cameras captured the action as the protesters took full advantage of the valued tradition of British free speech.
There was, however, one thing wrong: the entire event was faked.
An Edinburgh-based advertising company, Media Gang, which organises commercial flash mobs, had been hired by two men based in the US who are alleged associates of a Washington DC company that specialises in providing "creative political solutions" and "unconventional political strategy".
There were no real activists at the London demo, only actors and dancers used by Media Gang. The company's clients have included Cadbury and Citroën, universities, charities and English police forces.
Richard Dietrich, co-owner of Media Gang, told The Independent on Sunday: "We were conned. We made a mistake. No background checks were felt necessary."
Three days before the demo, which took place last June, Mr Dietrich took a call from New York. A man calling himself Alistair Thomson described what he wanted.
Over the next two days, Media Gang received "very specific instructions". Mr Thomson told him a cameraman would be "engaged" to film the action in Lowndes Square and "getting good audio" wasn't an issue. That could be added in later.
An email from Mr Thomson to Media Gang stated : "Word for the posters of the bad guy is just "Murderer" and if we could add "Murderer" to the top [of the cardboard and stick placards] that would be great."
A month earlier, Mr Thomson had contacted Bill Mountain, a commercial film director in London. He would film the protest and organise the printing, storage and transport of banners and placards. Media Gang said they had no direct dealings with Mr Mountain. "He supplied a photographer, who turned up, shot and left. All the banners were handed over to us."
The IoS contacted Mr Mountain through the production company ACrew4U. Asked to explain his role, Mr Mountain said his lawyer, Sheldon Henry, would be answering all questions. No reply from Mr Henry was received.
Full details of the faked protest have been described by Media Gang in a recent statement to the High Court.
It was staged outside the home of Issam Hourani, a Lebanese businessman. The vigil involved calls for the Lebanese government "to place Issam Hourani and Devincci Hourani [his brother] on trial for their part in the murder of Anastasiya Novikova".
Mr Thomson and a colleague based in Pennsylvania, Bryan McCathy, wanted the protest to have an "unidentified spokesman" explain in a video why they were there.
A script – which Media Gang did not use – was provided. It read : "We are in Lowndes Square because the accomplices of Rakhat Aliyev have still not been brought to justice for the murder of Anastasiya Novikova who was held captive and killed 10 years ago."
Novikova, a journalist for NTK television in Kazakhstan, was found dead on 19 June 2004, impaled on railings nine floors below an apartment in Beirut owned by Mr Hourani. Her suspicious and violent death is alleged to be bound up in complex post-Soviet political and business feuds in Kazakhstan involving Rakhat Aliyev, the former head of the Kazakh KGB, and the country's authoritarian president since its break from Moscow in 1991, Nursultan Nazarbayev.
The President's daughter, Dariga, was married to Mr Aliyev in 2007. They divorced. He was found dead in an Austrian prison cell in February this year, awaiting trial on charges of the murder of two Kazakhstan bankers. Mr Hourani's wife, Gulshat, is the sister of Mr Aliyev.
In a statement to the High Court, Mr Hourani, who is seeking libel damages and an injunction, said he was not responsible for the death of Novikova, claiming that the international campaign to discredit him was being orchestrated from the United States.
In Washington, the internal revenge politics and reputation of oil-rich Kazakhstan are worth big bucks. Lobbyists and PR firms have been hired, and research institutes paid to issue glowing reports about the country, all despite human rights organisations criticising everything from unfair trials and torture to state-controlled media and restrictions on freedom of assembly.
Mr Dietrich told The IoS: "We did not know the ultimate client." Asked what Media Gang was paid and how much he knew or asked ahead of the staged protest, he said it was "a sensitive area for us".
He added: "We were deceived by Alistair [Thomson] and Brian [McCarthy] about the target and the issue. They offered us more money and more work; we declined both. We have and do apologise to Mr Hourani."
The IoS contacted the Washington-based lobby company alleged to have orchestrated the demonstration and allied websites. No reply was received.
Register for free to continue reading
Registration is a free and easy way to support our truly independent journalism
By registering, you will also enjoy limited access to Premium articles, exclusive newsletters, commenting, and virtual events with our leading journalists
Already have an account? sign in
Join our new commenting forum
Join thought-provoking conversations, follow other Independent readers and see their replies