Anti-stealing warnings in front of tampons get backlash from women's groups
Tesco should 'try exercising a little compassion', says Women's Equality Party leader
Zoe Tidman
Friday 31 January 2020 14:13 Comments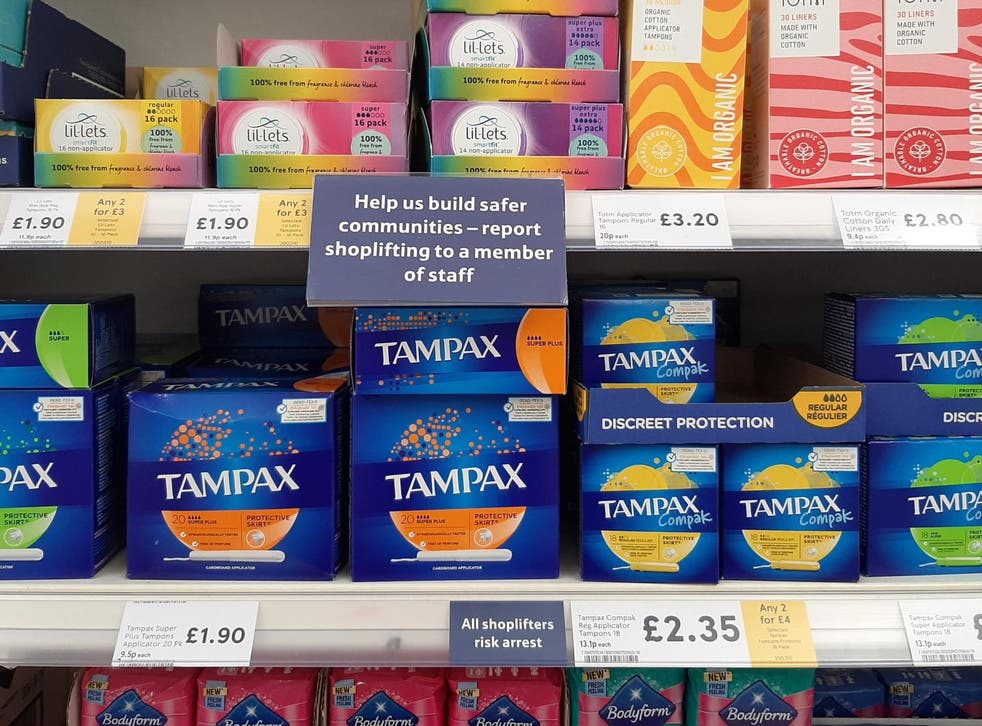 Anti-shoplifting messages across shelves of sanitary products have been criticised by campaigners for "stigmatising" women unable to afford items for their period.
A Tesco supermarket warned shoppers browsing tampons that thieves "risk arrest" and encouraged people to report anyone stealing to "help us keep the community safe".
"Tesco works in partnership with the police to target shoplifting," read another placed between panty liners and sanitary pads in the store in Kensington, London.
The signs received backlash from anti-period poverty and equality campaigners, who said women should not be blamed for lacking money to pay for sanitary products.
"Years of austerity and rising homelessness have pushed many women into a situation where their only options are to shoplift for these basic essentials or to go without," said Mandu Reid, the leader of the Women's Equality Party.
How women around the world manage their periods

Show all 26
"As a society, our solution to this should not be to criminalise women who are already in a desperate situation," she said. "In the meantime, shops like Tesco should take a long hard look at themselves and try exercising a little compassion."
A spokesperson for The Red Box Project – which provides boxes of free sanitary items to schools – told The Independent: "It's not right that people should be shamed or stigmatised because they cannot afford these essential items."
Over 25 per cent of women have missed work or school because they could not afford to buy menstrual products, according to a poll last year of people in England, Scotland and Wales.
The West Cromwell Road superstore placed several anti-shoplifting signs in its feminine hygiene section.
Similar messages were dotted around the shop, although they were less prominent in many other sections, including ones selling food.
An image of an anti-stealing warning next to period items was met with backlash on social media, with users expressing sympathy for women who cannot afford sanitary products, with some even claiming they would turn a blind eye.
"If you see someone shoplifting tampons, they obviously really need them," said one reply.
Amika George, who founded the FreePeriods campaign, told The Independent: "If people are having to resort to stealing pads and tampons, we really do need to be questioning the kind of society we want to be living in".
"We do not opt-into a period," she said. "It's not a choice."
The government recently launched a scheme providing schools in England with free period products for their students, which campaigners said was a "vital first step towards genuine equality".
One in 10 young women said they had been unable to afford period products in the past, according to research by Plan International UK, a charity campaigning for the rights of children and girls.
"Now we need to look beyond the school environment and ensure that everyone has access to the period supplies they need," said the Red Box Project spokesperson.
A Tesco spokesperson said: "We want everyone to feel welcome in our stores and are very sorry for any offence caused by the placing of the signs in this store.
"We know that the cost of buying essential sanitary products can be a real struggle for some, which is why we were the first retailer to cover the cost of the 'tampon tax' to make these items more affordable."
The retailer announced several years ago that it would pay the controversial charge affecting sanitary products, which are classed as a "luxury, non-essential item" in the UK and face a VAT rate of 5 per cent.
Register for free to continue reading
Registration is a free and easy way to support our truly independent journalism
By registering, you will also enjoy limited access to Premium articles, exclusive newsletters, commenting, and virtual events with our leading journalists
Already have an account? sign in
Join our new commenting forum
Join thought-provoking conversations, follow other Independent readers and see their replies