Anti-austerity protest: Demonstrators against Government cuts gather in London after the Queen's Speech
Skirmishes with police reportedly broke out as protesters ran down Whitehall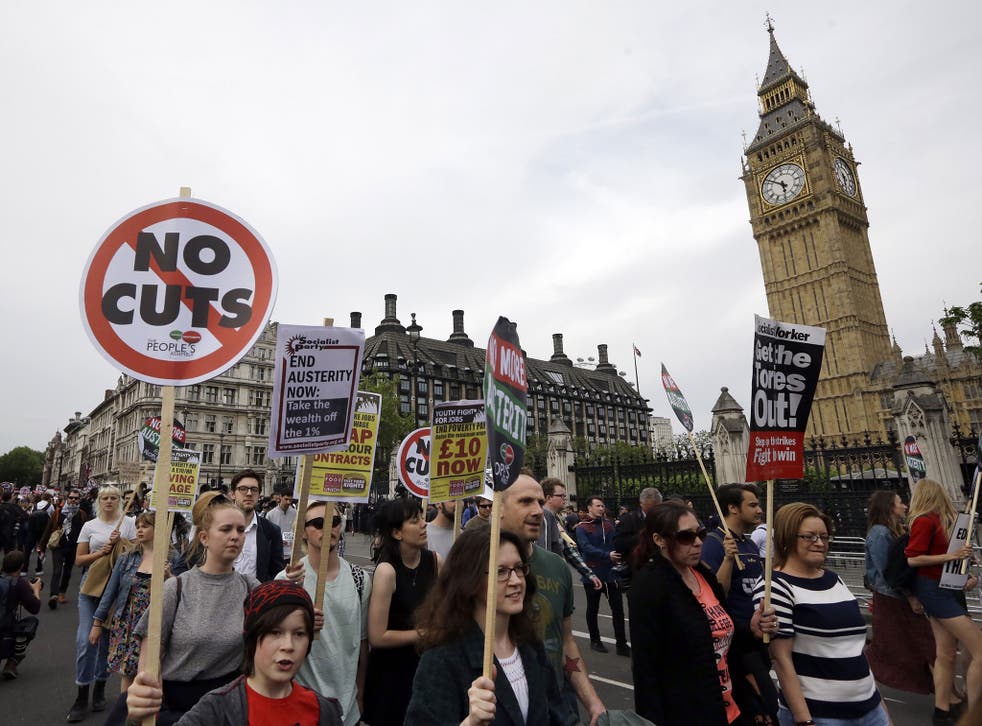 Angry protesters waving placards and flags have gathered to protest against the Government's austerity measures.
Around 200 people joined the protest which began in Trafalgar Square, central London, after the Queen's speech outlined the new Conservative Government's plans.
There were skirmishes with police as protesters - some wearing masks and scarves to cover their faces - ran down Whitehall.
Uniformed police linked arms to form a human barricade to try to contain the protesters while some pulled out their batons to warn off demonstrators.
The people vs austerity: The best pictures from recent protest marches

Show all 10
Elliot Corner, 20, who studies classical music at the Royal College of Music in London, was peacefully protesting in Trafalgar Square.
He said: "We are here today because we believe that austerity is a failed economic measure and transfers wealth from the poor to the rich.
"We believe the new cuts that are planned by George Osborne are completely unfair and unwarranted."
Scotland Yard said three arrests had been made before 7pm in relation to the demonstrations.
A 17-year-old youth was arrested on suspicion of assault.
A man, whose age has not been given, was arrested on suspicion of violent disorder and possession of an offensive weapon.
Police also arrested a 45-year-old man who was wanted on suspicion of violent disorder in relation to an incident in Whitehall on May 9.
PA
Register for free to continue reading
Registration is a free and easy way to support our truly independent journalism
By registering, you will also enjoy limited access to Premium articles, exclusive newsletters, commenting, and virtual events with our leading journalists
Already have an account? sign in