Anti-austerity protest: This is just the start of our campaign, say marchers
A reported 250,000 people campaigned against a new wave of government spending cuts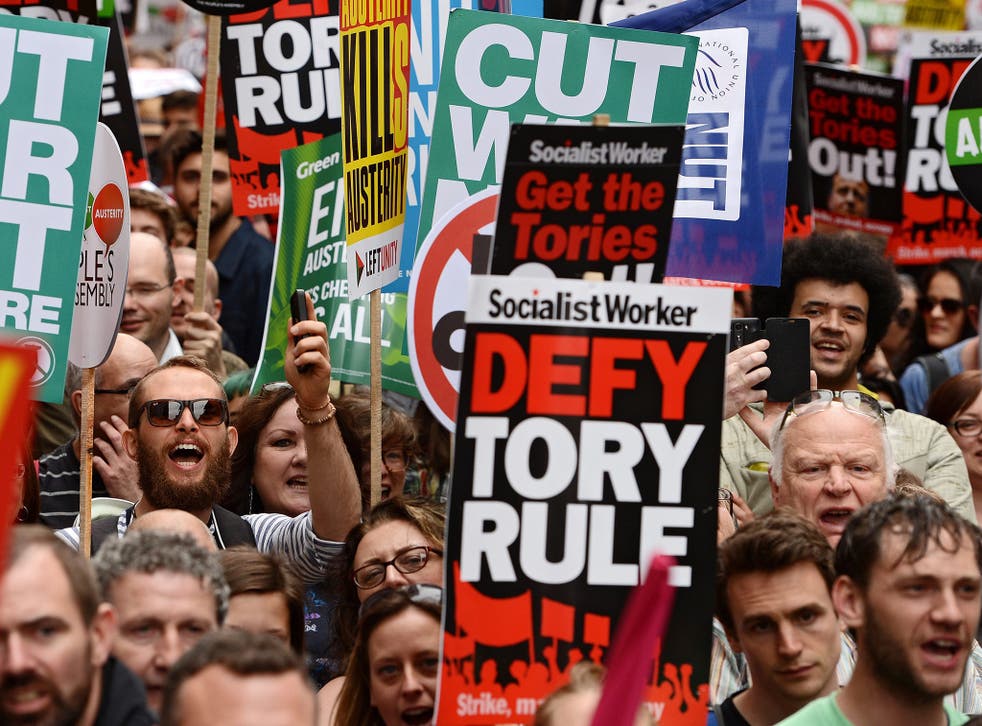 Cries to end austerity echoed through the streets of central London as a reported 250,000 people campaigned against a new wave of government spending cuts.
Protesters gathered outside the Bank of England before marching to Parliament Square in one of the biggest anti-austerity events in recent years, and the first major protest since the new Government was formed.
A spokesman from the People's Assembly, which organised the march, said: "Today is not the end of our campaign against austerity but the start of a mass movement prepared to take on this Government."
Stuart Gunn, 73, from Somerset, said austerity was "crucifying" for people on low incomes.
"We built up our social services, health services … over the years, and this Government [is] going to destroy them in no time," he said.
Frances James, 19, who will begin an engineering degree at Bristol University in September said austerity was a "con". She called for a higher tax on wealthier people: "And we need our taxes being spent on things that benefit us as citizens, not just the 1 per cent."
Cutting public spending to continue bailing out bankers, "when they caused the problem in the first place", was outrageous, said Jenny Shepherd, 65, from Calderdale in West Yorkshire.
The march was joined by celebrities, politicians and the unions. Len McCluskey, of Unite, sent a warning to the Government. "If they think they won the war of austerity on 7 May, they'd better think again," he told the rally.
Large protests also took place in Liverpool and Glasgow.
Register for free to continue reading
Registration is a free and easy way to support our truly independent journalism
By registering, you will also enjoy limited access to Premium articles, exclusive newsletters, commenting, and virtual events with our leading journalists
Already have an account? sign in
Register for free to continue reading
Registration is a free and easy way to support our truly independent journalism
By registering, you will also enjoy limited access to Premium articles, exclusive newsletters, commenting, and virtual events with our leading journalists
Already have an account? sign in
Join our new commenting forum
Join thought-provoking conversations, follow other Independent readers and see their replies