Antibiotic free meat: Campaigners warn label could mislead consumers and jeopardise animal welfare
Campaigners expressed mixed feelings about the prospect of the marketing
Will Worley
Friday 24 June 2016 16:38 Comments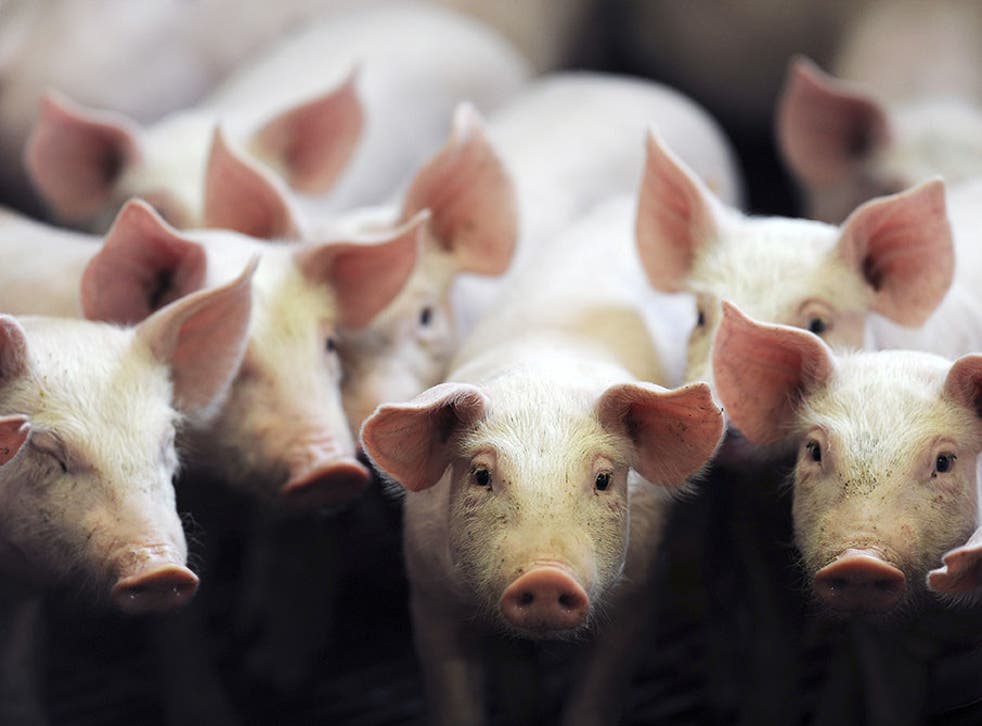 A move to market meat as "antibiotic free" could mislead consumers and compromise animal welfare, a leading agriculture campaign group has said.
It follows the move of the British Karro Food Group to register a trademark for antibiotic free meat – which some industry observers believe could lead to it being "the new organic".
Using antibiotics in agriculture for growth and medicinal reasons has long been a contentious issue, as unrestricted use can lead to the antimicrobials ending up in the food chain and contribute towards drug resistant germs.
Around 45 per cent of all antibiotics in the UK are used in animals and many pigs are kept in cramped conditions in which infections can spread.
However, Responsible Use of Medicines in Agriculture (RUMA) - a body made up of 25 farming, welfare and medical organisations whose remit includes combating antibiotic resistance in farming - have expressed concern over the marketing of meat in a way that implies "other products, by default, contain antibiotics, when all use of antibiotics in farm animals in the UK is strictly regulated and withdrawal periods observed to avoid presence in meat and milk".
The use of antibiotics for growth promotion in livestock was banned in the European Union in 2006 but the drugs are still sometimes used to prevent and treat infections.
Gwyn Jones, chair of RUMA, told The Independent: "It would be irresponsible and wrong to imply a consumer would 'ingest' antibiotics from any farm produce when residue levels have been very tightly controlled for decades, or that UK farmers use such products for growth promotion when this practice has been banned in Europe for more than 10 years."
But despite expressing reservations, Mr Jones said RUMA welcomed any advancements in hygiene and herd health that might support the development of an antibiotic free label. He also hoped any useful findings would be shared with the wider industry, due to the "global, pre-competitive importance" of fighting antibiotic resistance.
This international concern was highlighted by the government-appointed Review on Anti-Microbial Resistance, established to assess the threat of worldwide drug resistance. "We must reduce the extensive and unnecessary use of antibiotics in agriculture," wrote Jim O'Neill, chairman of the group's report.
Antibiotic-resistant infections spread through Europe

Show all 4
He also called for improved surveillance of the use of antibiotics in agriculture across the world and for setting targets for reduction. He added: "Alongside this we need to make much faster progress on banning or restricting the use in animals of antibiotics that are vital for human health."
But Mr Jones also highlighted the need for animal welfare in food production. He said: "Any work to reduce, refine and replace use of antibiotics must be done without compromising health and welfare. This means reassurance is needed that such a label will not lead to treatment being delayed or avoided for sick animals, or that livestock in need of nothing more than a short course of medicine to recuperate will not be destroyed rather than treated.
"So while we recognise this is an opportunity for adding value, we want to reinforce to brand owners that they have an obligation to uphold welfare and avoid creating misunderstanding and concern amongst consumers by not acknowledging the strict rules already in place."
This point was echoed by John Blackwell, Senior Vice President of the British Veterinary Association.
He told The Independent: "Responsible use of antibiotics is paramount to prevent antimicrobial resistance and moves by the livestock industry to reduce inappropriate use of antibiotics should be recognised. This antibiotic-free herd is an interesting development in reducing inappropriate antibiotic use.
"However, antibiotics are vital drugs in treating disease and therefore preventing animal suffering and it is essential that their health and welfare are not compromised by withholding necessary treatment.
"Antibiotic medication should not be used as an alternative to good management, vaccination, or site hygiene - and veterinary advice is essential in deciding whether or not antibiotics should be used to control and prevent disease in animals."
Karro has already sold antibiotic free pork to various markets, including the US and China, for a year. It does not currently sell any in the UK but "is in discussions with a number of leading customers", according to a company spokesperson.
The spokesperson added: "Karro Food Group welcomes industry-wide action to help reduce the levels of antibiotics within the food chain. Karro is well-known for championing welfare standards within UK farming and for its high quality pork products."
Antibiotics crisis is global
The company says it has full supply chain traceability for all its products and requires all of its British pig farmers to adhere to strict requirements.
"These requirements include the production of detailed medicine use records upon request, quarterly reviews of veterinary health plans, and that the total annual antibiotic use on each farm is recorded."
"Our producers are required to obtain and, where appropriate, apply advice stipulated by bodies including the Health and Safety Executive, the Veterinary Medicines Directorate and the Responsible Use of Medicines in Agriculture Alliance.
"Producers also formally declare to Karro the use of a number of listed antibiotics in the 90 days prior to slaughter of the animal, while other antibiotics can only be used as prescription-only medicine or under the control of a veterinarian.
"To enable further reduction in antibiotic use, Karro continues to investigate measures to decrease the likelihood of disease while ongoing learnings from our supply chain are being applied throughout our operation to further reduce antibiotic use."
Register for free to continue reading
Registration is a free and easy way to support our truly independent journalism
By registering, you will also enjoy limited access to Premium articles, exclusive newsletters, commenting, and virtual events with our leading journalists
Already have an account? sign in
Join our new commenting forum
Join thought-provoking conversations, follow other Independent readers and see their replies