Anti-monarchy group 'Republic' stages Jubilee protest on the banks of the Thames
Protest by campaign group ahead of Queen's Diamond Jubilee river pageant
Rob Williams
Sunday 03 June 2012 14:06 Comments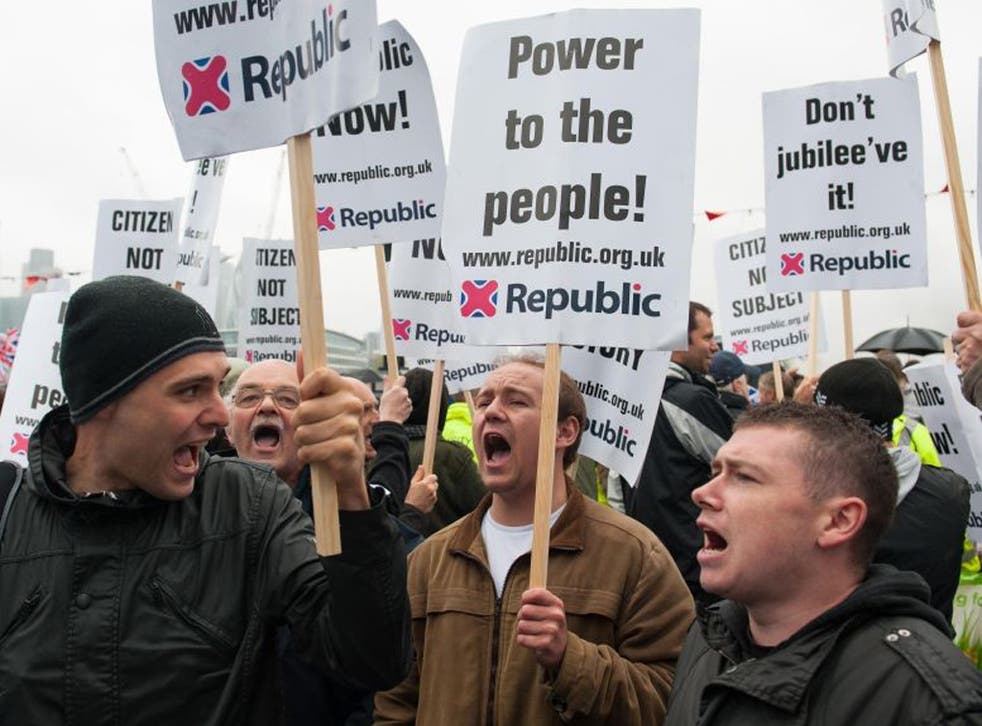 Anti-monarchy protesters today staged a demonstration on the banks of the Thames ahead of the Queen's Diamond Jubilee river pageant.
The protesters, supporters of the campaign group Republic, held banners and placards saying "power to the people", "citizen not subject", and "democracy not monarchy" as they called for the abolition of the monarchy.
Republic is campaigning for an elected head of state to replace the monarchy.
They have also called for a new constitution that 'really puts power in the hands of voters.'
Today's protest involved a delegation from the Swedish republican movement as well as representatives of Republic from branches in Scotland and Wales.
Speaking today the chief executive of Republic, Graham Smith, said the protest was held at the same time as the river pageant to "raise the profile" of the republican movement.
He said: "We're opposed to celebrating hereditary privilege and power. The message is to the millions of people who oppose the monarchy that there is a movement you can support.
"The whole country isn't in love with the monarchy. It's a minority interest. We'll keep going until the monarchy is abolished."
The group faced a hostile response from some of those gathered Thames-side for the 1000-strong flotilla led by the Queen.
Despite assuring the Metropolitan Police that the protest would be peaceful this afternoon the protest group appeared to be having difficulties accessing the river protest site.
A message on the Republic account on the social networking site Twitter this afternoon stated:
'Literally hundreds being prevented from joining main #jubileeprotest. We're working with police + security to resolve this.'
Graham Smith said of the protest this afternoon, "The royals spend most of their lives shielded from criticism - this protest will give them a rare glimpse of the strength of republican sentiment in Britain today.
"The hereditary system is offensive to all the democratic values this country has fought for in the past. The jubilee represents a celebration of everything we, as republicans, oppose - it is our right and duty to challenge it and promote the alternative.
"The heightened Palace PR campaign of the last 18 months has already backfired.
"People are sick and tired of being told they must celebrate 60 years of one very privileged, very remote and very uninspiring head of state. The idea that the monarchy's future is any safer as a result of the jubilee is completely laughable."
Register for free to continue reading
Registration is a free and easy way to support our truly independent journalism
By registering, you will also enjoy limited access to Premium articles, exclusive newsletters, commenting, and virtual events with our leading journalists
Already have an account? sign in
Join our new commenting forum
Join thought-provoking conversations, follow other Independent readers and see their replies