Survey finds 45% of UK adults hold antisemitic views
8 per cent of respondents stated 'Jewish people talk about the Holocaust just to further their political agenda'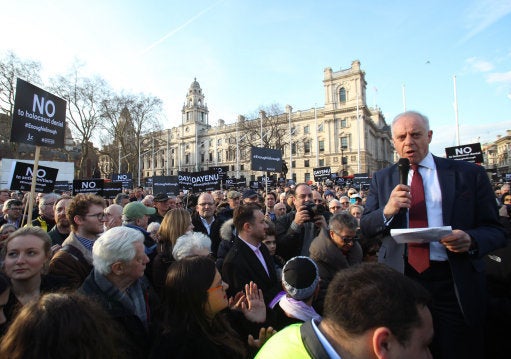 Nearly half of people in the UK have antisemitic views, according to a poll.
Forty-five per cent of British adults agreed with at least one of six antisemitic tropes put to them by researchers at YouGov and King's College London.
These included idea that Jews control the media, "chase money", or "talk about the Holocaust just to further their political agenda".  
Twelve per cent of those polled agreed with four or more of the statements, found the research, commissioned annually by the Campaign Against Antisemitism.
Eleven per cent of respondents stated they believe Jews have "too much power" in the media, and 8 per cent agreed "Jewish people talk about the Holocaust just to further their political agenda".
But the proportion of British adults harbouring antisemitic opinions has been steadily dropping for years, a trend which continued in the latest survey.
The proportion of British Jews who feel they have a future in the UK also rose from 53 to 66 per cent. However, those who avoid displaying visible signs of their Jewish identity due to fears of antisemitism sits at 44 per cent, the highest figure recorded since 2016.  
Only 20 per cent of British Jews say authorities are doing enough to address and punish antisemitism.  
An overwhelming 78 per cent believing that politicians do not do enough to protect the UK's Jewish community.
British Jews stated they believe all political parties are more complicit in antisemitism now than they have been before.  
Gideon Falter, chief executive of Campaign Against Antisemitism, said:  "Appallingly, almost half of British Jews now conceal visible signs of Judaism in public due to antisemitism – a record figure in our polling.
"Though this year's Antisemitism Barometer shows improving confidence amongst British Jews, no modern, liberal nation should be proud when almost a fifth of its Jews feel unwelcome and nearly half conceal their Judaism in public. We need firm action against antisemitism, not just in politics, but also in arenas that have long been problematic, such as universities and social media."
Join our commenting forum
Join thought-provoking conversations, follow other Independent readers and see their replies