April Jones' father learns of daughter's death for second time 'after losing memory'
Six years after his five-year-old daughter was abducted and murdered by paedophile Mark Bridger, Paul Jones has to be told of her death again after illness reportedly wipes much of his memory of the previous decade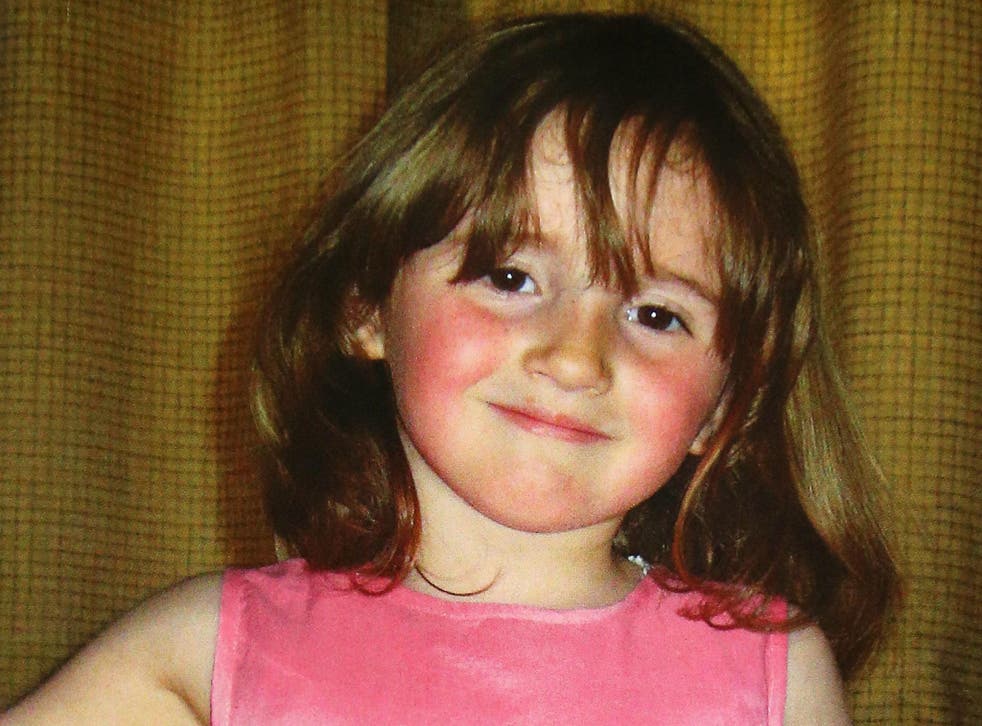 The father of murdered five-year-old April Jones has had to learn of his daughter's death for a second time after a virus damaged his memory, it has been revealed.
Paul Jones, 49, reportedly asked his wife Coral why their daughter had not been to see him as he recovered from a severe case of encephalitis, a potentially lethal brain condition that left him unable to remember much of the previous decade.
Ms Jones said her husband had recognised April in family photos used to jog his memory.
She said: "He asked, 'What happened to April?'
"I had to tell him she was no longer with us and that she'd been killed.
"He broke down. It was an awful conversation because he was so emotional.
"I couldn't go on, I just couldn't tell him any more. It was like reliving it all over again."
April, five, was snatched from outside her home in Machynlleth, Wales, on 1 October 2012. Her disappearance sparked the largest missing person search in UK police history.
Hundreds of people searched local fields and farmland for the missing girl, with volunteers coming from as far away as Manchester and Bristol to help.
Prime Minister David Cameron also made a televised appeal for any information that might "help this family find their lovely child".
UK news in pictures

Show all 50
The search continued for six months.
April's body, however, was never found.
Police, though, were able to prove she had been murdered by paedophile Mark Bridger.
He was convicted of murder, child abduction and perverting the course of justice, but refused to tell detectives what he had done with April's body – even though officers had recovered fragments of her skull from his fireplace.
Mr and Ms Jones attended every day of Bridger's six-month Crown Court trial.
Now, though, Ms Jones has revealed that the bereaved family is having to cope with her husband Paul's illness, which she said began 18 months ago.
Ms Jones, 46, told the Sunday People: "How much more can my family take?
"I've already lost my daughter and now I have lost my soulmate and my rock and I feel so alone.
"Paul is the only person who can truly understand the pain I have felt over losing April."
The infection and resulting brain swelling caused Mr Jones to lose his memory of most of the last decade.
Before his illness hit, he had spoken eloquently of his devastation at losing his daughter. With his wife, he co-wrote the book April: A Mother And Father's Heart-Breaking Story Of The Daughter They Loved And Lost.
He raised funds for charity in April's honour, with the money going to help the families of other missing people. Before one event in 2015, Mr Jones told the BBC: "We know first-hand the feeling of absolute despair when someone you love disappears."
Ms Jones said she has so far kept the worst details of the case from her husband.
She fears, however, that the full horror of what happened to his daughter will come back to Mr Jones, forcing him to relive the whole ordeal for a second time, while also struggling to cope with his illness.
Ms Jones said: "He loved her so much. I don't know what he'd do if he knew the truth of what had happened to our little girl. Yet I know everything could come flooding back further down the line, and I worry it will drive him even deeper into depression."
Although her body was never found, the family and the close-knit community of Machynlleth held a funeral service for April in September 2013.
Bridger, 52, was sentenced to a whole life tariff, meaning he will die behind bars.
His cottage in Ceinws, Powys, where April is believed to have been murdered, was demolished in 2014. Mr and Ms Jones watched the house being destroyed.
The Encephalitis Society offers support and information to anyone affected by the condition, and can be contacted on the following number: +44 (0)1653 699599. You can also email them at support@encephalitis.info.
Join our new commenting forum
Join thought-provoking conversations, follow other Independent readers and see their replies