Archbishop backs amnesty for Britain's illegal immigrants
England's senior Catholic laments 'exploitation of those who live beneath the radar'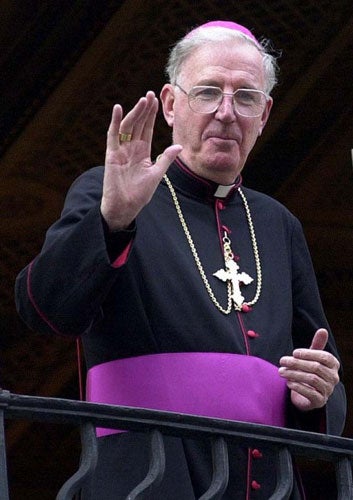 The head of the Catholic Church in England and Wales has called on the Government to provide an amnesty for illegal immigrants who have been resident in the UK for several years – backing an outspoken call at the weekend by the London Mayor Boris Johnson which puts him at odds with his party leader, David Cameron.
Cardinal Cormac Murphy-O'Connor said large numbers of migrants who live below the radar are easily exploited because they have no official status, and that more should be done to "appreciate the gifts" they bring.
"A lot of the people who come are quite vulnerable and can easily be threatened and exploited," the Catholic leader told BBC Radio 4's Sunday programme. "But I think also there is a point about some migrants who come here and are here for years and they are undocumented. After a certain time a way should be given for them to receive citizenship here and so get the benefits of that."
His comments came the day after Mr Johnson announced a feasibility study into an amnesty for illegal immigrants. Supporters say it would see up to 700,000 illegal workers coming in from the cold to work legally and pay taxes. Mr Johnson said: "I welcome the Cardinal's comments. It's clear there is a case to consider here and no debate would be undone by being better informed."
The Government has so far resisted calls for an amnesty for failed asylum- seekers and visa overstayers, arguing that allowing one would only lead to an increase in trafficking and asylum applications. Mr Johnson's senior Conservative Party colleagues also oppose an amnesty; Mr Cameron and the shadow Home Secretary Dominic Grieve say that UK borders are too porous at present to deal with a predicted influx of migrants.
There are between 500,000 and 700,000 illegal immigrants in Britain with the vast majority working in the South-east and London. Although some use false documents and therefore pay taxes, others are asylum-seekers prevented from working legally, or can only find work through gang masters and people traffickers. According to the Home Office's statistics, it would take 25 years to remove all Britain's illegal workers at the current rates of deportations. Supporters look to Italy and Spain, where similar amnesties brought hundreds of thousands of illegal workers in from the cold. The Institute for Public Policy Research estimates that the extra fiscal regularisation of illegal workers would bring the Exchequer between £500m and £1bn in extra tax revenues.
But those opposed to the idea say an amnesty could cost almost as much to implement and warn that such an increase in the legal workforce could have a detrimental effect on jobs, particularly during a looming recession. Sir Andrew Green, chairman of Migration Watch UK, said that it was "frankly irresponsible" to talk of an amnesty during the current economic crisis. "The experience of other countries like Italy and Spain is that amnesties simply produce yet more applicants every time," he said.
During the London mayoral election this year, one of the policies that all four candidates agreed on was the need to provide an amnesty to such immigrants.
* A senior member of the Roman Catholic clergy has attacked the values of the "market" and called on the Government to look to Christian and spiritual ethics for solutions to the credit crisis this summer. The Archbishop of Birmingham, the Most Rev Vincent Nichols, said it would take more than financial measures to take Britain out of recession. He said: "What the market lacked was the perspective and practice of true virtue, which builds trust, and without which every human endeavour is unstable."
Join our commenting forum
Join thought-provoking conversations, follow other Independent readers and see their replies