Archbishop of Canterbury Justin Welby: London attack link to Islam as Christians killing Muslims is linked to Christianity
Reverend says religious scripture has been 'twisted and misused' by people to justify violence throughout history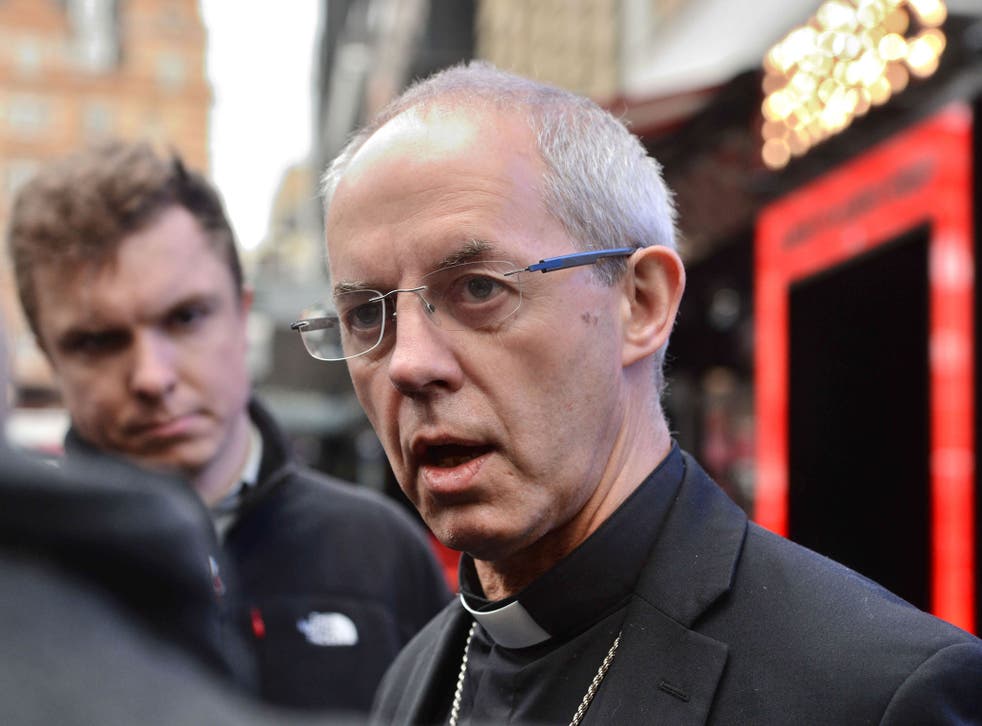 Faith leaders must take responsibility for countering the religious justification for atrocities committed in their name, the Archbishop of Canterbury, Justin Welby, has said.
The Most Reverend Welby said throughout history religious scriptures have "been twisted and misused" by people to justify hates of violence and "We have got to say that if something happens within our own faith tradition we need to take responsibility for countering that".
He said politicians should not just say "this is nothing to do with Islam" and focus on the security of political aspects of it as it is also an ideological problem.
"I don't think it is getting us anywhere, just like saying Srebrenica had nothing to do with Christianity", he said.
Over 8,000 Bosniak Muslim men and boys were massacred in the town of Srebrenica, now in Bosnia and Herzegovina, in July 1995 by a Bosnian Serb army during the Bosnian Civil War following the break up of Yugoslavia.
Rev Welby told BBC Radio 4's Today programme: "From an outside perspective, one of the issues about dealing with Islam is that there is not much of a structure. There isn't a pope or a bishop that you can go to and say these are the leaders.
"There will always be particular groups which take views that are different from the mainstream but what is clear over the weekend is the extraordinary level of condemnation by every significant Muslim leader we know and every significant Muslim body we know."
At least seven people were killed and nearly 50 people were injured when a van carrying three terrorists rammed into pedestrians on London Bridge before they jumped out and began stabbing people at random on the street.
London Bridge Terror Attack

Show all 16
He said there was a type of theology behind the attacks, which can been seen in attacks by different faith groups all over the world, and "we need to counter that within our own tradition and teach people why that is unacceptable".
One of the big problems for the secular authorities trying to combat this is that they do not seem to understand "the basic tenets of the faith they are dealing with", he said.
He explained: "They are often people who are unable to put themselves in the shoes of religious believers and understand a way of looking at the world that says that this defines your whole life, every single aspect of who you are and what you are".
Rev Welby said Christianity had a similar "dark side" which it is also important to face up to.
It echoes comments he made last year during a lecture at the Catholic Institute of Paris while accepting an honourary doctorate.
He called on Europe to look to the "Judeo-Christian roots" of their culture to find solutions to the mass disenchantment which he says has led to the rise of extremism and hate groups.
"In order to understand, religious people in Europe must regain the ability to share our religious vocabulary with the rest of the continent," he explained. "If we treat religiously motivated violence solely as a security issue, or a political issue, then it will be incredibly difficult – probably impossible – to overcome it".
Register for free to continue reading
Registration is a free and easy way to support our truly independent journalism
By registering, you will also enjoy limited access to Premium articles, exclusive newsletters, commenting, and virtual events with our leading journalists
Already have an account? sign in
Register for free to continue reading
Registration is a free and easy way to support our truly independent journalism
By registering, you will also enjoy limited access to Premium articles, exclusive newsletters, commenting, and virtual events with our leading journalists
Already have an account? sign in
Join our new commenting forum
Join thought-provoking conversations, follow other Independent readers and see their replies