Archbishop Justin Welby invokes generosity of Britons helping in Ebola zone
New Year address urges nation to 'look outwards' while Pope says peace 'is possible'
Lewis Smith
Thursday 01 January 2015 20:13 Comments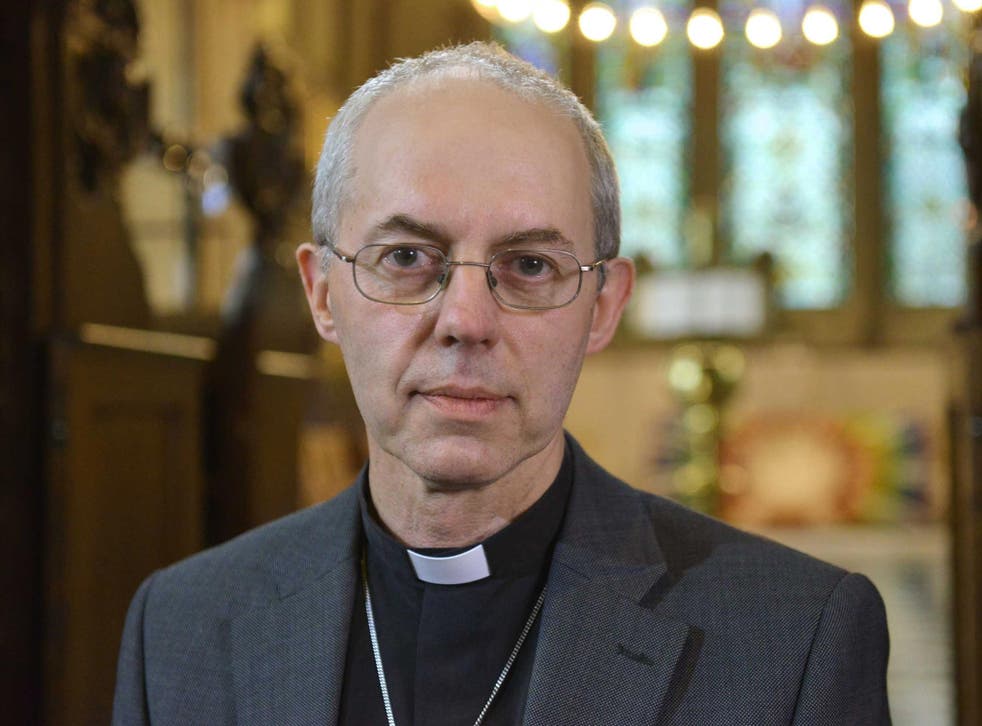 The Archbishop of Canterbury invoked the British spirit of generosity as he urged the nation to ensure that people suffering in the Ebola outbreak in West Africa are remembered and cared for in the coming year.
The Most Rev Justin Welby said he had been deeply touched during a recent visit to Sierra Leone to witness "the result of British generosity" in the form of aid and the dedication of service personnel working there alongside "the profound heroism of local people".
In his New Year message he called for such generosity, which he said was a part of the national character, to be maintained to ease the suffering of victims of disease and war.
"When we turn outwards and use our best resources to change this world in which we live, we see what a wonderful heritage we have, and the hope we can bring to the poorest and those with the greatest suffering on the face of our planet," he said.
In pictures: The village where Ebola started

Show all 5
"So what do we hope for in 2015? My hope and prayer is that we are the kind of country that goes on looking outwards, that is full of a generous spirit. Because when we're generous we find joy and others find comfort and hope. So may that joy and comfort be yours in this coming year."
He added: "There is so much suffering that at the new year it is tempting to look inwards in despair, but we are not a country that turns our back on the suffering and the weak and the helpless."
The Archbishop, who had to withdraw from his Christmas Day sermon because of pneumonia, delivered his message from the National Memorial Arboretum in Staffordshire.
Meanwhile in his noon address to tens of thousands gathered in St Peter's Square at the Vatican, Pope Francis made a plea for global peace. "Peace is always possible but we have to seek it. Let us pray for peace," he said.
Earlier yesterday, in his first Mass of the year, the Pope urged people of all religions and cultures to fight slavery and human trafficking.
David Cameron's New Year statement was a straightforward political message urging voters to stick with austerity and to put the Tories back into power in the May election.
"Britain has a choice: between the competence that has got us this far or the chaos of giving it up, going backwards and taking huge risks," he said.
Ed Miliband's message also looked to the election: "As this new year dawns, we have the chance to change direction; a chance to build a recovery for all of Britain."
Vladimir Putin, the Russian President, was among the world leaders to issue New Year messages. He hailed his country's annexation of Crimea as an achievement which would "forever remain a landmark in the national history".
He also sent personal messages to other leaders, including one to US President Barrack Obama seeking "equality and mutual respect".
Register for free to continue reading
Registration is a free and easy way to support our truly independent journalism
By registering, you will also enjoy limited access to Premium articles, exclusive newsletters, commenting, and virtual events with our leading journalists
Already have an account? sign in
Register for free to continue reading
Registration is a free and easy way to support our truly independent journalism
By registering, you will also enjoy limited access to Premium articles, exclusive newsletters, commenting, and virtual events with our leading journalists
Already have an account? sign in
Join our new commenting forum
Join thought-provoking conversations, follow other Independent readers and see their replies