Archbishop of York, John Sentamu, treated for prostate cancer
Primate of England will be 'out of action for some time' after operation
Kevin Rawlinson
Thursday 30 May 2013 19:21 Comments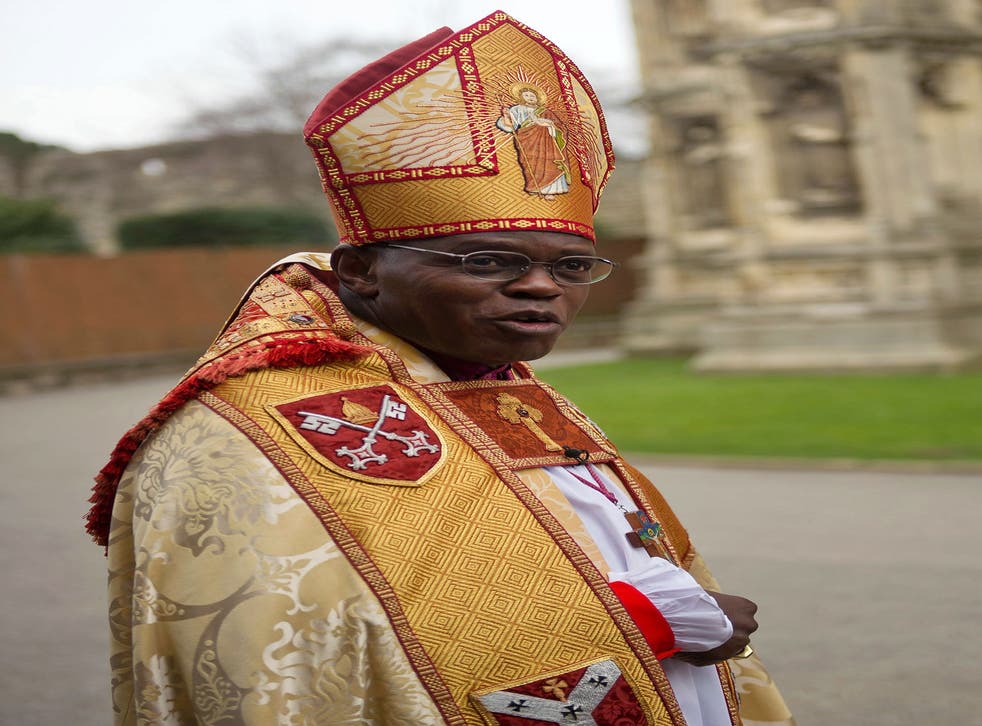 The Archbishop of York John Sentamu has been treated for prostate cancer, his office has revealed.
The Primate of England said he will be "out of action for some time" after the operation at St James' Hospital Leeds for what he said was a "locally advanced cancer of the prostate".
In a statement, the Archbishop said he was thankful to the Mr Bill Cross and his surgical team, as well as the nursing staff who are caring for him. Dr Sentamu added: "[I] will continue to value your prayers. I look forward to resuming my ministry as soon as possible.
"As I have often said, during the most trying times, I have derived great comfort from the words of the Taizé chant, 'Aber du weißt den Weg für mich', adapted from a passage in Letters and Papers from Dietrich Bonhoeffer, (a German Pastor and Theologian executed by the Nazis in 1945):
"'God, gather and turn my thoughts to you. With you there is light, you do not forget me. With you there is hope and patience. I don't understand your ways, but you know the way for me'.
"I wish you all joy in the Lord."
According to Cancer Research UK, around between 70 and 80 per cent of men with stage three cancer, which Dr Sentamu is believed to have, "with radiotherapy and hormone therapy…will live for at least 5 years after diagnosis".
The charity said: "As with many other types of cancer, the outcome of prostate cancer depends on whether it has spread when it is diagnosed."
It was not previously known that the Archbishop, who is 63, has cancer.
He had some ill health in 2011 when he spent nearly two weeks in St Thomas's Hospital in London after suffering complications following an operation to remove his appendix.
Dr Sentamu, the sixth of 13 brothers and sisters, and a former barrister and judge, came to the UK in 1974 having fled Uganda, where he was a critic of the dictator Idi Amin.
Register for free to continue reading
Registration is a free and easy way to support our truly independent journalism
By registering, you will also enjoy limited access to Premium articles, exclusive newsletters, commenting, and virtual events with our leading journalists
Already have an account? sign in
Join our new commenting forum
Join thought-provoking conversations, follow other Independent readers and see their replies