UK snow: Arctic blast set to bring two weeks of near-freezing wintry weather to Britain
A combination of rain, sleet and snow will bring wintry showers southwards on Tuesday
Rob Williams
Sunday 17 November 2013 13:34 Comments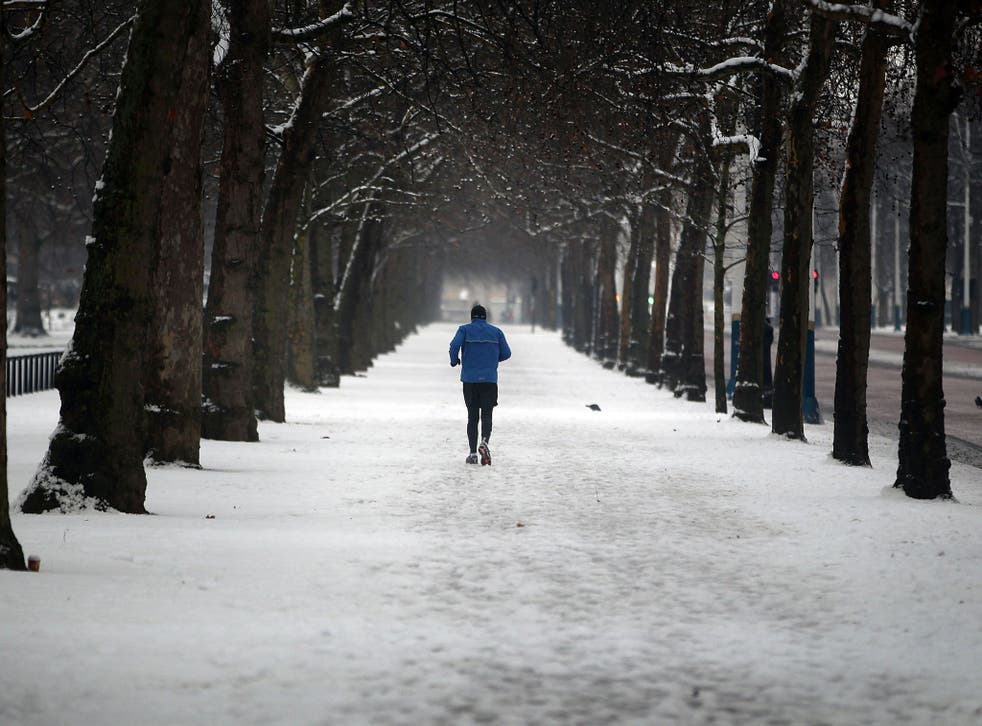 Britain will see the first low-level snow of the year next week as bitter arctic winds bring plummeting temperatures accompanied by rain, sleet and snow.
Homes in Scotland will be first to experience the cold snap as temperatures dip below the seasonal average tomorrow. Throughout next week temperatures will fall below zero across the country peaking at just 4C (39.2F) or 5C (41F), forecasters have said.
A combination of rain, sleet and snow will bring wintry showers southwards on Tuesday. As far south as Devon could see a dusting of snow, though it is not expected to bring disruption.
Overnight tonight temperatures could feel as cold as minus five degrees Celsius in parts of the North of England, forecasters said.
The north-westerly winds whipping off the Arctic are expected to bring at least two weeks of the near-freezing conditions, making November up to 3C (37.4F) colder than last year.
A spokesman for the Met Office said temperatures are likely to be "just below average" for the time of year. Forecasters have said snow is more likely in coastal regions and northern parts of he country. Tuesday morning could see some light snow fall inland with coastal areas seeing more persistent snow.
A Meteogroup forecaster said: "It does look like much of the UK is in for a cold spell through next week. For at least a week, there will be cold north-westerly winds.
"Temperatures through next week will be much lower than recently and generally below the November average. It will struggle to get up to four or five degrees and during the nights temperatures will be below zero quite widely, meaning frost across most places.
"There will be some snow but mostly confined to north Wales and northern Scotland - where there will be a few centimetres - and a few wintry showers elsewhere.
"On Wednesday night, there will be some fairly heavy snow showers in Scotland, with 5-8cm and some chance of drifting over the hills. Conditions look pretty horrible across northern Scotland."
He added that there was a possibility for snow to move into southern areas as the cold winds move down across the country.
He said: "Into the week ahead, it will remain cold but there will probably be dry weather in most areas. At the moment we're not seeing much snow; there may be some but not any significant amount of that would settle.
"It will be cold for quite a long prolonged period, certainly through to next week."
Register for free to continue reading
Registration is a free and easy way to support our truly independent journalism
By registering, you will also enjoy limited access to Premium articles, exclusive newsletters, commenting, and virtual events with our leading journalists
Already have an account? sign in
Join our new commenting forum
Join thought-provoking conversations, follow other Independent readers and see their replies