More police want to be armed with guns than ever before amid rise in terror attacks, survey finds
Demand increases dramatically following terror attacks and murder of PC Keith Palmer
Lizzie Dearden
Home Affairs Correspondent
Saturday 23 September 2017 16:47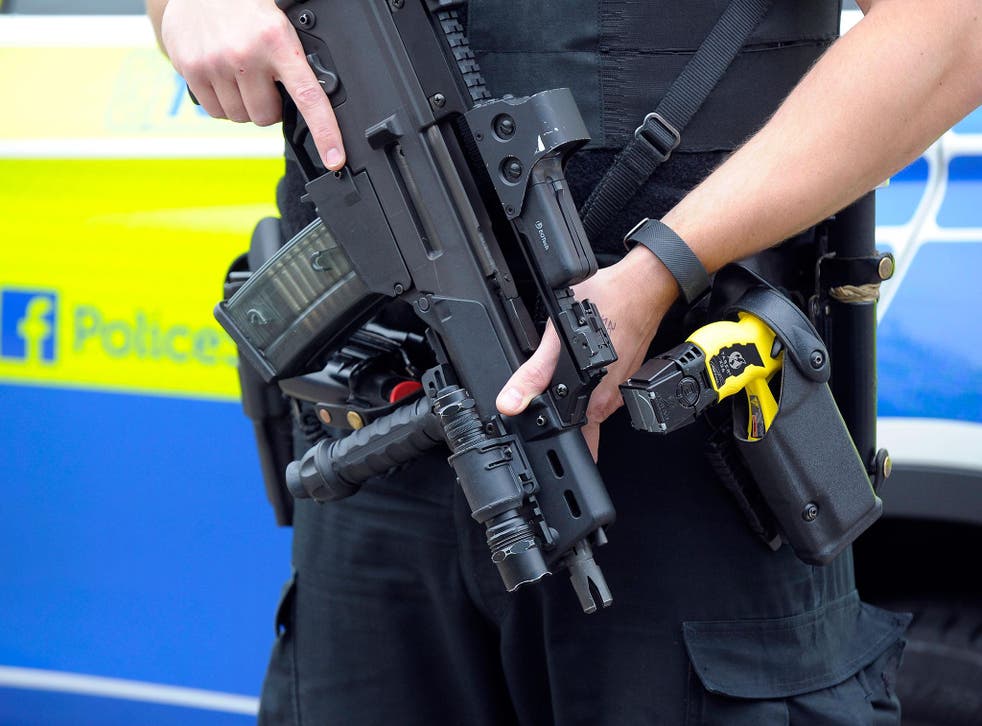 More police have said they want to be armed with guns than ever before as the UK remains on high alert following a string of terror attacks.
A national survey carried out by the Police Federation of England and Wales found more than a third of officers supported the idea of routinely being armed, compared to 23 per cent when the last survey was carried out in 2006.
Another 55 per cent said they would be prepared to carry a gun if asked to – up more than 10 per cent.
The greatest support among the 32,300 officers surveyed was for guns not to be issued routinely to all officers, but for more police to be trained to use firearms so they could use them when needed.
Steve White, chair of the Police Federation, said: "Considering the threats we now face, the resources we don't have and the demand we can't meet, we expected to see an increase in support for routine arming.
"Despite the atrocities seen this year, a terror threat that only goes up, never down, and prolonged pressure heaped on officers, they still hold on to the principle of policing by consent, with two thirds of officers not wishing to be routinely armed if given the choice."
Mr White said the number of specialist firearms officers had been dented by "savage cuts" but was returning to 2010 levels.
Cressida Dick says terrorism is putting 'unsustainable' strain on Met
"Let's face facts, we live in dangerous times," he added, saying he hoped that the survey could be used to lobby the Government and help police "to not only keep themselves safe but help achieve their number one priority in keeping the public safe".
The research found that male officers, those in cities and in frontline roles, were most likely to support being armed, while more than half were concerned that armed units were not readily available when needed.
Police in Northumbria, Greater Manchester, Cleveland, West Midlands and the City of London forces were most likely to support being given guns, while Gloucestershire, Humberside, Northamptonshire, Wiltshire, and West Yorkshire were at the other end of the scale.
A significant proportion said they wanted access to alternative protective measures and equipment at all times, including being constantly accompanied by another officer (68 per cent), having body-worn video (78 per cent) and armed with Tasers (75 per cent).
The research was carried out following the terror attacks in Westminster, Manchester, London Bridge and Finsbury Park, while police were assaulted by a man armed with a sword outside Buckingham Palace while fieldwork continued.
PC Keith Palmer was stabbed to death by Isis supporter Khalid Masood in Westminster and officers who fought the London Bridge attackers with just their batons were severely injured in the London Bridge attack.
The atrocities have sparked renewed public debate over whether more police officers should be armed with Tasers and guns, amid wider concerns about the strain terrorism is putting on forces' other work.
The Commissioner of the Metropolitan Police, Cressida Dick, has voiced opposition to routine arming in London, arguing it was unnecessary and would damage officers' relationship with the public.
"I understand why people are saying 'well, surely many more officers, or maybe even all officers, should be armed' but I don't actually agree," she told LBC Radio.
In pictures: Westminster attack

Show all 9
"I don't want to see every officer on every street corner carrying a gun."
Authorised firearms officers volunteer for the specialist job and have to undergo rigorous training and selection processes.
Home Office statistics show there were 6,278 armed officers across the 43 territorial police forces in England and Wales as of the end of March – an increase of 639 (11 per cent) compared with a year earlier.
A major uplift was launched after Isis massacred 130 people in Paris in 2015 and the number is due to top 7,000 by April next year.
Theresa May has announced an extra £24m of funding for counter-terror policing in the wake of the attempted bombing on a Tube train in Parsons Green.
But the National Police Chiefs' Council (NPCC) warned that terrorism does not take place in "isolation" and prevention relies on the whole policing system.
"Every time there's a terror attack, we mobilise specialist officers and staff to respond but the majority of the officers and staff responding come from mainstream policing," head Sara Thornton added.
"This disrupts the daily work of policing on which the public rely, it creates backlogs of incidents in our control rooms and results in a slower response to the public."
The NPCC called for the Government to consider increasing funding for "stretched" police forces to cope with the extra strain of terror prevention.
Police chiefs are carrying out a separate review of the response in the wake of a wave of terrorist incidents in the UK.
Register for free to continue reading
Registration is a free and easy way to support our truly independent journalism
By registering, you will also enjoy limited access to Premium articles, exclusive newsletters, commenting, and virtual events with our leading journalists
Already have an account? sign in
Register for free to continue reading
Registration is a free and easy way to support our truly independent journalism
By registering, you will also enjoy limited access to Premium articles, exclusive newsletters, commenting, and virtual events with our leading journalists
Already have an account? sign in