Armour-plated £300,000 BMW with poisoned gas alarm for Charles, the Prince of Wheels
Rumoured high-security vehicle described by motoring experts as 'über-technical land yacht'
Sanchez Manning
Sunday 17 February 2013 21:35 Comments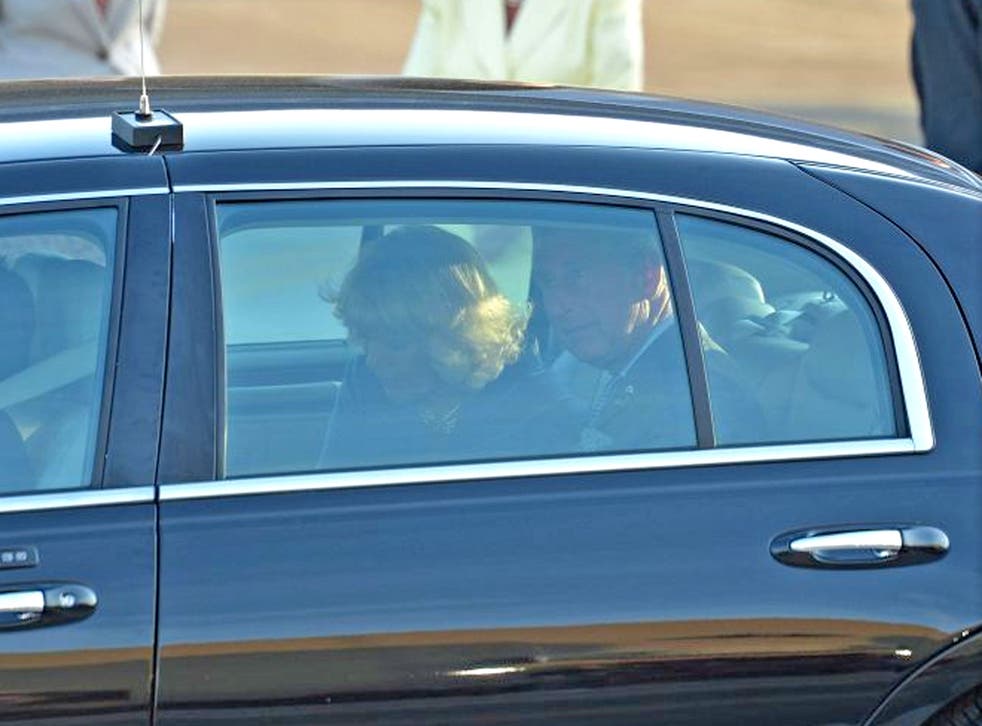 Scotland Yard is testing an armour-plated BMW capable of repelling gunfire and poisoned gas to give greater protection to the Prince of Wales and Duchess of Cornwall from potential attacks, it was claimed today.
The £300,000 car is loaded with high security features such as removable bulletproof windscreens, in case the Royal couple need to make a swift exit, and an "assault alarm" that automatically distinguishes fires under the chassis and engine bay.
It is designed to prevent a repeat of the 2010 security scare when Camilla and Charles were targeted by student fees protesters while on their way to a Royal Variety Performance at the London Palladium.
During the attack demonstrators chanted "off with their heads", pelted their ceremonial Rolls Royce with paint bombs and poked Camilla with a wooden pole through the car window.
The BMW 760 high-security car is boasted by its makers to be the most secure in the world after President Barack Obama's Cadillac One, which is nicknamed "the Beast". It is thought to be safer than the armoured Jaguar Charles occasionally uses and has been described by motoring experts as an "über-technical land yacht".
Dai Davies, a former head of royal protection at Scotland Yard, said: "This is best security car of its kind and in my view the police should be using it because they couldn't countenance another attack like the one during the student riots. "History shows that attacks are most likely to happen when people are being taken to and from their homes, especially with the royal family. If you're going to spend millions on protecting the royals then it seems nonsensical not to have to the right equipment."
Among its many hi-tech additions, the BMW 760 has a special alarm that can detect poison gas. It automatically closes the windows and fresh air vents and engages the central locking system, while an oxygen supply provides breathable air.
The luxury car also has concealed microphones and speakers to allow the driver and passengers to speak to people outside the vehicle without opening the windows. Other features include anti-terrorist devices such as a remote ignition which enables the engine to be started from 150 yards if it is suspected that explosives have been hooked to the starter system.
The BMW is further equipped with an "anti-kidnap" remote locking mechanism that allows the boot to be locked and unlocked remotely by a police, making it impossible for Charles and Camilla to be trapped inside.
According to reports, Scotland Yard has said the car is on trial with a view to the lease or purchase of at least two of the vehicles later this year.
Both the Met and Clarence House declined to comment this evening.
Register for free to continue reading
Registration is a free and easy way to support our truly independent journalism
By registering, you will also enjoy limited access to Premium articles, exclusive newsletters, commenting, and virtual events with our leading journalists
Already have an account? sign in
Join our new commenting forum
Join thought-provoking conversations, follow other Independent readers and see their replies