Army defusing huge unexploded Second World War bomb discovered on London building site
Tower Bridge was shut yesterday and more than 1,200 homes had to be evacuated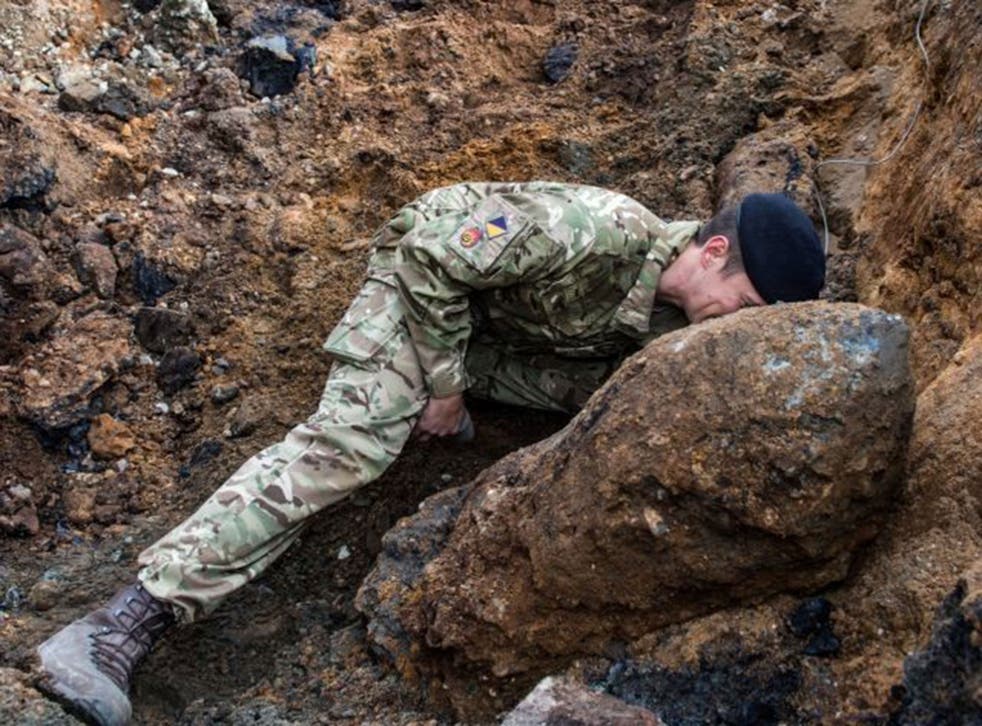 Londoners are being urged to "keep calm and carry on" as the British Army defuses a 5ft bomb from the Second World War dug up on a building site.
Tower Bridge was closed yesterday as more than 1,200 homes were evacuated following the discovery in Bermondsey.
Construction workers on a site in The Grange discovered the huge explosive, which weighs 1,000lbs and has a tail, at around 9.15am.
It was buried two or three metres below the ground until it was hit by a construction vehicle at the site of the former Southwark Irish Pensioners Centre.
Lucas Green, a local councillor, tweeted: "Seems our OAPs are hard as nails, drinking tea on top of a 1,000lb bomb for 70 years."
Hundreds of people were evacuated from flat blocks on large estates surrounding the site and two schools had to be shut as a precaution.
Mr Green, who represents Grange ward, described the "unusual atmosphere" after police cleared the streets.
"It's a sunny day, and the roads are deserted," he added. "People don't know what's happening.
"They should just keep calm and carry on, as they would say in the Blitz."
Tower Bridge was closed in both directions as traffic jammed north and south of the River Thames and stricken bus passengers reported miles of queues.
A man calling LBC radio to question Boris Johnson this morning said a "seven-minute journey" had taken him two hours and called for an "army of traffic wardens" to keep cars moving.
"If people can envisage a Nazi munition the size of (presenter) Nick Ferrari, that's what we're talking about," the Mayor of London added. "It's a huge bomb and we can't take any risks with the thing."
Mr Johnson said the bomb may be taken to Kent when it can be safely removed to be blown up.
Some people were let back into their homes overnight but hundreds more evacuations started this morning as work continued to make the unexploded bomb safe.
Police knocked on doors for 200m around the site throughout the night to enforce an exclusion zone starting at 8am so the Ministry of Defence could diffuse the bomb to prepare it for removal.
Britain during WWII - in pictures

Show all 30
Chief Superintendent Zander Gibson, borough commander for Southwark, thanked people for their patience while the operation was carried out.
He added: "We are working with Southwark Council, and other partner agencies to ensure the disruption for local people is kept to a minimum, but unfortunately some disruption is unavoidable when dealing with an incident such as this.
"We apologise for disturbing people in the middle of the night but it's the only way we can ensure we are reaching everyone by 8am.
"We are working with the London Ambulance Service and Southwark Council to identify any vulnerable residents who need assistance and will ensure they receive the care they need during this process.
"As soon as the bomb has been made safe by our colleagues in the Army we will do what we can to tell people it is safe to go home."
A spokesperson for Southwark Council said the 200m cordon was expected to stay in place until late this afternoon, closing any schools in the vicinity.
Evacuated residents have been offered emergency accommodation at the nearby at Seven Islands Leisure Centre "as a last resort".
Traffic disruption will be less severe today as the smaller 200m cordon has allowed Tower Bridge and the main roads leading to it to remain open. Residential roads around the scene are still shut and diversions are in place.
The London Fire Brigade, who sent specialist units to the scene, said it has attended incidents involving seven unexploded bombs and five hand grenades in the capital between 2009 and 2014.
Bermondsey was one of the most heavily bombed areas of Britain during the Second World War, with 709 civilians killed and thousands more hurt according to local authority records.
It was targeted because of its industry, proximity to the busy London docklands and main railway supply lines.
Additional reporting by PA
Register for free to continue reading
Registration is a free and easy way to support our truly independent journalism
By registering, you will also enjoy limited access to Premium articles, exclusive newsletters, commenting, and virtual events with our leading journalists
Already have an account? sign in
Register for free to continue reading
Registration is a free and easy way to support our truly independent journalism
By registering, you will also enjoy limited access to Premium articles, exclusive newsletters, commenting, and virtual events with our leading journalists
Already have an account? sign in
Join our new commenting forum
Join thought-provoking conversations, follow other Independent readers and see their replies