Army faces 20 more abuse claims from Iraqi civilians
High Court to hear cases against soldiers accused of shootings and beatings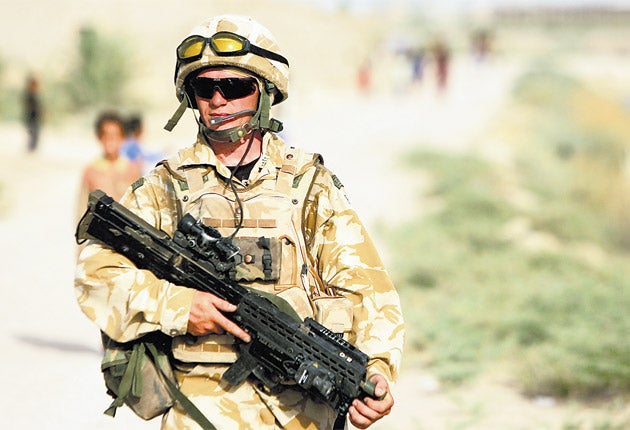 The British Army faces 20 fresh claims of torture and abuse of Iraqi civilians in a series of damaging cases being prepared by human rights lawyers in the High Court in London.
These new claims lend support to the accusation that the ill-treatment of scores of detainees in Iraq in the first four years after the invasion was systemic rather than the work of a few "rotten apple" soldiers.
Next month a public inquiry will begin hearing evidence about the killing of a 26-year-old Basra hotel worker, Baha Mousa, who was kicked and beaten to death by British soldiers in 2003. The Ministry of Defence has already paid nearly £3 million to Mr Mousa's family and nine other victims of abuse detained at the same time.
The new cases could lead to a similar-sized Government pay-out for loss of life, personal injury and abuse.Among the claims is an allegation that a group of eight Iraqi men were "violently beaten" when a home was visited by British soldiers in August 2003.
The following year a son and his father allege they were shot and wounded by soldiers after a raid on their home. The son subsequently died of his injuries and his father lost his arm. Eight of his other sons were beaten "so ferociously by the soldiers that at least one brother lost consciousness," say the lawyers who took witness statements from the men this year.
In 2006 it is alleged that three more Iraqi civilians, held in separate incidents, were arrested and violently beaten.
In March 2008, the former Defence Secretary, Des Browne, admitted to "substantial breaches" of the European Convention of Human Rights over the killing of Baha Mousa. In July the same year the Ministry of Defence agreed to pay £2.83 million in compensation to Mr Mousa's family and nine other men.
The new cases are all being brought by human rights law firm, Public Interest Lawyers, who are acting for the family of Baha Mousa at the judicial inquiry as well as many other Iraqis who have brought cases against the British army for ill-treatment.
A statement from Public Interest Lawyers said: "In May of this year, lawyers from PIL travelled to Beirut to take witness statements from a number of other Iraqis who allege to have been ill-treated, arbitrarily detained and in some cases religiously humiliated and sexually abused by the British military. The cases documented span from the start of hostilities in March 2003 through to 2007 and it is understood that there are many more cases which are yet to be documented."
Phil Shiner, of PIL, said: "The details of the abuse and the use of coercive interrogation techniques (hooding, stressing, food and water deprivation) are all too familiar. With the ever-mounting evidence of repeated systemic abuse, the protests that these atrocities have been caused by a few rotten apples ring ever more hollow."
Mr Shiner now wants a broader judicial inquiry that will investigate all the allegations of abuse and the military practices used to arrest and detain Iraqis in the years after the invasion of Iraq and Afghanistan.
Said Mr Shiner: "On 15 June 2009, the Prime Minister announced the long-awaited inquiry into British involvement in Iraq. There has been very little comment since then of the need to address officially-sanctioned mistreatment and torture of detainees. This issue should not escape attention.
It is essential to evaluate what is now known of British military and intelligence practices in Iraq and elsewhere, so that they can be altered and further breaches forestalled."
Mr Shiner claims that the case of Baha Mousa exposed the "deficiencies in the military investigative apparatus and justice system." He says: "Soldiers investigating other soldiers' crimes only to be prosecuted by other soldiers before a panel of yet more soldiers is an insufficient way to satisfy modern calls for accountability."
Baha Mousa died in British custody in September 2003 after suffering 93 separate injuries including fractured ribs and a broken nose.
Mr Mousa's children, who were aged five and six at the time of his death were both left orphaned as their mother had died from cancer only a short time before his arrest. The Ministry of Defence said an amicable settlement had been reached which represented an admission of liability and had been accompanied by an apology to the men and their families.
During the discussions Lt Gen Freddie Viggers, the adjutant-general, told the families: "The British Army apologise for the appalling treatment that you suffered at the hands of the British Army. The appalling behaviour of British soldiers made us feel disgusted."
A spokesman for the Ministry of Defence said last night: "Over 120,000 British troops have served in Iraq and the vast majority have conducted themselves to the highest standards of behaviour. All allegations of abuse are investigated thoroughly and where proven, those responsible are punished and the complainants compensated. Allegations must not be taken as fact and formal investigations must be allowed to take their course without judgements being made prematurely."
Join our commenting forum
Join thought-provoking conversations, follow other Independent readers and see their replies