Arrival of US storm Hercules brings in world's big wave surfers as UK adds up cost of gales to coast
Surfing websites forecast giant swells – and the pros were quick to follow
Adam Withnall
Tuesday 07 January 2014 13:30 Comments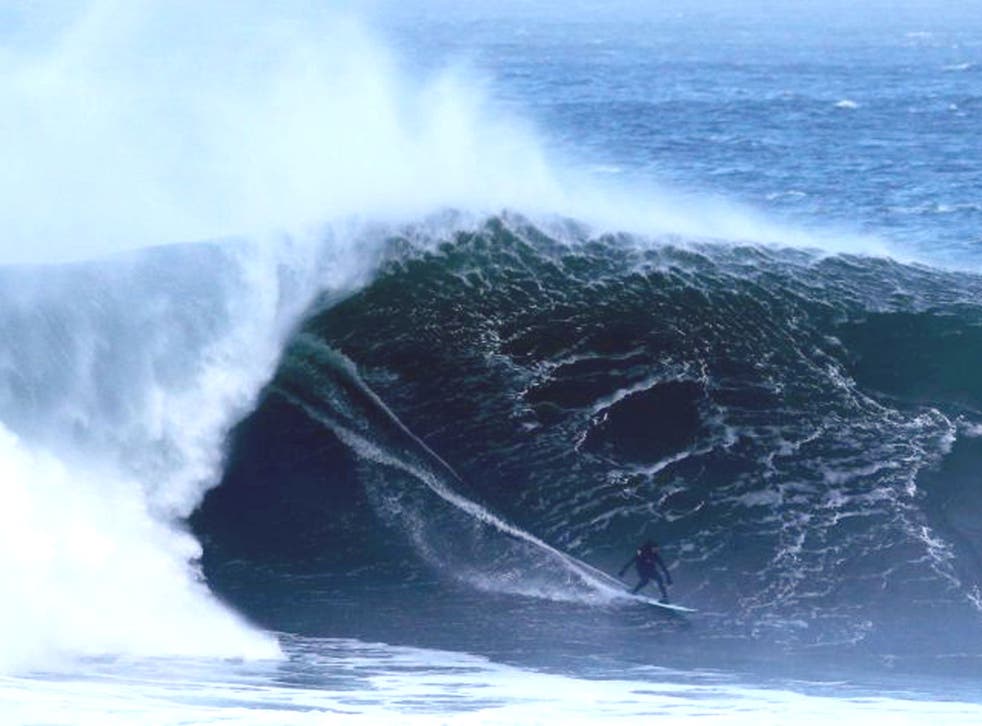 Scores of professional big wave-chasing surfers packed their bags and headed for coasts in western Europe, as forecasting website Magic Seaweed – dubbed "the modern surfers' bible" – predicted an "Atlantic Code Red".
The arrival of winter storm Hercules from the US brought devastation to the Cornwall and Devon coasts, but out to sea professionals like Lyndon Wake and Andrew Cotton chased the prospect of 50ft waves.
Billabong XXL, which presents the annual Global Big Wave Awards to this elite group of surfers, tracked the storm as it crossed the Atlantic, and posted what it said was the first image of Hercules' giant waves breaking at Mullaghmore off the Irish coast.
It later wrote on Facebook: "Buoys off of Europe are lighting up as the Hercules swell begins to move in. The 62095/M6 Buoy off Ireland leaped to near 40ft a few hours ago before it quit reporting… Hang on, this is about to get really heavy."
Read more:
UK weather: More rain and flooding to come after 'Winter Storm Hercules' brings 27ft waves
Storms destroy Porthcothan Bay rock arch formation at Cornwall beach
Surfers around the world were quick to respond, and Devon-based Cotton told action sports news outlet Grind TV: "We left for Ireland on Saturday, getting on the last ferry before they were all cancelled.
"If the forecast stays true, it could be the biggest anyone has ever surfed it."
Magic Seaweed kept tabs on those heading to coastlines across western Europe, noting that: "Big-wave surfers from across The Pond have been instagramming flight tickets with Lisbon emblazoned in black ink, for this is a storm which has the potential to be right there in the final percentile."
Stationed off the coast of County Sligo, Surfing GB's Nick Rees told Metro: "The waves here are in the 20ft range at the moment and just getting bigger. I have seen about 20 surfers from all over go in. Americans, Australians. You just don't get waves this big very often so people are making the most of it."
Waves of 27ft were recorded reaching as far as Land's End, but last night Cotton expressed his disappointment that they didn't get even higher out to sea. He tweeted: "Swell wasn't quite there… where were the 50fters?"
In pictures: Severe weather batters UK

Show all 60
Writing in the Times, Alex Wade said that "whatever the enthusiasm for the sport, few Brits possess the technical prowess to surf really big waves", and Mr Rees warned that "this is not a time for amateurs to get in the water".
There was some criticism that those with a passion for extreme sports should be out risking their lives in the storm at all – as the RNLI tweeted that: "Both Jersey lifeboats [were] called on their first shout of the year in rough conditions to a windsurfer in trouble."
Members of the public drawn to the coast to take pictures of the spectacular waves were advised not to risk the dangers. Hastings councillor Emily Westley said: "We already advise the public not to enter the area with warning and information signs and a fixed barrier to restrict access, but must reiterate the current dangers.
"Visual inspections are carried out daily of cliffs as part of the beach inspector's checks and this includes ensuring all signage and barriers are in place. In addition, we also visually inspect and photograph this area of cliff as part of our quarterly inspection of coast defence assets."
Register for free to continue reading
Registration is a free and easy way to support our truly independent journalism
By registering, you will also enjoy limited access to Premium articles, exclusive newsletters, commenting, and virtual events with our leading journalists
Already have an account? sign in
Join our new commenting forum
Join thought-provoking conversations, follow other Independent readers and see their replies