Art show organisers remove work satirising Isis after policing costs soar
Organisers of the Passion for Freedom exhibition were told it would cost an extra £36,000 to secure the venue if the 'inflammatory' work was included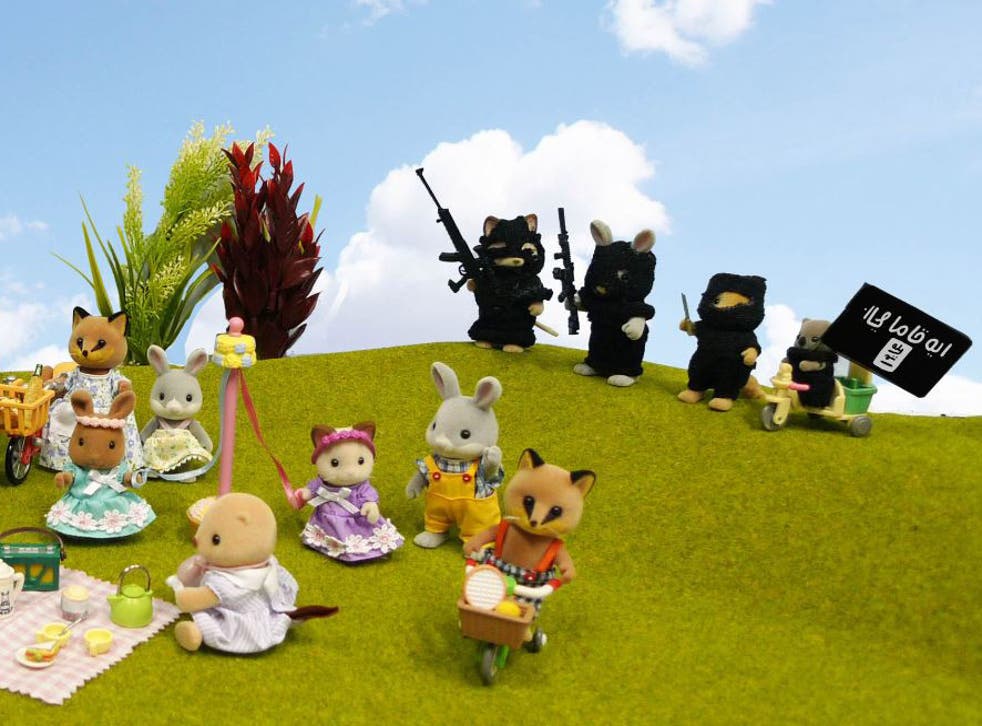 Organisers of an art exhibition celebrating freedom of expression have found themselves removing one of the exhibits after police raised concerns it was "inflammatory" and warned it would cost an extra £36,000 to secure the event.
The artwork in question was a series of tableaux entitled 'Isis Threaten Sylvania' that used children's Sylvanian Families dolls to satirise the Isis terrorist group.
In the work Sylvanian Families dolls are seen enjoying a picnic or a day on the beach, while other black-clad dolls, some of them armed, one carrying a black flag, gather on the sidelines.
In each piece an otherwise tranquil scene appears set to turn violent.
In one, a classroom full of Sylvanian Families school girls study maths, while outside the classroom window rabbits and hedgehogs dressed in Isis garb march towards them.
The London-based artist behind the work uses the pseudonym Mimsy. She is reportedly the daughter of a Syrian father from a Jewish family that had fled into exile in Lebanon.
Mimsy's pieces were due to be shown as Passion for Freedom exhibition at the Mall Galleries near Whitehall.
But organisers said hiring the gallery for the six-day exhibition had cost £25,000 and they could not cover the extra policing costs.
They said the word "uncensored" had since been removed from all festival information materials.
Mimsy's Isis Threaten Sylvania was exhibited previously in London as part of the Art15 exhibition's 'Freedom Audit'.
Join our new commenting forum
Join thought-provoking conversations, follow other Independent readers and see their replies