Asad Shah funeral: Glasgow community pay respects to Muslim shopkeeper killed after posting Easter message on Facebook
'We are proud to have had such a wonderful person amongst our community'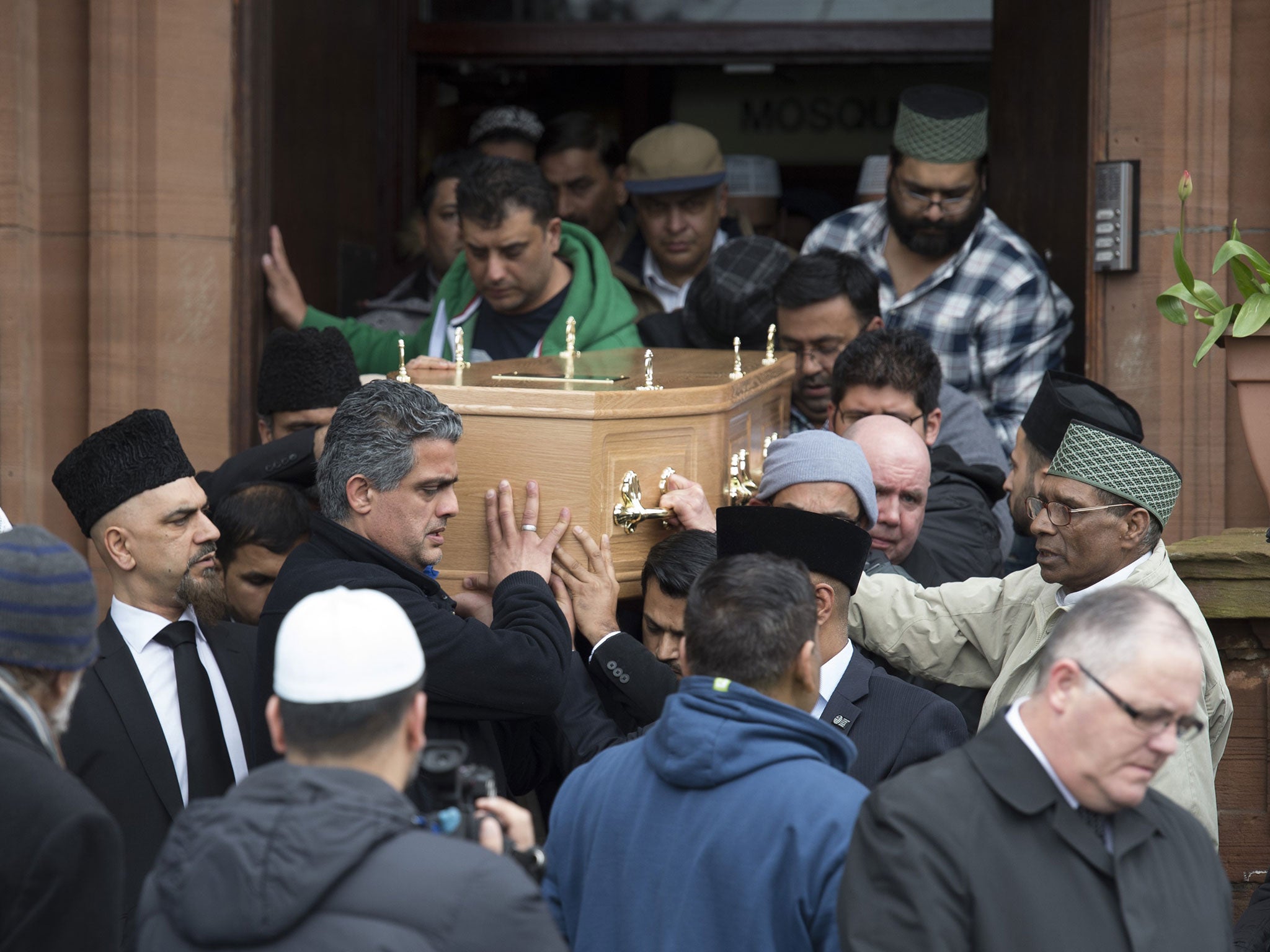 Hundreds of well wishers have paid their respects to popular Glasgow shopkeeper Asad Shah, who was killed just before Easter.
They gathered for prayers at the Bait-Ur-Rahman Mosque at the Ahmadiyya Muslim Centre in the west of the city today.
The 40-year-old was found injured outside his convenience store in the Shawlands area of Glasgow on 24 March.
Shortly before his death had posted a message wishing a happy Easter to his "beloved Christian nation".
Police later said the attack was "religiously prejudiced."
Tanveer Ahmed, 32, from Bradford in West Yorkshire, has since appeared in court charged with murder.
He did not enter a plea and was remanded in custody pending a further court appearance.
Mr Shah, a member of the Ahmadiyya Muslim community, was born in Rabwah, Pakistan, and moved to Glasgow in 1998 to join his father in business.
Prayers were led at today's hour-long service by Mansoor Shah, vice president of the Ahmadiyya Muslim Community UK.
Abdul Abid, president of the Ahmadiyya community in Scotland, said after the service: "We are sad that a very popular man of our community is not with us any more.
"I don't know how we will survive without him. He was a polite, gentle person.
"Today's service is in his memory and we are proud to have had such a wonderful person amongst our community."
In a tribute to Mr Shah, his family said he treated everyone "with the utmost kindness and respect".
They said: "He was a brilliant man, recognising that the differences between people are vastly outweighed by our similarities.
"And he didn't just talk about this, he lived it each and every day, in his beloved community of Shawlands and his country of Scotland."
Among the public figures who attended the funeral were Sandra White, MSP for the Glasgow Kelvin constituency prior to the Scottish Parliament being dissolved ahead of May's election.
The shopkeeper's death shocked members of the Shawlands community, who came together in their hundreds for a silent vigil and to lay floral tributes in his memory.
An online fundraising campaign set up to support his family has raised more than £110,000.

Join our commenting forum
Join thought-provoking conversations, follow other Independent readers and see their replies