Asda clears shelves of value burgers as horsemeat scandal knocks £300m off Tesco market value
Suppliers in continental Europe are suspected of being the source of horsemeat found in beef products, a processing firm has claimed
Rob Williams
Wednesday 16 January 2013 13:00 Comments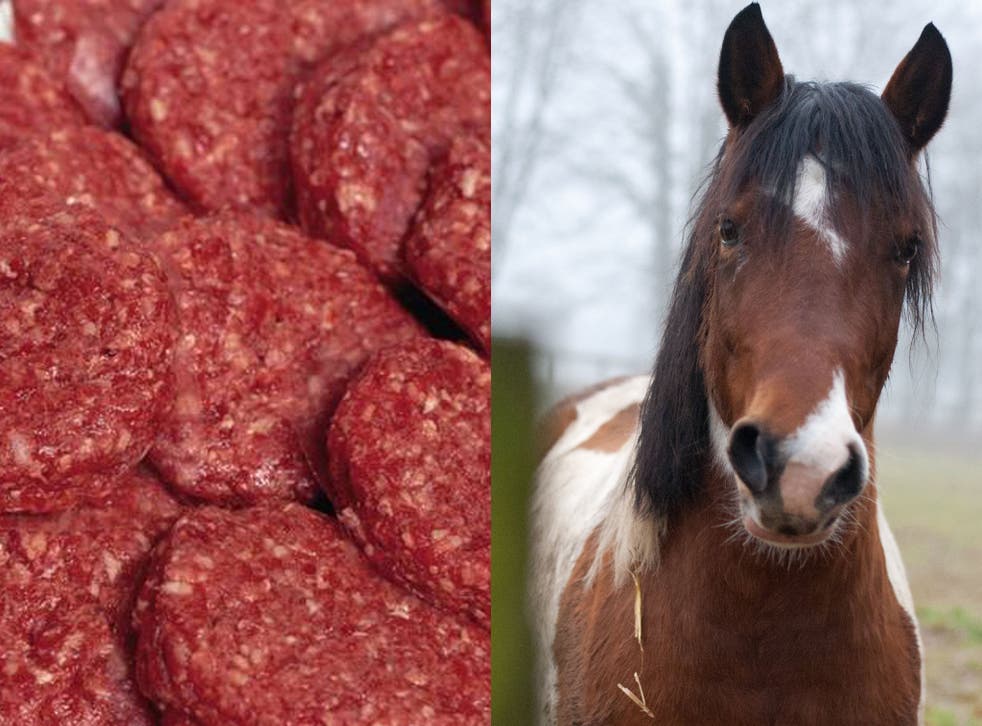 Nearly £300m worth of market value has been knocked off the value of Tesco following reports that a number of its burgers were found to contain horsemeat.
Tesco, along with rivals Lidl and Aldi were found to be selling burgers that contained horse DNA.
Both Asda and Tesco have now cleared products off their shelves as the Food Standards Agency launched an investigation.
In one Tesco product, 29 per cent of the 'beef' content was actually horsemeat.
It emerged today that suppliers in continental Europe are suspected of being the source of the horsemeat, a processing firm has claimed.
The Food Safety Authority of Ireland (FSAI) found low levels of horse in beef products sold in Tesco, Lidl, Aldi, Iceland and Dunnes Stores.
Burger products which tested positive for horse DNA were produced by Liffey Meats and Silvercrest Foods in Ireland and one UK plant, Dalepak Hambleton.
Silvercrest, a subsidiary of ABP Foods, said it was pulling products from sale and replacing them with new lines.
"Following tests carried out by the Food Safety Authority of Ireland, we have been alerted to frozen beefburgers which contain porcine and equine DNA," said a spokesman.
"Although the products pose no risk to public health, Silvercrest has taken immediate action to isolate, withdraw and replace all suspect product.
"Silvercrest has never purchased or traded in equine product and has launched a full-scale investigation into two continental European third party suppliers who are the suspected source of the product in question."
The bad publicity has pushed Tesco 3.6p lower to 346p, a 1 per cent fall in a FTSE 100 which is down just 0.5 per cent - a fall that comes at a difficult time for the company, which has lost market share against rivals.
Whilst the consequences for Tesco and other supermarkets may be difficult authorities have repeated that there's no threat to public health.
Professor Alan Reilly, chief executive of the FSAI, said there was no health risk but also no reasonable explanation for horse meat to be found.
"Whilst there is a plausible explanation for the presence of pig DNA in these products due to the fact that meat from different animals is processed in the same meat plants, there is no clear explanation at this time for the presence of horse DNA in products emanating from meat plants that do not use horse meat in their production process," Prof Reilly said.
"In Ireland, it is not in our culture to eat horsemeat and therefore we do not expect to find it in a burger."
The retailers have told food safety chiefs they are removing all implicated products from their shelves.
The Prime Minister said today that the discovery of horsemeat in supermarket beefburgers was "extremely disturbing" and "completely unacceptable".
Speaking at Prime Minister's Questions, Mr Cameron said there needed to be a full investigation and the Food Standards Agency was looking into the situation.
Mr Cameron said: "It is a very important issue and it is an extremely serious issue. People in our country would have been very concerned to read this morning that when they thought they were buying beefburgers they were buying something that had horse meat.
"It is extremely disturbing news. I have asked the Food Standards Agency to conduct an urgent investigation into this.
"They have made clear there is no risk to public safety because there is no food safety risk but this is a completely unacceptable state of affairs.
"They will be meeting retailers and processors this afternoon, they will be working with them to investigate the supply chain, but it is worth making the point that retailers have to be responsible for what they sell and where it has come from."
Asda said today: "We take matters like this extremely seriously, despite the fact that we aren't implicated in this report.
"As soon as we were made aware of the issue we launched a full traceability audit with our supplier. This is still underway.
In the meantime as a precaution we have withdrawn a number of frozen burger products from sale."
Register for free to continue reading
Registration is a free and easy way to support our truly independent journalism
By registering, you will also enjoy limited access to Premium articles, exclusive newsletters, commenting, and virtual events with our leading journalists
Already have an account? sign in
Join our new commenting forum
Join thought-provoking conversations, follow other Independent readers and see their replies