Asparagus festival cancelled - due to lack of of asparagus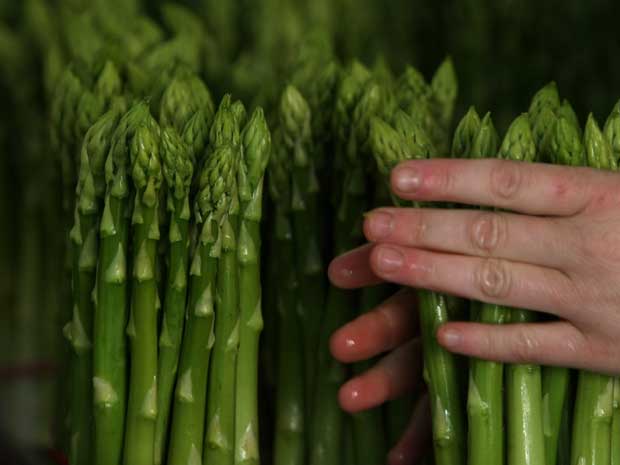 The recent rain and flooding has forced organisers of the annual British Asparagus Festival to cancel the event - because of a lack of asparagus.
Organisers said that, after an unusually warm March, the flooding that followed heavy rain and cool temperatures in April had left the seasonal vegetable "almost completely dormant".
And flood waters have left the venue for the festival, which was due to take place this weekend in the Vale of Evesham, Worcestershire, under several inches of water after the River Avon burst its banks.
The British Asparagus Growers' Association has reported the earliest recorded, but small, crop of the vegetable due to the hot March, but said that with cooler temperatures and rain, production had largely stopped.
British Asparagus Festival organiser Angela Tidmarsh said: "We were expecting asparagus to be scarce due to the unseasonably good weather at the start of the year followed by the recent deluge.
"However, this week's flooding means that the asparagus crop is almost completely dormant."
She said there were plans to continue celebrating asparagus, which is usually in season from late April to mid-June, throughout May and it was hoped the crop would be available for the asparagus auction at the Fleece, at Bretforton on May 27.
The "king of asparagus", due to be crowned at this weekend's festival, would instead receive their crown of asparagus spears at the auction, she added.
The British Asparagus Growers' Association said that after the small, early crop prompted by the warm temperatures in March, the cold, rainy weather had slowed production almost to a standstill.
And with more cool weather forecast it could be another 10 days to two weeks before full quantities of asparagus reach the shops.
A spokeswoman said: "Not only has the air temperature throughout April affected the crop but the rain has cooled the soil temperature as well, compounding the effect.
"The British supply is currently not at full volumes and, although the current warmer days should give some help to crop growth, the forecast is for temperatures to cool towards the end of the week which will slow growth again."
Growers say this year's harvest is likely to be short but intense as plants whose growth has been held back make the most of warm weather when it comes.
But they suggested continued unsettled weather through May could spread the crop more evenly and lead to asparagus being available more widely for the Diamond Jubilee weekend than would be expected for the time of year.
PA
Join our commenting forum
Join thought-provoking conversations, follow other Independent readers and see their replies