Astrophysics student lives in tent for a year in Manchester to save on rent
Evan Eames, 24, lived in the backgarden of a woman he found online
Rose Troup Buchanan
Tuesday 21 July 2015 15:55 Comments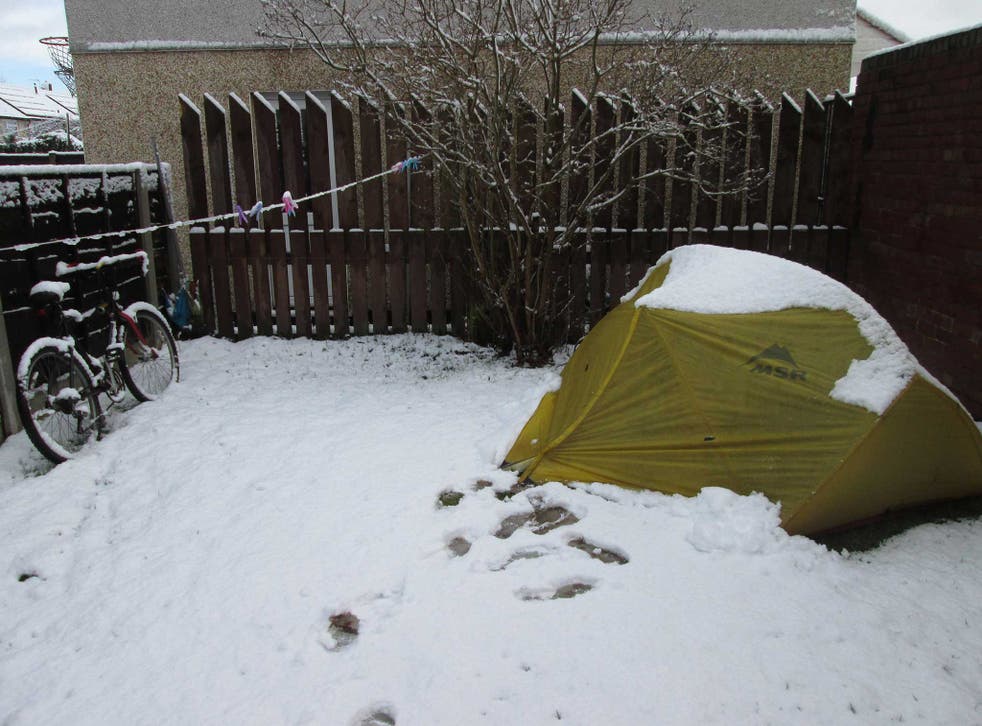 An astrophysics student has spent a year living in a tent in Manchester because he could not afford rent.
Canadian Evan Eames, from Montreal, asked strangers on Reddit and later Gumtree if he could stay in their garden while he completed his masters degree in astrophysics at Manchester university a year ago.
Mr Eames, now 24, told users that he would provide extra security, was happy to do the dishes and that they would be able to "tell your friends you have a Canadian physicist living in your backyard".
Eventually, Stockport resident Charley Mantack, 34, offered him a spot in her garden for the year in Holcombe Walk, Heaten Chapel. In exchange Mr Eames tutored Ms Mantack for her Maths and Physics GCSEs at the local Stockport College.
In total, the Canadian spent 10 months in her back garden while he finished his masters before returning to Canada last week.
Mr Eames, writing on Reddit at the finish of his experiment, explained he had first had the idea during his first degree at the University of Melbourne in order to save money.
"My goal in life is now to be the best dinner table conversation," he wrote five months into the challenge.
The idea was so successful, he decided to carry it over for the following year in Manchester – despite many dire predictions from Redditors.
During the winter months he wore thermal socks, gloves, a hat, wrap a scarf around my face, and then roll up in my thick blankets and told the online community he had been "sleeping great."
Mr Eames said that he would shower at the university and thanks to being on "good terms" with his bladder was able to avoid peeing in the garden.
He even managed to convince his girlfriend – who he met while studying – to stay in the tent (which he described in another Reddit thread as being similar to the Tardis in Doctor Who. Although he stayed with her for two weeks while her roommate was away, Mr Eames said he didn't want to impose.
The student described the experience as "really fun" and said that he was "super glad" he had done it.
"There was some days I would wake up, there was birds around and reeds blowing in the wind, or you could hear the pitter-pattering on top of the tent some days of the rain, it was really enjoyable," he told the Manchester Evening News.
Ms Mantack, who nicknamed the Canadian her physics gnome, said had been looking for a flatmate when he posted online. "I loved telling people about it, I like weird out of the ordinary things like that," she said.
Register for free to continue reading
Registration is a free and easy way to support our truly independent journalism
By registering, you will also enjoy limited access to Premium articles, exclusive newsletters, commenting, and virtual events with our leading journalists
Already have an account? sign in
Join our new commenting forum
Join thought-provoking conversations, follow other Independent readers and see their replies