Government could be forced to pay millions to police asylum barges and military bases
Exclusive: Suella Braverman approves new police funding policy amid 'intense' negotiations in Dorset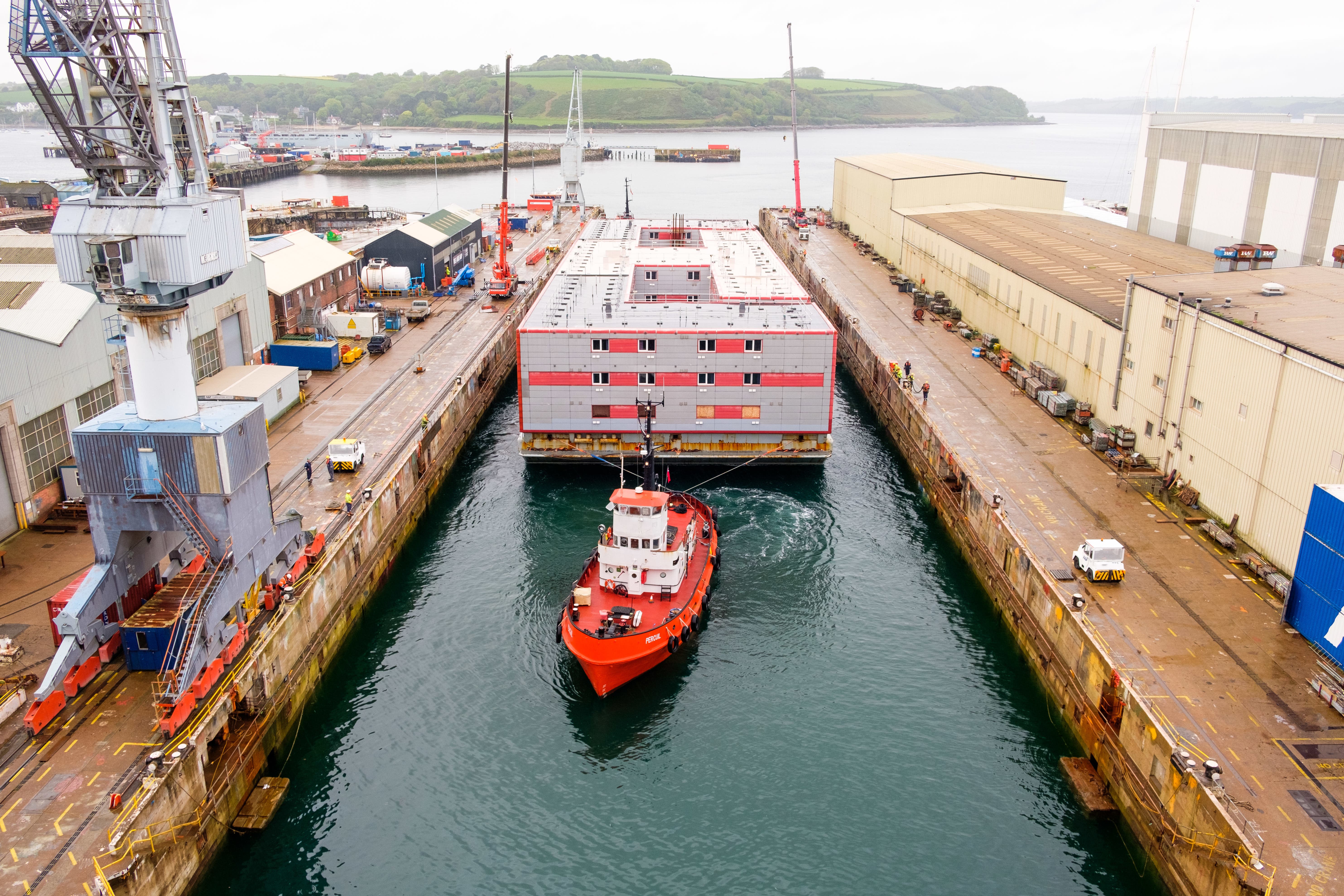 The government could be forced to pay police millions of pounds to cover security operations around Rishi Sunak's asylum barges and military bases, The Independent can reveal.
Police have calculated they need hundreds of thousands of pounds for each new ship or site to cover additional patrols, and deal with anticipated protests by anti-refugee groups and extremists.
The prime minister has already announced three large vessels to house asylum seekers, as well as two military bases and a former prison, all of which will be in different police force areas.
The funding will be on top of the huge £1.6bn contract handed to barge operator Corporate Travel Management, and money being paid separately to ports, private contractors, councils and health bodies.
Councils in Essex, Sussex and Lincolnshire have launched legal action against plans for large sites holding up to 1,700 asylum seekers each, but Dorset Council abandoned its fight against the first accommodation barge after being advised it would lose.
The Independent understands "intense" funding negotiations are ongoing ahead of the arrival of the Bibby Stockholm in Portland later this month.
David Sidwick, Dorset's Conservative police and crime commissioner, said police had been "planning extensively" since the government's private deal with Portland Port was announced in March.
"The challenge for everybody is to make this work to keep everybody involved safe – the people of Dorset and the asylum seekers," he added.
"It was a private commercial transaction made between Portland Port and the government. It wasn't discussed with local partner agencies before being implemented, and I'm very clear that I don't want the people of Dorset and Dorset Police picking up the bill for it."
Mr Sidwick said the barge, which will have a maximum capacity of 506 asylum seekers after extensive refitting in Falmouth, will create extra demand for the local force during its busiest period dealing with an influx of summer tourists and daytrippers.
Suella Braverman has recently approved a new policy for police forces affected by the new vessels and large asylum accommodation sites, which the Home Office said "provides a route to apply for support for reasonable additional costs".
Drone footage shows Dorset barge set to house 500 asylum seekers
In Dorset, a separate funding bid for health services has been submitted to the Home Office, and another for voluntary and community activities.
A summary of preparations published by Portland Town Council said: "There is a concern that without confirmation of the funding bid outcome there may not be time to commission services and/or recruit a dedicated coordinator before the first cohort of asylum seekers arrive."
Local NHS services will receive an undisclosed amount of money per occupied bed on the Bibby Stockholm, using a pro-rata calculation from when asylum seekers start being housed on the barge.
Richard Drax, the Conservative MP for South Dorset, said the public "should know how much is being paid" and the spending he was aware of so far was "alarmingly high".
"The point is this is taxpayers' money," he told The Independent. "The police want money, the health authority wants money, of course, the council wants money, and yet the government continues to insist that this is cheaper than hotels."
Alistair Carmichael, the Liberal Democrats' home affairs spokesperson, said the controversial accommodation plans were "immoral, ineffective and incredibly expensive".
"Local police officers are already overstretched, and wasting their time on this as well will only mean more unsolved crimes and more criminals getting away with it," he added.
"The Conservatives' broken asylum system is not only keeping very vulnerable people in appalling conditions, but costing taxpayers dearly too."
The government has argued the new sites are necessary to reduce spending on hotel places for asylum seekers, which are currently costing £6m a day as record decision backlogs mount.
A National Audit Office report released this week said that by the end of April, the Home Office was fulfilling its legal duty to accommodate 109,000 destitute asylum seekers, including 48,000 in hotels.
Last September, an internal "business case" aimed to stop using hotels by the end of this year, but the target has now been scrapped.
While being grilled by parliament's Home Affairs Committee on Wednesday, the home secretary said: "We have been able to announce the first batch of sites. Those will be delivered very soon, and we will be seeing asylum seekers relocated to those sites in the next few months. Once we are able to ramp that up, keep going with it and do more sites."
Ms Braverman claimed military bases and barges were "more appropriate, bespoke and cost-effective accommodation for asylum seekers".
The Bibby Stockholm saw at least one person die, and reports of rape and abuse on board, when it was used by the Dutch government to detain asylum seekers in the 2000s.
A 2008 Amnesty International report contains testimony from a 32-year-old asylum seeker called Ben, who described "four people in a cell" on board, adding: "The conditions force you into submission; they kill you psychologically."
Current refurbishment workers are increasing Bibby Stockholm's capacity from the previous 222 to 506, with calculations by The Independent showing each asylum seeker will have less living space than an average parking bay.
A Home Office spokesperson said: "The pressure on the asylum system has continued to grow and requires us to look at a range of accommodation options which offer better value for the British taxpayer than expensive hotels.
"This is why we will be using alternative accommodation options, such as barges, which are more manageable for communities, as our European neighbours are doing.
"We are continuing to work extremely closely with Dorset and Portland councils, as well as the local NHS and police services, to manage any impact in Portland and address the local communities concerns, including through substantial financial support."
Join our commenting forum
Join thought-provoking conversations, follow other Independent readers and see their replies