Azeem Wazir: Asylum seeker who fears death sentence or religious assassination in Pakistan fighting deportation
'His integrity and life would be in constant danger' senior lawyer says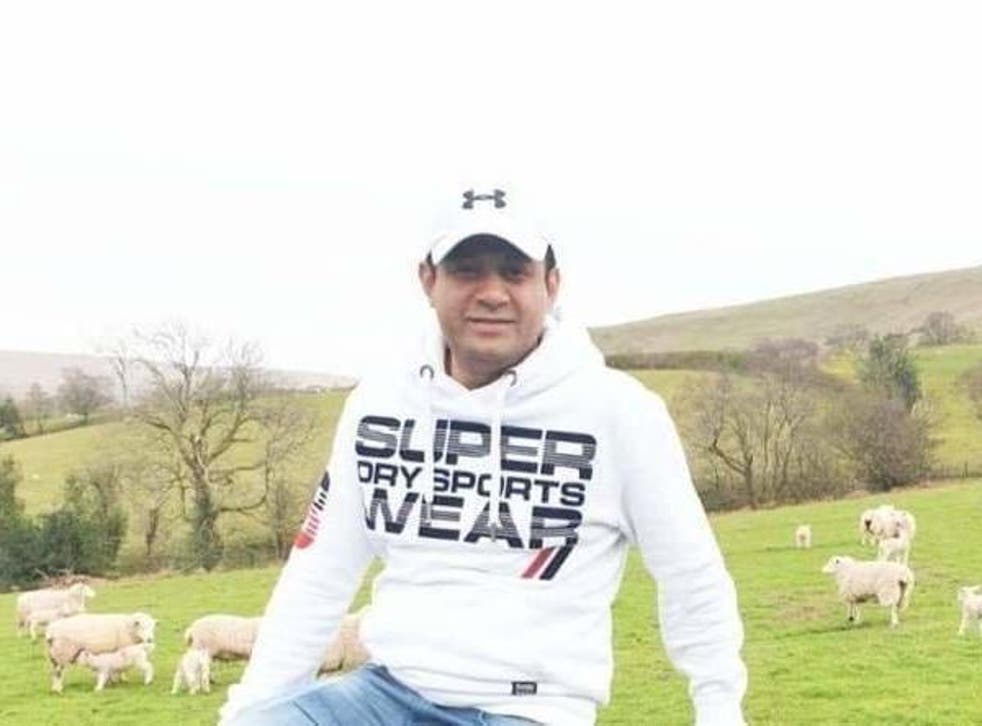 An asylum seeker who fears he will be sentenced to death or murdered by extremists if he is returned to Pakistan is fighting a Home Office decision to deport him.
Azeem Wazir, a Catholic, fled to Bristol four years ago after he was accused of dishonouring Islam and two fatwahs were placed against him for his leading role in a campaign against blasphemy laws.
The role he played in protests after two deadly church bombings by Islamic extremists in March 2015, also made him a target.
After a series of asylum appeals were denied, the 45-year-old who is currently being held at the Colnbrook Immigration Removal Centre, has been told he will be deported later this week.
Had Mr Wazir not left his homeland, he would have been arrested or killed by fundamentalists, according to documents sent as support for Mr Wazir's asylum case by senior lawyer dealing with the persecution of Christians in Lahore and seen by The Independent.
UK news in pictures

Show all 50
"His integrity and life would be in constant danger in Pakistan", one states.
Mr Wazir's wife and three children who stayed in Pakistan are being threatened by people who stone their home and fire weapons outside, his sister Marina Benson told The Independent.
If he is deported, his family fear Mr Wazir would be arrested for blasphemy "as soon as he arrives at Lahore airport", she added. He could face a death sentence if convicted.
"He would be taken away and we wouldn't have a clue where he is," said Ms Benson, who has lived in the UK since 1994 and sponsored her brother's asylum applications.
Last week, during a routine sign-in with authorities, Mr Wazir was arrested and detained without warning.
"It's been extremely difficult. We were not expecting this – we thought he was going on a regular signing in [with the police] and the next minute he was arrested and detained," Ms Benson said. "It was very shocking. As a family we were all devastated about the news, it was heartbreaking."
A petition to halt the deportation has been signed more than 5,000 times since being set up earlier this week by Dave Mitchell, senior pastor at Woodlands Church, where Mr Wazir worked as a cleaner.
"Azeem was comforted by [the] visit, humorous about the ethnic and gang culture in the centre, tearful at times about his situation and really depressed going back down into his cell," he told The Independent after he visited him in the removal centre.
"The staff were actually pleasant and seemed kind. Chapel inside has been a safe place for him."
Mr Wazir's case was also supported by Bristol's Mayor Marvin Rees who called him a valued member of the community.
"It is inconceivable that as Canada opens its doors to give Asia Bibi and her family safety, we are on the verge of sending one of her public supporters back to Pakistan where he faces clear and very serious danger," he said referring to the Pakistani Christian woman who spent years on death row after being convicted of blasphemy before her conviction was overturned last year by the Supreme Court. Earlier this week she left the country and it thought she has joined relatives in Canada.
Protests across Pakistan after acquittal of Asia Bibi blasphemy trial
"We are doing everything we can to try to make sure the Home Office reconsider this case," Mr Rees added.
Both Mr Mitchell and Ms Benson both said that a previous appeal had failed because the judge doubted Mr Wazir's vulnerability and believed his middle-class status in Pakistan, where he worked as a sales representative in the energy industry, would give him the means to protect himself from persecution.
Despite threatening Mr Wazir with deportation this week, he was granted a bail hearing by the Home Office on 14 May. The letter did not reference the fact that Mr Wazir was due to be deported before then.
Ms Benson said that her brother played a leading role in Stop Killing Christians, a campaign that supported Ms Bibi and protested against Pakistan's blasphemy laws. After more than 100 Christian homes were set on fire by Islamic extremists in Lahore's Joseph Colony in 2017, he got more involved.
Although he was kidnapped and beaten for his activism, Mr Wazir continued to protest for the rights of Christians in Pakistan, she added.
The documents sent from Pakistan as support for Mr Wazir's case appear to corroborate his family's claims that he is in possibly greater danger now than when he left Pakistan.
A recent decision by the Lahore High Court recently to release more than 100 individuals accused of the 2015 church bombings, heightened the threat to Mr Wazir's life, they state. It claims the men are "supported by the fundamental and extremist groups".
Support free-thinking journalism and attend Independent events
Last week a report ordered by Foreign Secretary Jeremy Hunt revealed that the persecution of Christians in the Middle East is "coming close to genocide". Millions have been displaced from their homes, kidnapped, incarcerated or murdered, it said.
The report heavily referred to Pakistan, which is estimated to be home to 2.6 million Christians, who account for less than three per cent of the total population.
Asked about Mr Wazir's case, a Home Office spokesperson said: "The UK has a proud history of granting asylum to those who need our protection. Each case is assessed on its merits and individuals have the right to appeal to an independent immigration court. Where a decision has been made that a person does not require international protection, removal is only enforced when we and the courts conclude that it is safe to do so, with a safe route of return.
"We do not routinely comment on individual cases."
Join our new commenting forum
Join thought-provoking conversations, follow other Independent readers and see their replies