Vulnerable asylum seeker kept at Napier Barracks for weeks after attempting to take his life
Safeguarding failings meant suicidal individuals and potential trafficking victims remained in camp for weeks despite Home Office saying vulnerable people should not be there, previously unseen report shows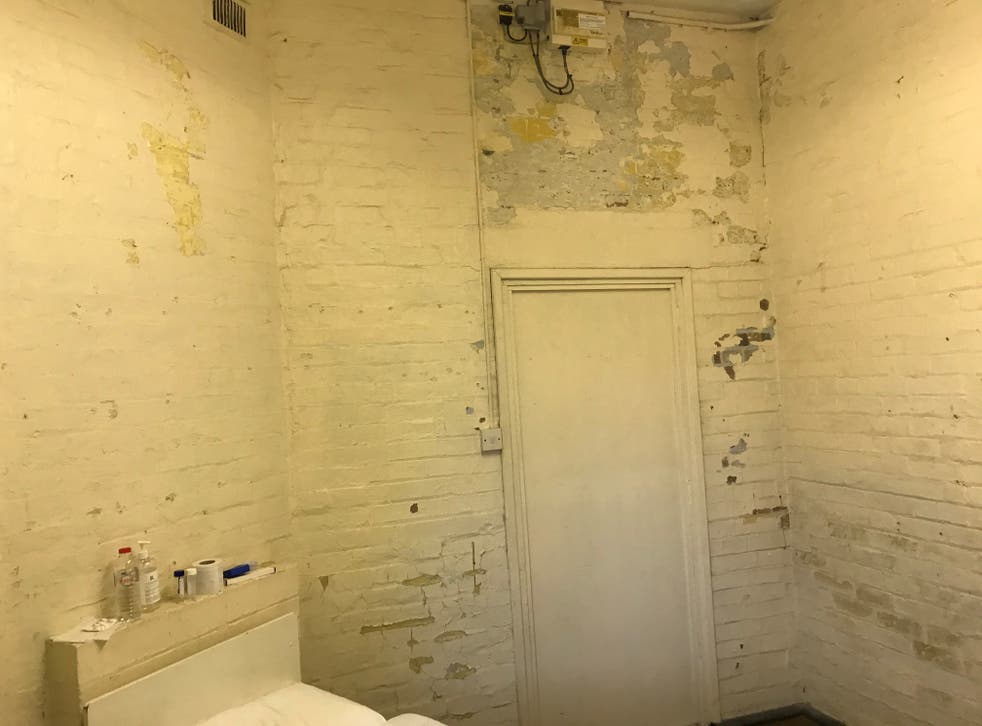 A vulnerable asylum seeker was held at Napier Barracks for weeks after he attempted suicide at the camp, according to a previously unseen report which raises "serious concerns" about safeguarding on the site.
A damning Prison Inspectorate report into the accommodation of asylum seekers at the Ministry of Defence site in Kent, carried out in February, warns of "major weaknesses" in the way residents with serious mental health and welfare needs are cared for at the camp.
The report, which has not yet been published in full but was released to journalists after it was referenced during court proceedings, found there had been seven incidents of self-harm at the barracks – with some described as "serious" – and that seven residents had threatened suicide.
The findings were cited as evidence in a legal challenge over the use of Napier Barracks, which was repurposed into asylum accommodation in September and around 400 individuals were subsequently moved in.
The camp was emptied in April, but the Home Office has started placing a new cohort of asylum seekers there and intends to use the site until September – which the claimants' lawyers are hoping to prevent.
The case is being heard at the High Court this week. Lawyers acting for six former residents of the barracks have argued that housing asylum seekers on the site is unlawful and breaches their human rights. The judgement is expected at a later date.
The Prison Inspectorate report finds that although the Home Office has said people with serious health problems and vulnerability should not be placed at the site, safeguarding failings meant suicidal individuals and potential trafficking victims had remained there for weeks.
It cites one case in which a man who had previously threatened suicide was left unsupervised and subsequently attempted to take his life, which led to him requiring overnight hospital treatment.
He was returned to the barracks and was not transferred out until three weeks later, following a further incident in which staff intervened to prevent him from self-harming.
The inspection report states that little meaningful engagement was made with the resident before he tried to take his life and no engagement undertaken with him after that incident, nor any review of the case to learn lessons, according to official documentation.
In another case, the Home Office decided that a resident was a potential victim of trafficking, but he remained at the barracks for a further 10 weeks before being transferred out, according to the report.
The report also cites cases where it took weeks for residents presenting as children to be transferred to the care of social services for an age assessment.
In one case, an individual remained in the barracks for two months before being moved to local authority care for age assessment – and that was only following legal intervention.
"Home Office electronic records showed little meaningful attention to the resident's vulnerability and it was unclear why he had not been transferred to more suitable accommodation much sooner," the report said.
A survey carried out by inspectors shows that only one out of 18 residents who had felt depressed or suicidal said they had received any help from staff, and that all respondents said they had been depressed at some point at the barracks and a third said they had felt suicidal.
The report found the systems intended to safeguard residents did "not ensure that vulnerability was always identified and acted on promptly" and that records of welfare checks were "often superficial".
It said vulnerable residents, including those who said they were children, were placed in single rooms in an 'isolation block' described as "decrepit and wholly unsuitable". The safeguarding team, managed by Home Office contractor Clearsprings, was based off site.
Inspectors also cite "significant concerns" about Covid safety on the camp, stating that there was "no evidence" of a risk assessment to determine the maximum Covid-19 safe occupancy.
It comes after lawyers acting for the Home Office admitted during the court hearing that the department had placed asylum seekers at increased risk of contracting the coronavirus when housing them at the site.
They said Priti Patel had "always accepted and acknowledged that transmission risk is higher in congregate settings" such as Napier Barracks, and justified this by saying the men were "young and healthy".
A Covid outbreak did then occur at the site – where residents were housed 14 to a dormitory – in January, leading to 200 people testing positive.
Tom Hickman QC, representing four of the six claimants, told the court there had been a "total systems failure" when asylum seekers were placed at the camp, with "no Covid protocol, no testing, no outbreak plan".
The hearing is due to conclude on Thursday evening, with a judgment expected to be handed down at a later date.
If you are experiencing feelings of distress and isolation, or are struggling to cope, The Samaritans offers support; you can speak to someone for free over the phone, in confidence, on 116 123 (UK and ROI), emailjo@samaritans.org, or visit the Samaritans website to find details of your nearest branch.
For services local to you, the national mental health database- Hub of Hope – allows you to enter your postcode to search for organisations and charities who offer mental health advice and support in your area.
Register for free to continue reading
Registration is a free and easy way to support our truly independent journalism
By registering, you will also enjoy limited access to Premium articles, exclusive newsletters, commenting, and virtual events with our leading journalists
Already have an account? sign in
Register for free to continue reading
Registration is a free and easy way to support our truly independent journalism
By registering, you will also enjoy limited access to Premium articles, exclusive newsletters, commenting, and virtual events with our leading journalists
Already have an account? sign in
Join our new commenting forum
Join thought-provoking conversations, follow other Independent readers and see their replies