Asylum seekers 'denied Christmas celebrations' at accommodation centre in Ireland
Families living in Limerick asylum accommodation centre 'locked out' of communal living space and prevented from hosting family Christmas celebration, says local councillor
May Bulman
Social Affairs Correspondent
Sunday 31 December 2017 18:27 Comments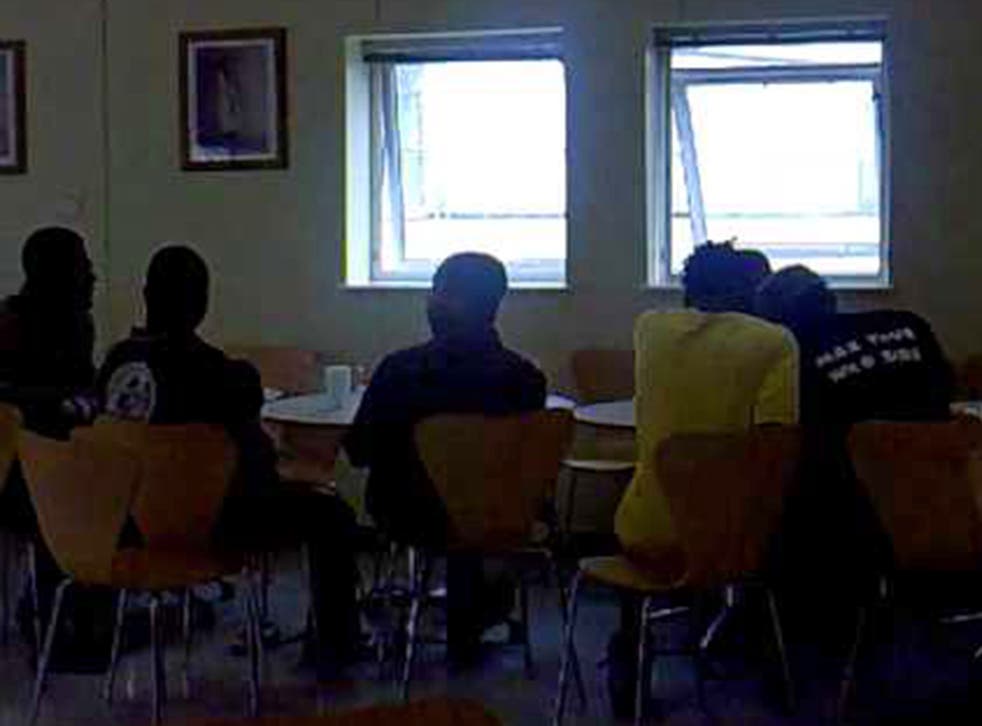 Asylum seekers at an accommodation centre in Ireland have been prevented from organising Christmas celebrations, according to a local councillor.
Residents at Knockalisheen Accommodation Centre in Limerick, which houses asylum seekers under Ireland's controversial Direct Provision system, were reportedly told they did not have permission to host a celebration they had planned for families in the centre's communal space on Christmas Day.
Solidarity councillor of Limerick Cian Prendiville, who was alerted to the incident by a female asylum seeker living in the centre, told The Independent they had been planning a gathering but were unable to access the communal space as the doors – which are usually always left open – were locked.
He said dozens of residents had raised money to fund food, non-alcoholic drinks and goodie bags, each contributing around €5 (£4.40) to the event – nearly a quarter of the €21.60 Direct Provision residents are allocated each week.
A spokesperson for the centre said they would not comment on the matter, and referred The Independent on to the Department of Justice. The department said the minister for justice and equality, Charles Flanagan, had requested a report from the management of the centre on this issue.
Mr Prendville and campaigners in the local area said the alleged actions by staff at the centre were "hugely disappointing" but unsurprising. They said it was "not inconsistent" with the Direct Provision system and the way asylum seekers are treated within it – describing it as being "like a prison system".
Direct Provision was formed in Ireland in 2000, in response to increased numbers of asylum seekers entering the country. It saw the creation of 31 direct provisioning centres for people to be housed while they await the outcome of their asylum application.
According to the Department of Justice, the term refers to "a means of meeting the basic needs of food and shelter for asylum seekers directly while their claims for refugee status are being processed rather than through full cash payments".
But the system has received a lot of criticism in recent years. A taskforce set up to examine the system in June 2015 found 173 recommendations around what needs to be done in relation with it. Many of these recommendations have still not been implemented.
Many of the people who live in accommodation centres under the Direct Provision system have been there for years, awaiting a decision on their asylum status. They do not have permission to work during this time and receive just €21.60 each week.
Mr Prenville told The Independent: "This is a demonstration of the fact that part of the way Direct Provision works is by punishing people in order to keep them in line. It is in that way like a prison system.
"They want people to be beaten down and feel like they have no rights whatsoever. The whole system is a cruel and unusual form of punishment for vulnerable people who have already struggled in poverty and war.
"They were essentially locked out of what is their communal sitting room. They should have the right to socialise, especially on Christmas Day. But this was pulled away from them, and it looks like it was only a way to show them who's boss.
"I've had other issues of people being evicted, and punishments. The centres get away with it. There isn't the same oversight and monitoring that you have in other places. They wear down people's sense of being human. It's dehumanisation."
A spokesperson for End Direct Provision Limerick, a campaign group that fights against the Direct Provision system, said: "This incident is on a par with the Direct Provision system in general.
UK news in pictures

Show all 50
"People are expected to live on approximately €20 a week, and are often left waiting on their asylum case for many years. They're not permitted to work, and it's extremely difficult to get access to education.
"It would be only reasonable to allow residents who want to go to the trouble to provide some form of community togetherness for Christmas Day within the centre to be allowed to do that. It could've been easily facilitated.
"It's hugely disappointing but it's not inconsistent with what we know about the Direct Provision system and the treatment of people in it."
Register for free to continue reading
Registration is a free and easy way to support our truly independent journalism
By registering, you will also enjoy limited access to Premium articles, exclusive newsletters, commenting, and virtual events with our leading journalists
Already have an account? sign in
Join our new commenting forum
Join thought-provoking conversations, follow other Independent readers and see their replies