Number of asylum seekers waiting longer than target time rises 27% despite drop in applications
Nearly half of people waiting for decision on asylum claim waiting longer than six months — up from 39 per cent in same period last year, figures show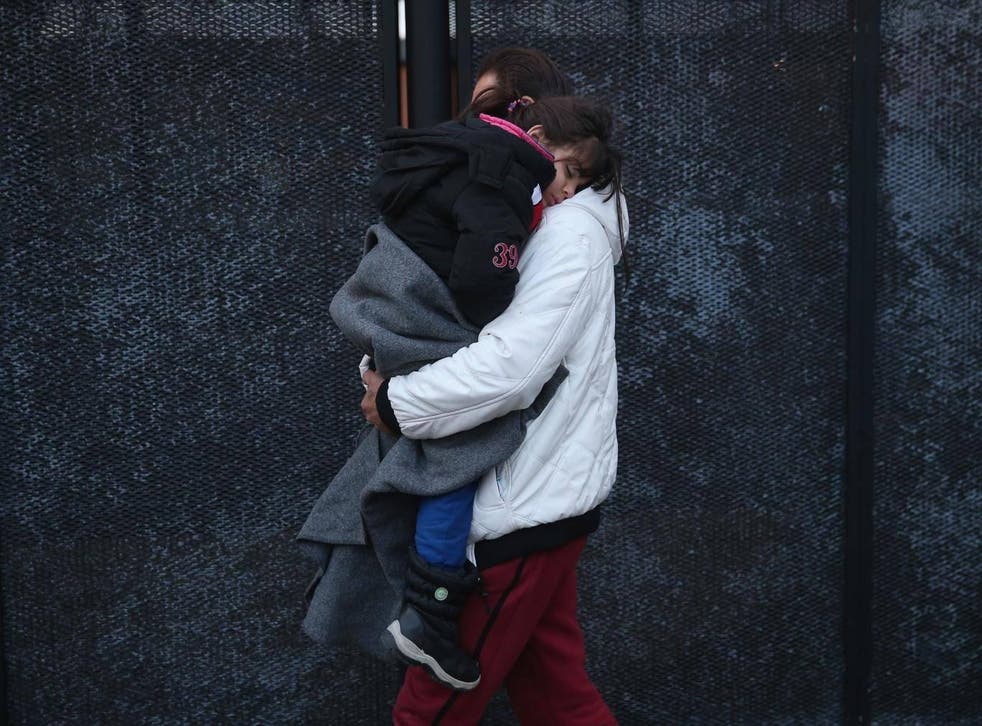 The number of asylum seekers who wait longer than the six-month decision target has increased by more than a quarter in the past year, despite asylum applications having fallen by 21 per cent in the same period, figures show.
The latest immigration statistics from the Office for National Statistics (ONS) show nearly half (49 per cent) of people waiting for a decision on their asylum claim are waiting longer than six months — up from 39 per cent in the same quarter last year.
A total of 10,552 people were waiting for more than six months in the months from July to September this year — an increase of 27 per cent on the same period in 2016.
The increase in the number of people waiting longer than the six-month customer service target comes despite the new statistics also showing a sharp drop in the number of asylum applications of 21 per cent in the past year.
Campaigners have said the figures are "disgraceful" and serve as evidence that the Home Office is failing to make prompt and fair asylum decisions, urging that delays have a "hugely damaging" impact on people's mental health and chance to properly rebuild their lives in the UK.
It comes after research earlier this year showed asylum seekers were being wrongly denied emergency support they are legally entitled to from the Home Office while they wait for their claims to be processed.
A report by charity Refugee Action revealed individuals and families at risk of homelessness and with no means of supporting themselves are waiting an average of nearly two months for housing and the small amount of money they are entitled to (£5.28 a day).
Stephen Hale, chief executive of Refugee Action, said: "These figures are appalling evidence of the Home Office's failure to make prompt and fair asylum decisions.
"Incredibly, despite a fall in applications, nearly half of people are now waiting longer than the Government's six-month target for a decision on their asylum claim. During this time, people are left unable to work or integrate, struggling to survive on just £5.28 a day.
"Poor decision-making and delays are leaving families facing years of uncertainty, taking a tremendous toll on the wellbeing of people who have fled conflict and persecution. This has to change, and fast."
Judith Dennis, policy manager at the Refugee Council, echoed his concerns, saying: "It is disgraceful that the numbers of people having to wait for unbearably long periods for the Home Office to decide their fate has risen so drastically.
"This means more and more lives spent in limbo and fear, which can have a hugely damaging impact on people's mental health and chance to properly rebuild their lives here. These delays are indicative of an asylum system this is inefficient and needs urgent attention.
"Mammoth backlogs and overstretched capacity mean that the Home Office seems to lose sight of that fact that they are dealing with the lives of real people. The Home Office must address this issue immediately."
Home Office immigration statistics released today alongside the ONS figures show that grants of asylum to main applicants and dependants have fallen by 9 per cent in the year to September 2017, while the number of people granted permission to stay permanently was down 5 per cent.
The number of people provided with protection and support under a resettlement scheme is meanwhile up 30 per cent. A total of 6,348 refugees have been resettled in Britain over the past year, including 4,980 refugees welcomed through the Government's Syrian resettlement programme.
UK news in pictures

Show all 50
Mr Hale added: "It's positive news that the Government is on track to meet its target of welcoming 20,000 refugees affected by the Syrian conflict to Britain by 2020.
"But all refugees in Britain should have the same opportunity to rebuild their lives – starting with access to a fair and effective asylum system."
A Home Office spokesperson said: "The Home Office continues to meet its target to make an initial decision on 98% of straightforward asylum claims.
"We are committed to improving efficiency in this area and have plans in place to transform the asylum system. For example, in Spring this year, we opened a new office which will focus on the more complex cases and make sure that they are decided faster."
An asylum case that does not get decided within six months is usually classed as a "non-straightforward" asylum case, which the Home Office says cases not possible to decide within six months for reasons outside of their control.
Join our new commenting forum
Join thought-provoking conversations, follow other Independent readers and see their replies