Asylum seekers rescued from English Channel 'after drifting for two days'
'They were in distress. They didn't speak any English but they kept saying 'Iran' because I was asking where they had come from and if they were okay'
Harriet Agerholm
Sunday 02 September 2018 00:46 Comments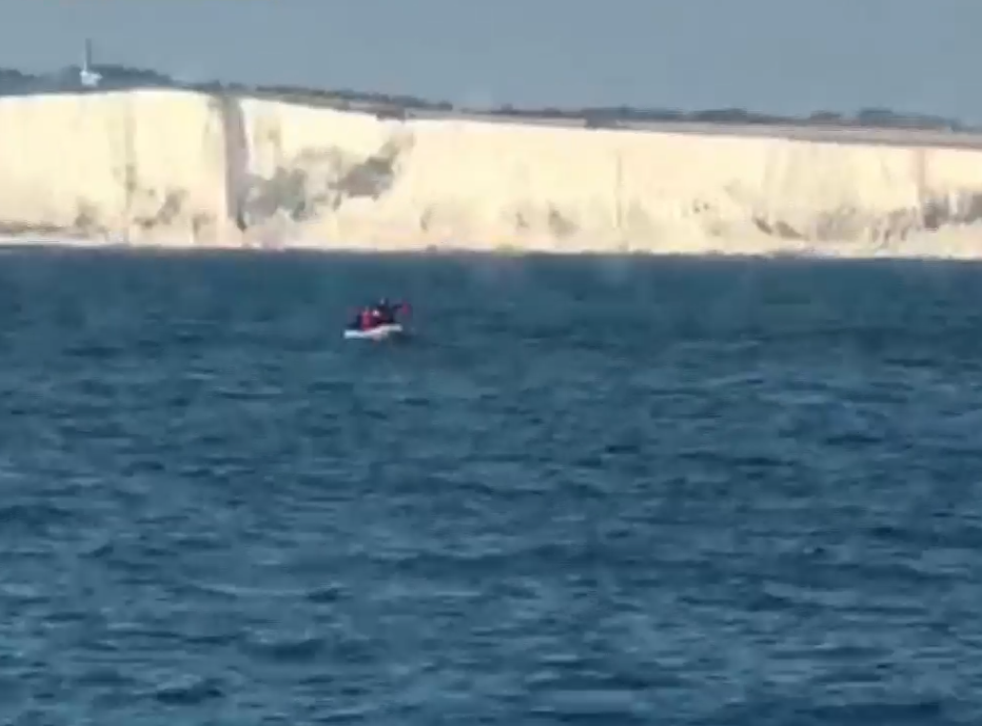 Four asylum seekers have been rescued from an inflatable dinghy after reportedly drifting on the English Channel for two days.
Matt Coker, the captain of a charter fishing boat said he spotted the small boat, which was half full of water, three miles off the Goodwin Sands in Kent.
The three "distressed" men and one woman on board tied a red T-shirt to an oar to flag the boat down, he said, adding that his fishing party pulled them aboard, gave them first aid and called the Coastguard.
"I tried to look with the binoculars and I could see people in it and didn't think much of it," Mr Coker said. "But as we got closer... they see us and suddenly started waving.
"I had another look with the binoculars and I could see they were actually waving the oars and they tied a red T-shirt on to an oar and were waving that. So then I motored over to see who it might be, because they were clearly in distress, but in the back of my mind I thought this could actually be asylum seekers or it could be someone who's drifted off the beach.
He added: "As I got over to them I could see they were clearly in distress and the boat was half full of water, so they sort of made a leap for the boat as we got near. Luckily I had 12 passengers on and they grabbed hold of them and we got them aboard pretty quick and then we got the boat aboard, which was a little inflatable dinghy.
"They were in distress. They didn't speak any English but they kept saying 'Iran' because I was asking where they had come from and if they were okay."
UK news in pictures

Show all 50
The asylum seekers were aged between 27 and 37, Sky News reported.
Mr Coker said he initiated first aid and tried to look after them, while they waited for Border Force to arrive, adding: "They boarded the boat, interviewed them and took them away."
A Home Office spokesman confirmed: "Border Force received a call from the UK Coastguard regarding a small inflatable boat off the coast of Dover. "A coastal patrol vessel was deployed and the four people on board have been brought to Dover, where they will be processed in line with the immigration rules."
Press Association contributed to this report.
Register for free to continue reading
Registration is a free and easy way to support our truly independent journalism
By registering, you will also enjoy limited access to Premium articles, exclusive newsletters, commenting, and virtual events with our leading journalists
Already have an account? sign in
Join our new commenting forum
Join thought-provoking conversations, follow other Independent readers and see their replies