Asylum seekers in UK 'hiding their identities to avoid discrimination'
Growing fears of disclosing their status due to 'deep racism and scapegoating' is leading people seeking refuge to be 'driven underground' without access to services, The Independent is told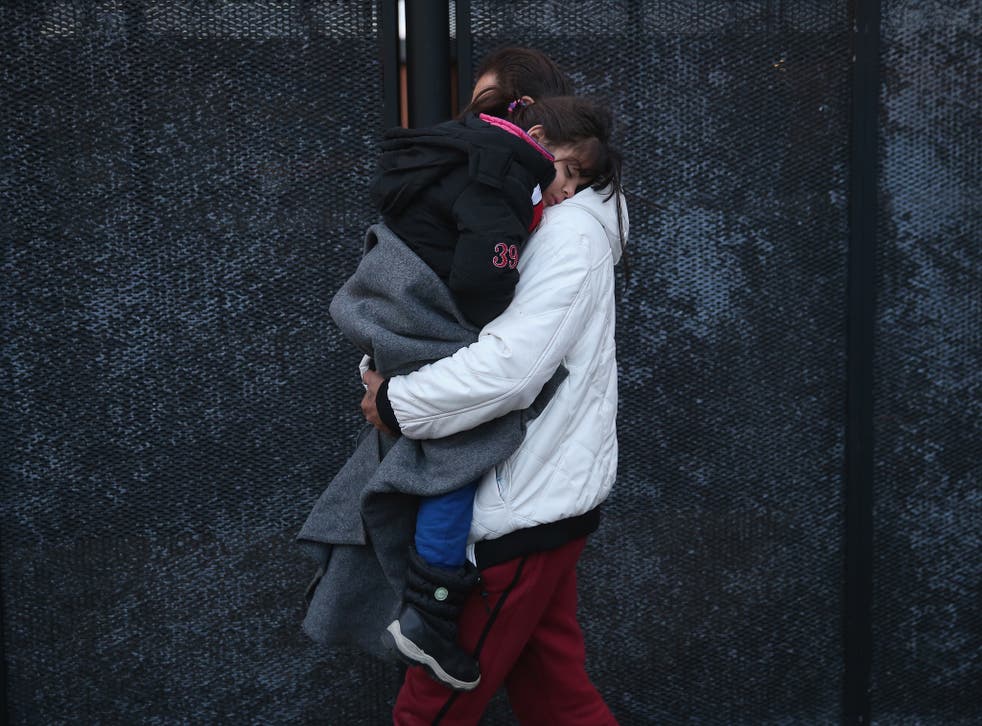 Asylum seekers in the UK are attempting to conceal their status to avoid being discriminated against — or even attacked — charities and experts have warned.
Following the brutal attack of a teenage asylum seeker in Croydon last Friday, it has emerged that people seeking asylum in the UK are becoming increasingly fearful of disclosing their true identity in public places, due to the "deep racism and scapegoating" that it is argued has been fuelled by political discourse over recent years.
Many asylum seekers are subsequently adopting the strategy of "self-censorship" to avoid being targeted and discriminated against, sometimes with violence, which experts have warned is driving them "underground" at a time when they are most in need of support and legal representation.
Reker Ahmed, a 17-year-old Kurdish Iranian, is currently recovering in hospital after he was left with a blood clot on his brain and a fractured skull when a group attacked him at a bus stop, reportedly after he told his attackers he was an asylum seeker.
Charities have since told The Independent discrimination is a frequent and growing concern among the asylum seeking community. Tell MAMA, which works to measure anti-Muslim attacks, said increased targeting of people seeking refuge since the Brexit vote has had the effect of "dehumanising" victims, while a Kent refugee charity said there is an "undercurrent" of discrimination faced by young asylum seekers.
The National Police Chief's Council has meanwhile informed The Independent that "more people are reporting hate crime than ever before", with a significant number still going unreported.
According to Dr Rhetta Moran, a researcher who works with displaced people with charity RAPAR, this increased targeting of people seeking refuge in the UK has brought the country to a "critical juncture", whereby asylum seekers are choosing not to "self-disclose" and are thus unable to engage with the process of finding protection.
Dr Moran, who has been working with the Manchester charity for almost 20 years, told The Independent: "The legitimacy that is being given to identifying people seeking asylum as part of the problem in our society means that people are feeling able to express racist ideas and in some instances launching physical attacks who might have previously self-controlled.
"People seeking asylum have disclosed to us that sometimes they self-censor. They're not exposing their status to the people they know socially, even if they might have known them for two or three years. They're trying to be themselves, but miss out that dimension of who they are.
"There's a very profound self-censorship going on. The racism is now so deep that the scapegoating of the person seeking asylum is being very clearly understood and people are taking defensive measures where they can. They don't self-disclose."
Dr Moran explained that this process of "self-censorship" is difficult for people to fully achieve due to the many ways in which they are forced to disclose their status in everyday life, comparing the situation to a Jewish person who is forced to wear the Star of David.
"It's difficult to hide. If you're in a supermarket queue you have to get out your Azure card and it's clear," she said.
"There are all kinds of ways in which you are made to expose yourself, and yet at the same time you are being made to expose yourself in an environment where the state is giving out so many racist messages that claim you are the problem.
"It's a bit like forcing Jewish people to wear stars on their clothes and then denying responsibility for what happens when the Jew goes outside wearing that star."
Dr Moran asserted that when asylum seekers do not share their experiences for fear of being punished if they do, they are "driven underground" and are not protected by important services, leaving them more susceptible to be left without support and legal representation.
"In order for somebody who has fled death or famine or persecution to secure their safety, people around them have to be able to engage with their process of finding protection, which they cannot do if they don't know that they need protecting," Dr Moran added.
"But the Government policy is driving people seeking asylum underground, which means the problem festers and grows. It's leaving people to fend for themselves and cutting them off from the wider population, so that they end up unable to do anything other than wait for a judge and hope that judge makes the right decision.
"We're at a very critical juncture — and it's a two-way street — in which people speaking asylum have the right to be able to speak out about what is happening to them, and people who are from here have the right to know about that, and together they can make some informed choices about in whose interest this is for these people to be able to become safe.
"The levels of discrimination are so high at the moment, that the expectation is – even if it's not the case - that if I say I am an asylum seeker I will be vilified.
"These are people who have seen horror and violence. If you hide your identity you're isolated with your trauma. You're isolated with a situation where the government is on occasion acting illegally. We need people seeking asylum to feel able to come out, so that everyone who wants to can say they stand shoulder to shoulder with them, because we have to confront the racism otherwise it will take over."
Iman Abou Atta, director of Tell MAMA, told The Independent there has been an increase over the past two years in the number of people seeking refuge in the UK being attacked and targeted — including abuse at street level and people being targeted in their homes — a rise he said can have the effect of "dehumanising" asylum seekers.
"Sadly, the targeting of people who are asylum seekers and seeking refuge in the UK is nothing new, but we have seen cases coming into us over the last two years and particularly when the Brexit campaign started and when the mass migration of people took place into Europe from war-torn Syria and Iraq," Ms Atta said.
"We have had cases where people have been abused at a street level and targeting in their places of residence. These are vulnerable people and the toxic debates around asylum seekers certainly does not help in dehumanising some of the most vulnerable in our society and communities."
Razia Shariff, CEO at Kent Refugee Action Network, said: "There has always been a concern in Kent regarding attitudes towards refugee's and asylum seekers, however this has also fuelled a very positive proactive response from the public offering support.
"Unfortunately the the political and media discourses can sometimes misinform those who already have a lack of understanding and awareness regarding refugees and asylum seekers and lead to discrimination and hate crime.
"We regularly try and support our young people to understand that although there may be individuals who have prejudicial attitudes against them, especially younger people, the majority are sympathetic. There has been no noticeable increase in incidents in recent weeks, but there is always an undercurrent prevalent that our young people have to tolerate."
Refugees welcome here: Protesters demand UK resettle more migrants in response to refugee crisis

Show all 7
A spokesperson from the National Police Chiefs' Council told The Independent: "More people are reporting hate crime than ever before but it is still significantly underreported. Violence and hatred directed at people who are in this country to escape danger is unacceptable and has no place in our society.
"Police forces work closely with the communities they serve to reassure people that we will respond to any incidents of violence driven by hate or intolerance. We want to reassure all members of the community: police will take your reports of hate crime seriously, protect you, and make sure you have all the support you need.
"If you are a witness or a victim of hate crime or feel vulnerable please contact someone to report it. Don't suffer in silence; there are people who can help you. Call the police on 101, or visit the True Vision website (www.report-it.org.uk) for information, advice and to report online. In an emergency, always dial 999."
Register for free to continue reading
Registration is a free and easy way to support our truly independent journalism
By registering, you will also enjoy limited access to Premium articles, exclusive newsletters, commenting, and virtual events with our leading journalists
Already have an account? sign in
Register for free to continue reading
Registration is a free and easy way to support our truly independent journalism
By registering, you will also enjoy limited access to Premium articles, exclusive newsletters, commenting, and virtual events with our leading journalists
Already have an account? sign in