Asylum seekers forced to make weekly five-hour journey to reporting sessions after Home Office policy change
Exclusive: Hundreds of people seeking sanctuary in Britain having to make routine 40-mile trips as part of move to 'more effectively manage' immigrant population
May Bulman
Social Affairs Correspondent
Tuesday 13 November 2018 11:34 Comments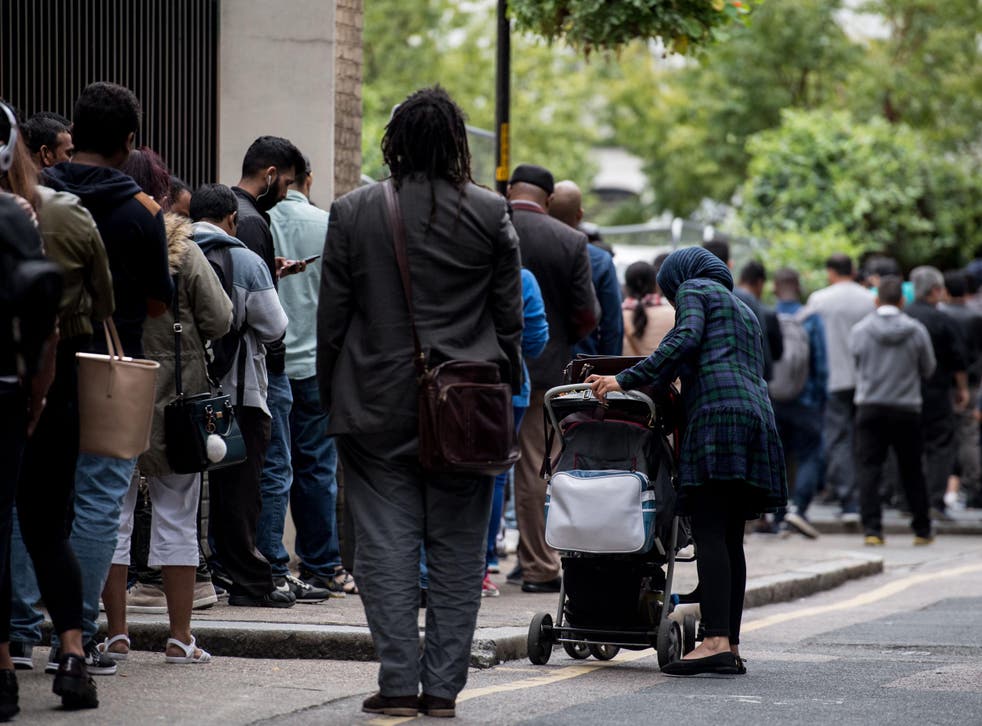 Asylum seekers are being forced to undertake five-hour round trips to compulsory Home Office meetings, in what has been branded an expansion of the hostile environment policy.
Ministers have been accused of showing a "complete lack of compassion" after it emerged that hundreds of people seeking sanctuary in Britain are having to take the trips that can cost up to three-quarters of their £37.75 weekly allowance.
In one example, asylum seekers living in Stoke-on-Trent were ordered to sign the Home Office register in Salford after the local immigration service closed in October.
Immigration minister Caroline Nokes said the move formed part of a wider programme to "rationalise reporting locations to more effectively manage the reporting population". She also said there was no upper limit to the distance a person may be required to travel in order to attend their nearest reporting location.
Charities said the change meant disabled and mentally unwell asylum seekers were having to make long and expensive journeys to comply with immigration rules.
Some receive no support at all, which has reportedly left them with no way of paying travel costs without begging, borrowing or even putting themselves in exploitative situations to be able to earn money.
While there is purportedly a reimbursement scheme, campaigners said it was "at best complicated and unpractical", and that many people were still not receiving money.
Around 500 asylum seekers living in Stoke-on-Trent were informed in October that they would no longer be able to report at their local police station and would instead have to travel more than 40 miles way to Dallas Court in Salford.
One disabled woman got lost in Manchester after getting off at the wrong stop and had to stand in a queue for three hours on crutches. It took her eight hours to get from her accommodation to the reporting location in Salford. The ordeal left her "distressed and very unwell for the next few days", according to Jude Hawes, manager of Stoke's Citizens Advice Bureau.
Another asylum seeker who had no severe mental health problems before he was compelled to report at Dallas Court reportedly attempted suicide due to the distress it caused. He was subsequently admitted to an acute psychiatric ward for a month.
Others have been unable to get back in time for the school pick-up, meaning they have had to take their children out of school for the day and bring them with them.
Lawyers said it was "very concerning" and have sent urgent correspondence to the Home Office in the hope that they will reconsider the decision without the need to challenge it in court.
The Citizens Advice Bureau in Stoke said there had been a 28 per cent increase in the number of asylum seekers attending the charity's drop-in sessions for help since the local reporting service was closed.
Mr Hawes said: "I can't tell you how shocked and distressed people have been by this. People who already have very limited financial resources are having to use some of these resources every time they report, and for some people that is weekly.
"On top of that, we have some people who are so severely physically disabled, it is literally beyond their capacity to make a journey like this on public transport. Even if your connections are good, it is nearly a three hour journey.
"And possibly even more seriously, we have some very mentally unwell clients, who frankly will simply never find their way there.
"If they fail to report there are serious consequences. It can mean they lose their support, which goes on their record when they are making further applications to the Home Office."
Ms Hawes said that in a meeting organised by the Home Office after the Citizens Advice Bureau made a complaint, officials insisted that the journey was an hour and a half drive – but failed to acknowledge that none of the asylum seekers in Stoke drove or had a car.
Other parts of the country have also been affected by closures in recent years, including Portsmouth, central Bristol and Nottingham, with many asylum seekers in these cities having to travel increased distances to report to the Home Office.
People awaiting a decision on their application to remain in the UK are required to regularly sign on at their local reporting location. Frequency is determined by the Home Office but is typically set at a weekly, monthly, or six-monthly basis. Each person or family is assigned a day of the week, and a one or two-hour window in which to report.
If they arrive before or after this window they will often be turned away or forced to wait. If they fail to notify the Home Office that they will be late or can't attend on their assigned day, with sufficient evidence of the reason, they risk losing the support they are entitled to and being detained.
Diane Abbott MP, the shadow home secretary, said: "It is clear that the decision to move the reporting is causing distress and adding financial hardship to vulnerable asylum seekers.
"The Home Office cannot simply make changes that affect people's lives without first assessing the impact. Such measures are yet another display of Tory hostile environment policies."
Gareth Snell, Labour and Co-operative MP for Stoke-on-Trent Central, said: "This was a short-sighted decision that shows a complete lack of compassion or consideration for the people who are required to report regularly.
"There was no consultation with the third sector organisations that work hard to deal with the challenges faced by people with ongoing applications, which proves there was no real effort to understand the effects of the move to Salford.
"The minister's response to my queries and objections simply are not good enough."
Scott Laing, solicitor at Bhatia Best, who is threatening a judicial review against the decision, said: "It is very concerning that the Home Office have taken the decision to remove the reporting centre in Stoke.
"This has resulted in vulnerable individuals, who are in receipt of only basic support to meet their essential living needs, having to travel over 40 miles away.
"Unfortunately, the Home Office have made clear that each individual must continue to report. We act for numerous clients who are in this difficult position and urgent correspondence has been sent to the Home Office in the hope that they will reconsider the decision without the need to commence proceedings at court."
Lisa Matthews, of campaign group Right to Remain, said: "80,000 people in the UK have to regularly report at their local Home Office immigration centre.
"As well as the psychological burden that comes with reporting – [they] can be detained with each visit, and missing an appointment can go against your immigration case – travel is often an issue, even when a reporting centre is within the same city.
UK news in pictures

Show all 50
"Again, people who are further disadvantaged (childcare or health issues, destitute, etc) are particularly adversely affected. However, we have not heard anything on the scale of what is happening in Stoke."
A Home Office spokesperson said: "When taking the decision to close the immigration reporting at Stoke police station, the needs of all reportees were considered, along with the frequency of reporting being tailored to the individual and their required level of contact.
"Individuals receiving asylum support are provided with travel cards or reimbursed accordingly to ensure they are not at a financial detriment."
Register for free to continue reading
Registration is a free and easy way to support our truly independent journalism
By registering, you will also enjoy limited access to Premium articles, exclusive newsletters, commenting, and virtual events with our leading journalists
Already have an account? sign in
Join our new commenting forum
Join thought-provoking conversations, follow other Independent readers and see their replies