Ayr fairground accident: Five injured after children flung from Move It ride
Teenagers hurled from ride after seating breaks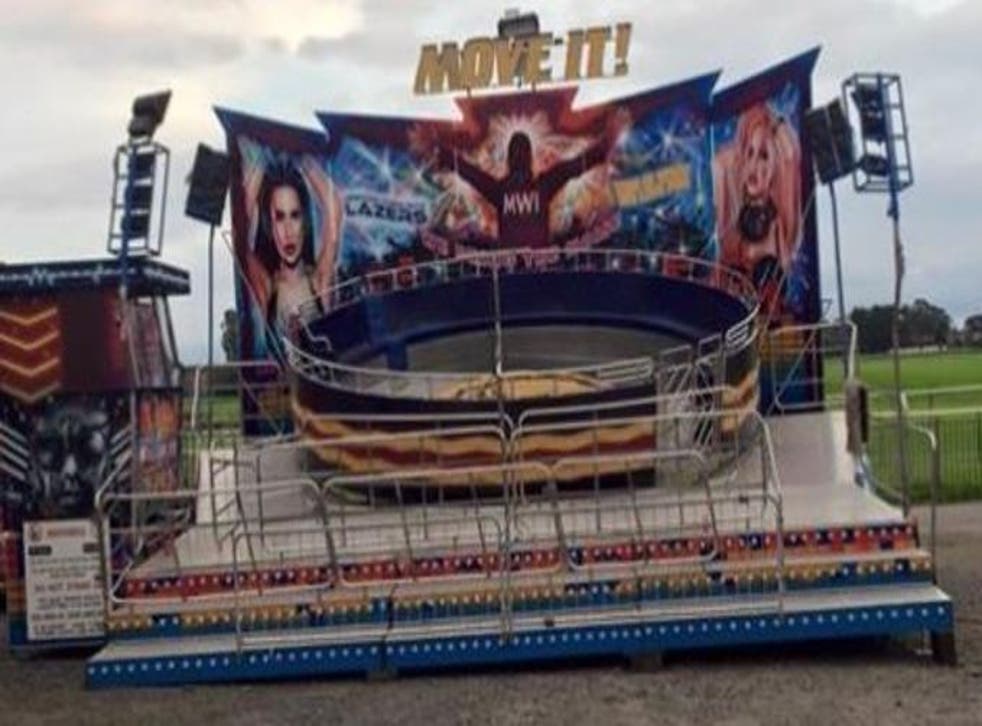 Five teenagers were taken to hospital after being thrown from a fairground ride in Ayr.
Emergency services were called to the funfair on land near to Ayr race course at around 9.30pm, Ayrshire police said in a statement.
Two teenage boys, aged 16 and 17, and three teenage girls, aged 14, 15 and 16, were taken to Ayr and Crosshouse Hospitals for treatment.
The 16-year-old boy was treated for several broken ribs and the 16-year-old girl was treated for a facial injury and a fractured wrist, police said.
The 17-year-old boy was seen for a head injury, but it was not serious. The other two teenagers also only had minor injuries.
All five have now been released from hospital.
The 'Move It Tagada' ride involves people sitting in a spinning bowl, usually without a seatbelt or restraint. On this occasion, some of the seating broke, sending people flying.
Anne Mcdonald said her two granddaughters were on the ride when the accident happened.
"They sat down and one of my granddaughters said I don't feel comfortable in this seat, she said her legs didn't feel right, so they moved to another seat, and the seat they moved from was the one that came off," she said in a post on Facebook.
She said another girl sat where her granddaughters had been sitting.
"The wee girl went flying into the paybox face first, then a boy followed," she said.
"My husband had to tell him to stay down as there was loads a blood coming from his head."
She said fairground workers quickly shut down the site, but described the aftermath of the accident on Saturday as horrible.
"I had two girls hysterical and shocked coming off that [the ride] when it stopped," she said. "It was horrible seeing so many girls and boys crying."
Chief Inspector Brian Shaw said, "This was a frightening experience for those involved and those who witnessed last night's incident at the fairground.
"Thankfully nobody was seriously injured and enquiries are underway to establish what exactly has happened here."
The best roller coasters in the world

Show all 9
He said the affected ride remained closed and cordoned off but other rides at the site – which police clarified is not part of the nearby Scottish International Airshow – re-opened on Sunday morning following a safety inspection.
"I would appeal to anyone who witnessed last night's incident and is yet to speak to police to get in touch as any information about what happened could assist with our investigation," Mr Shaw said.
A joint investigation between Police Scotland and the Health and Safety Executive will be carried out to establish the exact circumstances of the incident, Ayrshire Police Division said.
Register for free to continue reading
Registration is a free and easy way to support our truly independent journalism
By registering, you will also enjoy limited access to Premium articles, exclusive newsletters, commenting, and virtual events with our leading journalists
Already have an account? sign in
Register for free to continue reading
Registration is a free and easy way to support our truly independent journalism
By registering, you will also enjoy limited access to Premium articles, exclusive newsletters, commenting, and virtual events with our leading journalists
Already have an account? sign in
Join our new commenting forum
Join thought-provoking conversations, follow other Independent readers and see their replies