Baby wallaby hand-reared in rucksack after mother dies of pneumonia
Wildlife carer Julia Stewart says having four-month-old Riley is 'like being pregnant all over again'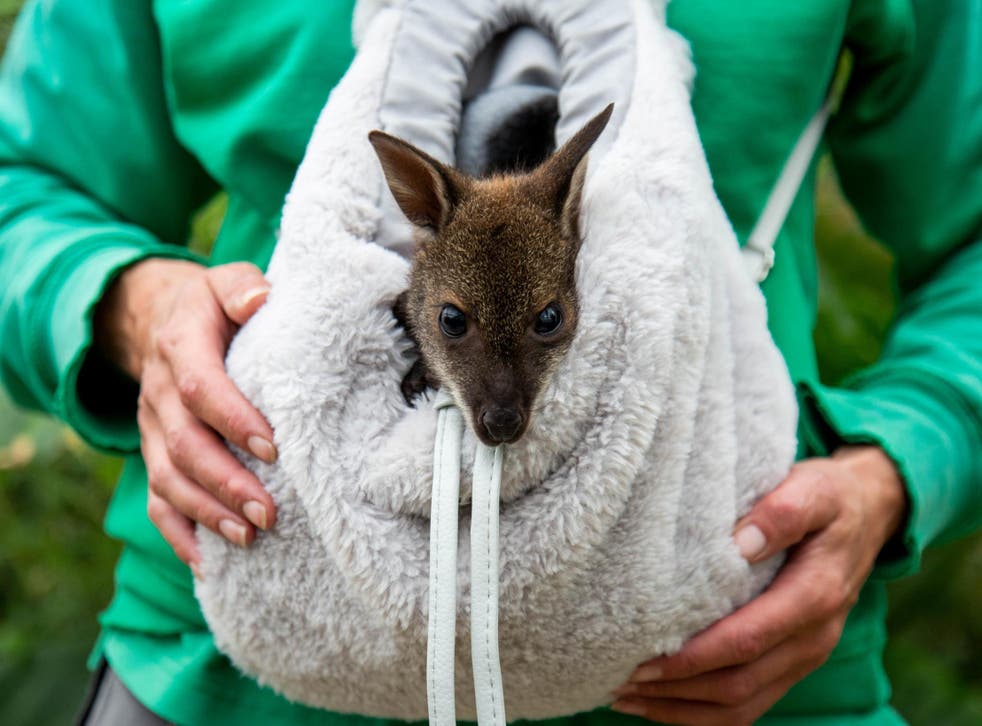 An orphaned baby wallaby is being hand-reared in a rucksack after his mother died of pneumonia.
The tiny four-month-old, named Riley, is being nurtured by wildlife carer Julia Stewart, who carries him everywhere in a furry backpack strapped to her chest.
He is allowed out of the pouch for an hour and a half a day to hop around with other wallabies at Studley Grange Butterfly World and Farm Park near Swindon, Wiltshire.
Ms Stewart, who has three grown-up children, said she was becoming attached to the joey, and that it was "like being pregnant all over again".
Riley sleeps in the bag dangling from the headboard of her bed at home, is protected by her pet collie and even has a special spot in the passenger seat of her car.
World's most endangered animals

Show all 17
He is fed every four hours and enjoys a diet of lactose-free milk, fruit, vegetables, a bit of grass, and alfalfa, a nutritional plant.
Riley's mother was found dead during daily checks two weeks ago.
Wallabies, native to Australia and New Guinea, have a lifespan of 12 to 15 years and typically spend nine months in their mother's pouch.
Ms Stewart said: "Riley's mum passed away so we created the pouch to care for him.
"He had been cold all night and didn't have any milk so we put him in a furry kids' rucksack.
Support free-thinking journalism and attend Independent events
"At the centre, I care for a lot of animals so I have to keep him away from the otters, meerkats and racoons.
"But when I'm with wallabies I let him hop around the pen so he knows he is a wallaby.
"He also has a play in the morning in the front garden of my home."
The wildlife carer said her dogs love Riley too.
She said: "My collie washes him and protects him – she worries if he goes out of sight.
"My labrador watches him because he wants to play but I've told him Riley is too small to play."
She added: "I'll keep him in the pouch for at least three months because he is still very small and then we will integrate him with the six other wallabies at the centre – two of these are his siblings."
SWNS
Join our new commenting forum
Join thought-provoking conversations, follow other Independent readers and see their replies