Ballymurphy Massacre: Inquest hopes to provide answers to families torn apart by Troubles bloodshed
Killings long blamed on British Army soldiers left 11 civilians dead on streets of Belfast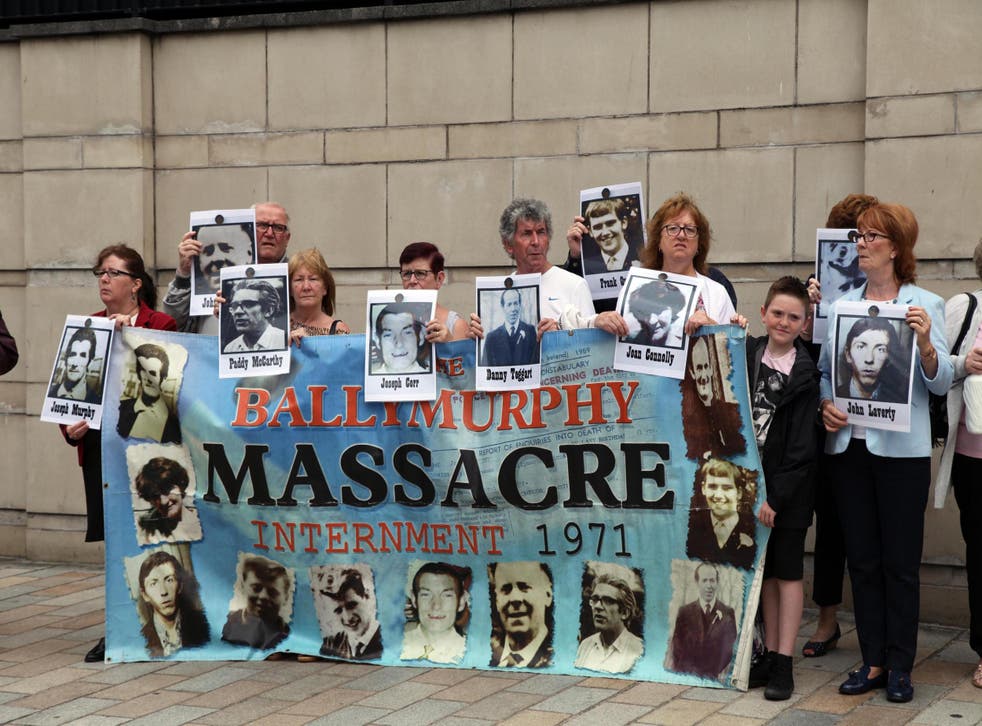 The Ballymurphy Massacre at the height of the Troubles is being revisited in a new inquest hearing due to open in September.
Presided over by Justice Siobhan Keegan at Belfast High Court, the hearing hopes to establish precisely want happened during the three-day siege in August 1971 that left 11 civilians dead, and bring closure to the families who lost loved ones.
A Channel 4 documentary, Massacre at Ballymurphy, will also air on Saturday 8 September and will revisit the incident in which 600 members of the 1st Battalion, Parachute Regiment of the British Army allegedly came under fire in a residential area of Belfast, Northern Ireland, prompting them to hit back and become engaged in a violent gun battle.
The troops, present in the country to keep the peace since 1969, had been dispatched to pick up suspected members of the Provisional IRA as part of Operation Demetrius, controversial because they were permitted to carry out internment without trial, a measure many objected to as excessive.
Although no journalists were present to record events and no press footage of their unfolding exists, the soldiers are thought to have been engaged in early morning raids - kicking in doors and dragging citizens from their beds at 5am, according to local accounts - when the shooting began.
Filmmaker Callum Macrae's new documentary explores the suggestion that British soldiers mistakenly firing on their own men might have been the true cause of the massacre.
Among those killed in the hail of bullets that followed was Father Hugh Mullan, a 38-year-old Catholic priest hit while administering the last rites to a wounded man, Bobby Clarke. Father Mullan had telephoned the nearby Henry Taggart army base to notify them of his intentions and entered the fray waving a baby grow as a white flag.
Francis Quinn, 19, was subsequently shot in the head as he came to the dying priest's aid.
Joan Connolly, a 45-year-old mother of eight, was shot in the face, likewise attempting to tend to the injured.
In all, ten died in the streets while another man, Paddy McCarthy, passed away of a heart attack shortly afterwards, apparently brought on by shock as a result of a gun being placed in his mouth in a cruel mock execution.
No forensic evidence exists to suggest that any of the victims had fired a weapon themselves.
Battle lines: 30 years of unseen 'Troubles' art

Show all 6
The British Army has long been blamed for the killings and it has been suggested that the infamous Bloody Sunday massacre in Derry on 30 January 1972, involving the same battalion, could have been averted had Ballymurphy been the subject of proper scrutiny at the time.
Whatever precisely occurred during those three days, the inquest promises to pour over the evidence and finally offer answers to those who lives were torn apart by the tragedy.
Massacre at Ballymurphy is on Channel 4 on Saturday 8 September at 9pm
Join our new commenting forum
Join thought-provoking conversations, follow other Independent readers and see their replies