Bank of England boss criticised for 'sick joke' asking workers not to demand pay rise
Downing Street also criticised the comments from the Bank of England governor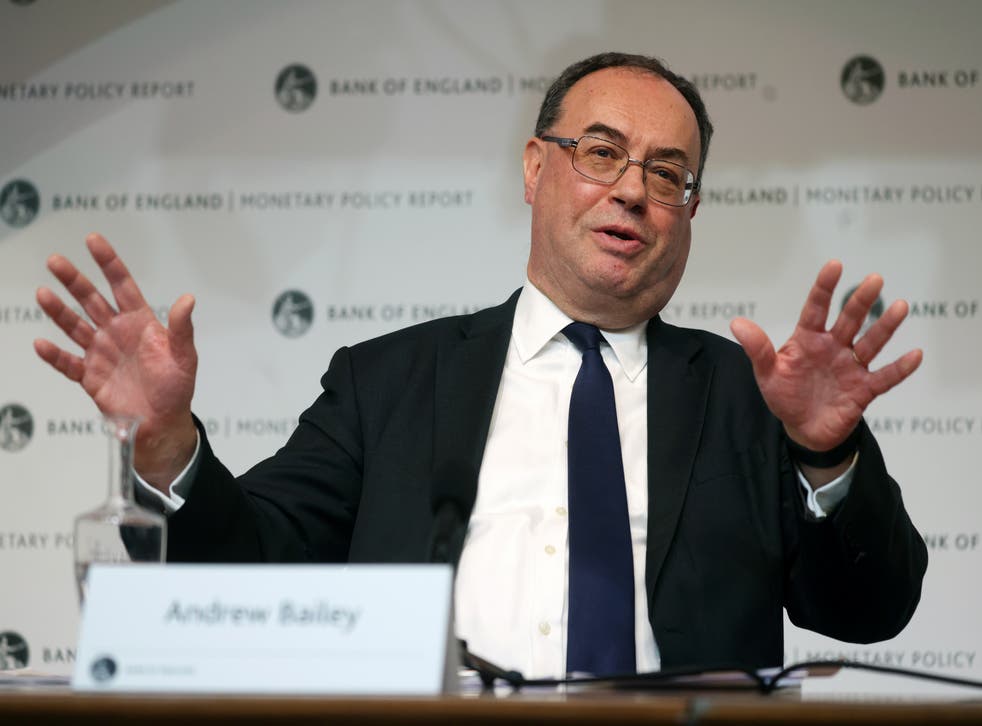 The governor of the Bank of England is under pressure following comments he made that workers should avoid asking for excessive pay rises to prevent inflation increasing further.
Andrew Bailey who took home £575,538 in pay and benefits last year, said staff should show restraint on pay, despite soaring energy bills as the cost of living crisis bites.
However, his comments were met with outrage from union leaders, as households are braced for the worst hit to their living standards in three decades as energy prices increases are set to increase by over 50 per cent causing inflation to outstrip wage growth.
Sharon Graham, the general secretary of Unite, said workers did not cause Britain's cost of living crisis and should not be asked to pay for it. "Why is it that every time there is a crisis, rich men ask ordinary people to pay for it?" she said.
"Enough is enough, we will be demanding that employers who can pay, do pay. Let's be clear, pay restraint is nothing more than a call for a national pay cut."
Andrew Bailey told BBC Radio 4's Today programme: "It is going to be a difficult period ahead, I readily admit, because we all get we are already seeing, and we're going to see, a reduction in real income.
"I'm not saying don't give yourself a pay rise. This is about the size of it (any rise)… we do need to see restraint."
But the comments have met with criticism from unions and Downing Street which said they go against Boris Johnson's ambition of a "high wage" economy.
The prime minister's official spokesman said: "It's not something that the Prime Minister is calling for.
"We obviously want a high-growth economy and we want people's wages to increase.
"We recognise the challenge of the economic picture which Andrew Bailey set out but it's not up for the government to set wages or advise the strategic direction or management of private companies."
Gary Smith, the general secretary of the GMB trade union called Mr Bailey's comments a "sick joke."
"The nerve of Mr Bailey is scarcely credible. Telling the hardworking people who carried this country through the pandemic they don't deserve a pay rise is outrageous.
"According to Mr Bailey, carers, NHS workers, refuse collectors, shop workers and more should just swallow a massive real-terms pay cut at the same time as many are having to choose between heating and eating."
Labour MP Nadia Whittome was also critical of Mr Bailey's comments and urged him to direct his guidance to people who can't pay their bills or are skipping meals to feed their children.
The governor is warning that inflation could hit 7.25 per cent by April and is unlikely to fall back to normal levels for two years. The Bank raised interest rates to 0.5 per cent on Thursday with further rises expected.
Alex Collinson, analysis and research officer at the TUC said the last 14 years have been the worst for pay in centuries.
"The comments about workers not asking for pay rises are particularly awful because of the wider context on pay. We're still in the midst of an over-decade long real pay crisis, with pay lower now than what it was in 2008. This is the longest era of pay stagnation in centuries," Mr Collinson said.
He added: "Nothing compares in recent history. It's partly why we have a cost of living crisis - people can't afford to get by. To then use that cost of living crisis to tell people not to ask for wage rises is ridiculous.
David Blanchflower, a member of the Bank's monetary policy committee between 2006 and 2009, who is critical of the central bank for raising rates, said Bailey's comments were "clueless". He added that public sector workers have seen their pay frozen for a decade under the Conservative government.
Register for free to continue reading
Registration is a free and easy way to support our truly independent journalism
By registering, you will also enjoy limited access to Premium articles, exclusive newsletters, commenting, and virtual events with our leading journalists
Already have an account? sign in
Register for free to continue reading
Registration is a free and easy way to support our truly independent journalism
By registering, you will also enjoy limited access to Premium articles, exclusive newsletters, commenting, and virtual events with our leading journalists
Already have an account? sign in
Join our new commenting forum
Join thought-provoking conversations, follow other Independent readers and see their replies