New Banksy artwork disappears within 24 hours of being spotted in Somerset town
The road sign artwork appeared overnight in Clevedon and an image of the piece was later shared by the street artist on social media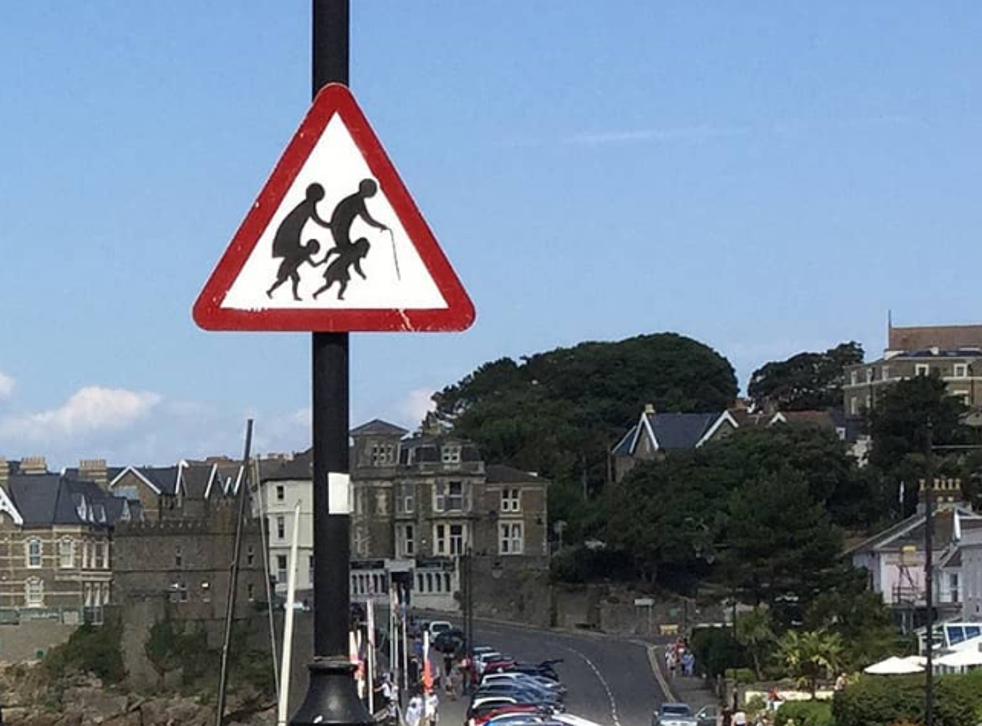 A new Banksy artwork has mysteriously disappeared less than 24 hours after it was first spotted in a sleepy Somerset town.
The artwork, a road sign depicting children carrying elderly people on their backs, was strapped to a lamppost on The Beach road in Clevedon, north Somerset.
It is believed to have been installed on Thursday night in the town which is around 13 miles from the artist's home city of Bristol.
On Friday, Banksy shared an image of the artwork on Instagram. However, just 24 hours later the piece was gone.
"The Banksy sign has now been removed... inevitable I suppose. Nice though for my home town Clevedon while it lasted," one resident, Julian Simcox, said on Twitter.
"New Banksy in Clevedon and its stolen within a day," another local speculated.
Thomas Ashley, from 5 the Beach, a cafe located just yards from the lamppost in question, confirmed to The Independent the artwork was removed overnight.
Avon and Somerset Police have been contacted for comment.
It's Banksy first stunt in Somerset since he was forced to cancel a print giveaway to people who voted against a Conservative candidate in the last general election.
Police launched an investigation after a number of complaints regarding the legality of the offer.
Register for free to continue reading
Registration is a free and easy way to support our truly independent journalism
By registering, you will also enjoy limited access to Premium articles, exclusive newsletters, commenting, and virtual events with our leading journalists
Already have an account? sign in
Register for free to continue reading
Registration is a free and easy way to support our truly independent journalism
By registering, you will also enjoy limited access to Premium articles, exclusive newsletters, commenting, and virtual events with our leading journalists
Already have an account? sign in
Join our new commenting forum
Join thought-provoking conversations, follow other Independent readers and see their replies