Barclays to discontinue its sponsorship of 'Boris Bikes' as cycle deaths on London roads increase
Kunal Dutta
Wednesday 11 December 2013 00:53 Comments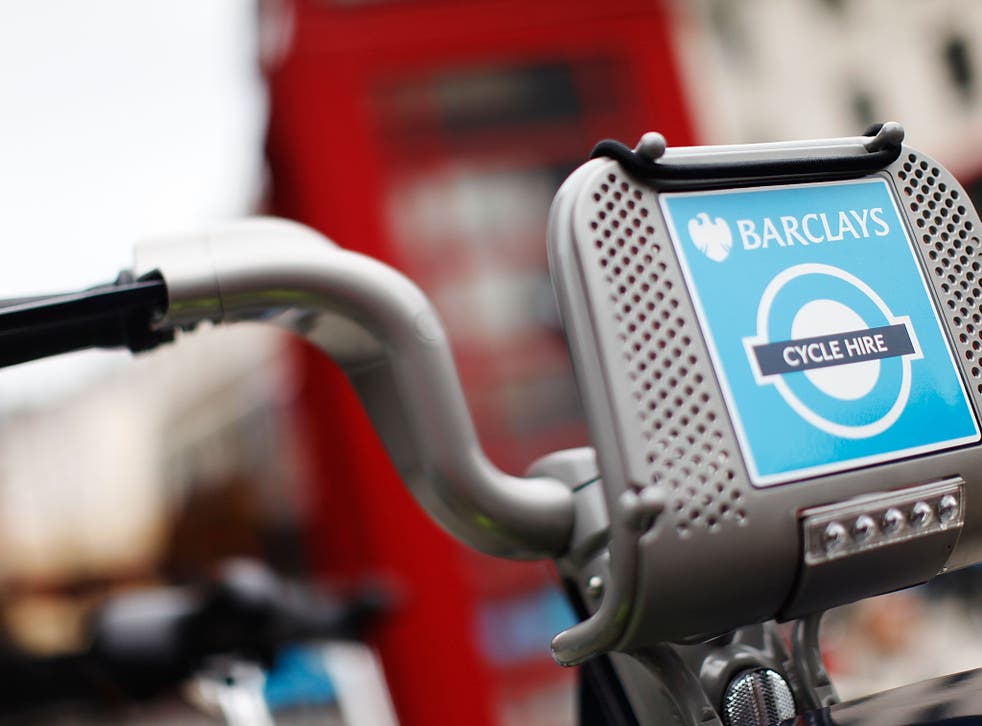 They were the gleaming pay-as-you-ride cycles designed to steer the capital towards a two-wheeled revolution. Now, just three years on, Barclays is preparing to part company with Boris Johnson's bicycle hire scheme in wake of increased public safety concerns and a mounting cycling death toll.
Barclays has confirmed plans to discontinue its sponsorship of "Boris Bikes" at the end of its contract in 2015. The move comes in wake of a strategic review of its sponsorship deals and concerns over cycling safety in the capital, following a spate of deaths in London, not least that of 20-year-old Frenchwoman Philippine Degerin-Ricard who became the first person to be killed riding a Boris Bike in August, after she was struck by a lorry on Whitechapel High Street.
Barclays said that they would be honouring the term of the contract until August 2015, and in a joint statement the bank and TfL claimed that they had mutually agreed against "an option to extend". But there is no doubt that the move comes sooner than TfL would have liked, leaving the scheme in search of a new sponsor.
The scheme was introduced to the capital amid great fanfare in 2010 and the bank's logo has been seen on the blue cycles since their introduction. A Barclays spokesman said the decision was the result of a long-term analysis of the sponsorship agreement and had nothing to do with the recent tragedies.
While some hire costs have increased, the number of riders have fallen. Figures from TfL show that 726,893 journeys were made in November 2012 - but only 514,146 the same month this year.
In a statement, TfL's Graeme Craig, said: "Barclays has not pulled out of the cycle hire sponsorship deal. After the current sponsorship deal with Barclays ends - in two years' time - the cycle sponsorship portfolio will fundamentally change. Cycle hire will become part of a much wider and larger cycling sponsorship offer encompassing cycle hire and the major new commitments made in the Mayor's cycling vision - new flagship segregated routes through the heart of London, new Quietway backstreet routes, along with cycle training and potentially other forms of active travel."
Register for free to continue reading
Registration is a free and easy way to support our truly independent journalism
By registering, you will also enjoy limited access to Premium articles, exclusive newsletters, commenting, and virtual events with our leading journalists
Already have an account? sign in
Join our new commenting forum
Join thought-provoking conversations, follow other Independent readers and see their replies