Barton Moss: The latest front line in Britain's unconventional energy revolution against fracking
Jonathan Brown meets the protesters hoping to create the spirit of Balcombe
Jonathan Brown
Wednesday 27 November 2013 18:43 Comments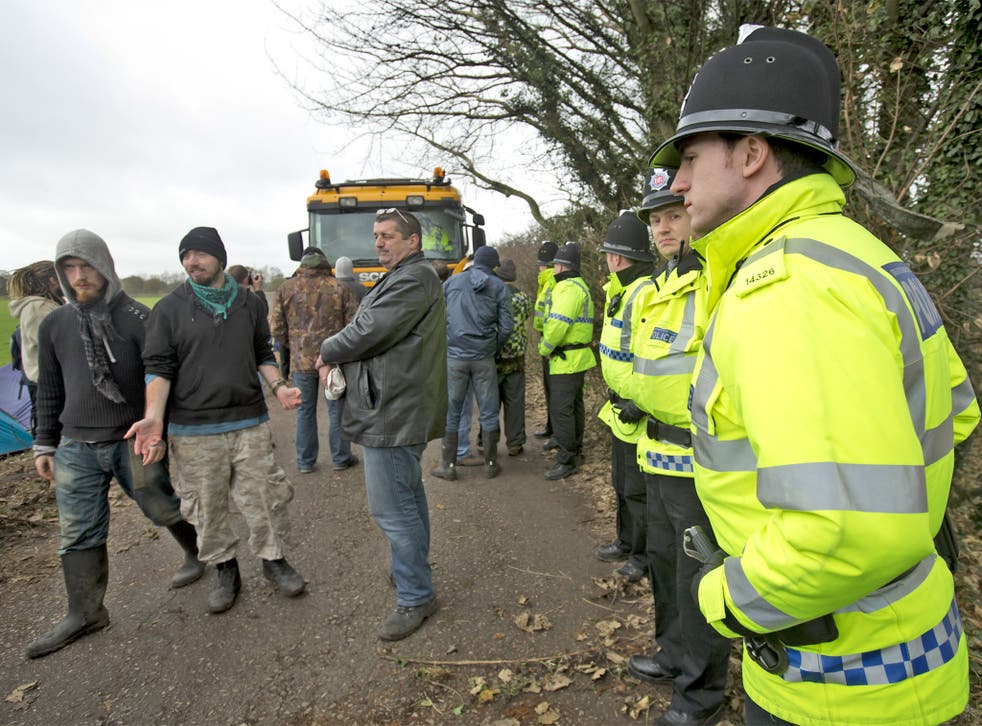 It took two hours for the lorry to make the quarter of a mile journey down Barton Moss Road today. The 50 demonstrators offered noisy resistance to the phalanx of police as they slowly but firmly cleared the path for the rig that next week will begin drilling 10,000ft down through the former peat bog and into the coal bed methane and eventually reaching shale in search of natural gas.
During the pushing and shoving three men and a woman were arrested for obstruction. Yet for those that have spent the past two weeks camping on the side of the muddy lane in thundering earshot of the M62, it was just another day in Britain's unconventional energy revolution.
Many of those that are here on the outskirts of Eccles at a spot best known as one of the original stops on the world's first inter-city railway between Liverpool to Manchester are veterans of this summer's clash between protesters and drillers down in Balcombe, West Sussex.
A two month blockade there saw energy company Cuadrilla eventually pack up its equipment and withdraw although it has since signed a new 30 year lease on the site. Policing the protest cost nearly £3m.
The south of England in glorious summer is a different proposition to windswept Salford in November but opponents of fracking say this is only the latest frontline in the bid to stop the exploitation of onshore energy across Britain.
"This is only day one. This is going to happen anywhere they try to drill," said Rachel Thompson of Frack Free Greater Manchester, one of the groups that declared today the opening of the Northern Gas Gala – mirroring tactics used at Balcombe.
IGas, partly owned by the Chinese state oil company, has been granted planning permission by Salford Council to conduct exploratory drilling for natural gas in two sites on land owned by Peel Holdings, part of a vast property to transport group which includes among its many assets the BBC's £400m new rented home at MediaCity, the Manchester Ship Canal, numerous ports and airports and, until it was sold in 2011 for £1.65bn, the Trafford Centre.
The deal with Peel allows IGas unlimited access to its portfolio of holdings in the North West of England allowing it to identify sites suitable for drilling operations with the option to permanently lease them once panning permission has been granted.
When exploratory drilling finally starts at Barton Moss, an agricultural field now enclosed behind huge steel gates and razor wire, exploration is set to begin at nearby Davyhulme, also owned by Peel.
Both are close to the company's £138m Port Salford project – itself part of the gargantuan Atlantic Gateway development which includes the £10bn regeneration of Liverpool and Birkenhead Docks.
Peel Group, which is majority owned by the Isle of Man-registered family trust of its founder, the 71-year-old tycoon John Whittaker, was criticised by MP Margaret Hodge, chair of the Public Accounts Committee in June over what she claimed were its unfair tax arrangements – a claim denied by the company.
IGas meanwhile believes there could be up to 170 trillion cubic feet of gas beneath the North West of England – the equivalent of more than 50 years of UK consumption. But the company, which has also been granted a licence to drill in the Chancellor George Osborne's Tatton constituency, says no one yet knows how much may ultimately be recoverable.
IGas has yet to be granted a licence to frack in Salford, the controversial process where gas is liberated from rock by being blasted with water and sand. Barton Moss is its first foray into coal bed or shale drilling and the company operates 100 conventional wells in Lincolnshire and Sussex.
Opponents say that based on just a four per cent extraction rate the current government licence blocks granted to IGas could eventually see it operate nearly 8,000 wells in the region – half of them engaged in fracking.
An IGas spokeswoman said the company was "saddened" by today's attempts to block the lorry. "We are working with the relevant authorities to minimise the disruption to local residents and business and continue to operate in accordance with all the necessary regulation and permitting," she added.
Meanwhile, activists prepared for another damp and cold night in the camp. Maggie Hartley, a grandmother of six, had travelled from her home at Longridge, near Preston where locals are also fighting fracking plans. "I wanted a nice quiet retirement but I can't let this go on and I'm not going to stop. It will take a long time but her are here for the long term," she said.
Register for free to continue reading
Registration is a free and easy way to support our truly independent journalism
By registering, you will also enjoy limited access to Premium articles, exclusive newsletters, commenting, and virtual events with our leading journalists
Already have an account? sign in
Register for free to continue reading
Registration is a free and easy way to support our truly independent journalism
By registering, you will also enjoy limited access to Premium articles, exclusive newsletters, commenting, and virtual events with our leading journalists
Already have an account? sign in
Join our new commenting forum
Join thought-provoking conversations, follow other Independent readers and see their replies