Batley Muhammad cartoon row: School shuts as situation 'hijacked by extremists on both sides'
School has apologised and teacher suspended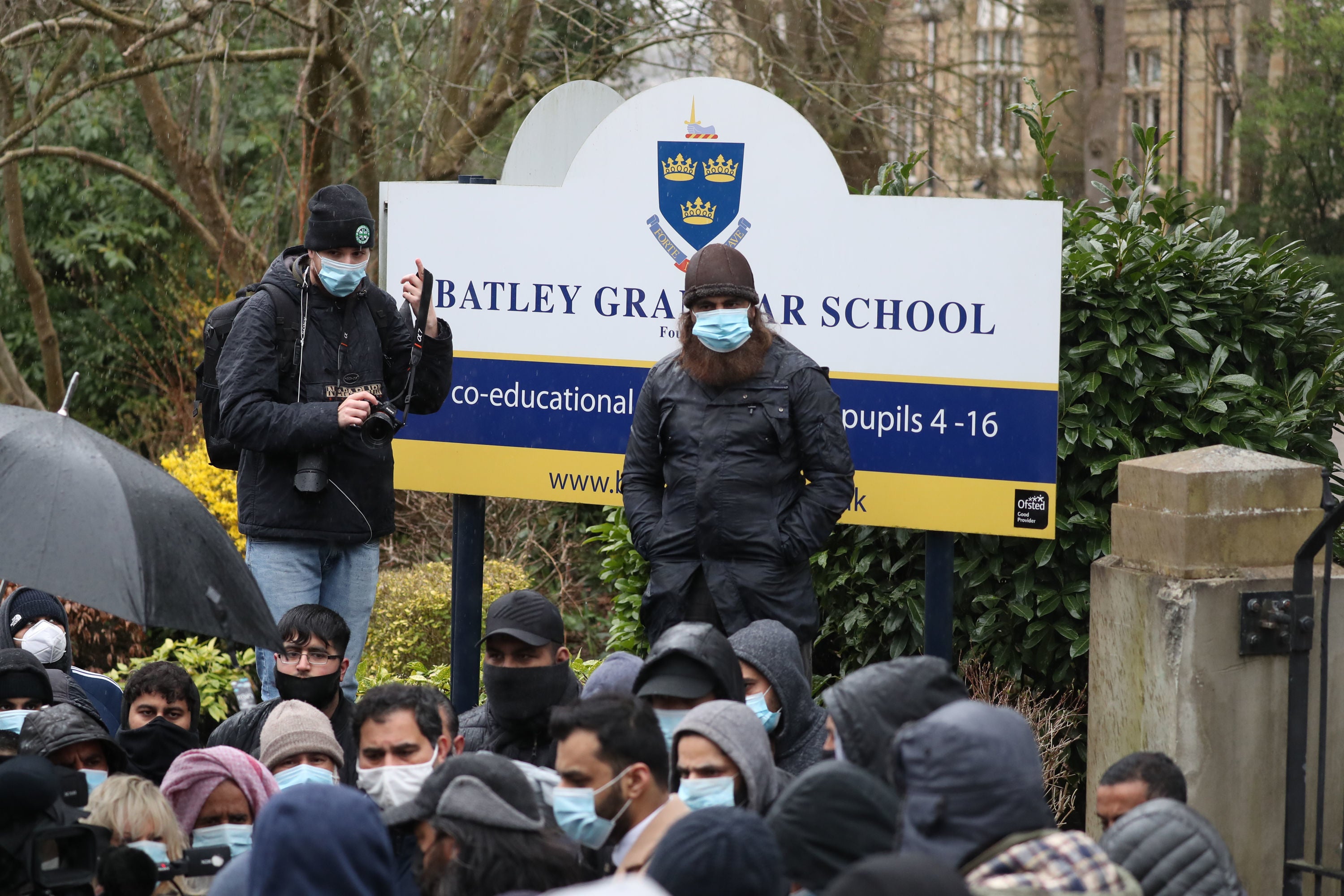 A school in West Yorkshire has closed its doors after protesters gathered outside the building for the second day, with a Conservative peer saying the matter had been "hijacked by extremists on both sides" to create a culture war.
Crowds of people, many wearing masks, were seen outside the gates of Batley Grammar School on Friday morning, with police also at the scene.
Teaching is understood to have been moved online for the day.
Friday morning's protest follows unrest outside the school on Thursday after children were shown a cartoon of the Prophet Muhammad earlier in the week, with parents complaining that the image had been taken from the French satirical magazine Charlie Hebdo.
The teacher was suspended and has since said sorry, while the school has also offered an "unequivocal" apology.
Read more:
But demonstrators – about 30 men and teenagers – said they had gathered outside the school for a second day running "to show the country Islamophobia won't be tolerated", saying that the image is "so offensive" to them.
One parent, Binyamin Abba – who has two children at the school, aged 14 and 13 – told The Independent: "This teacher must be an extremist and I want him properly suspended from the education system."
The phone shop owner, who lives in Batley, added: "[Showing the image] wasn't a mistake. He's a religious teacher. He knows what's wrong and right. He should not teach again.
And he demanded answers from the school.
"We need an inquiry: why what has happened has been allowed to happen. We we will keep protesting until that happens and until this teacher is no longer in the classroom."
Many of those there had no connection to the school but said they wnated to show the strength of feeling about the issue in the wider community.
One 25-year-old who gave his name only as Tainy said: "The person who [the teacher] is attacking here, we hold more dear to us than the air we breathe. This is how deep this is to our community.
"This teacher was a hate preacher," he added. "He was inciting hatred, and we are making our feelings known.
"If you want to teach about blasphemy, you can reference that in your lesson…You can have a conversation, you don't need to show the picture. You can talk about it without showing it."
Another demonstrator, who said he was a parent but gave his name only as Mr Hussain, told the PA news agency: "What people are trying to convey here to the media and to the British public at large is we would not like any form of extremism, any extremist viewpoints, to be taught to children."
He said the West "is at a loss in understanding the reaction" from the Muslim community when the Prophet Mohammed is "insulted in any way, shape of form".
Batley Grammar School apologised over the "inappropriate" image, which was shown during a religious studies class this week, and suspended a teacher pending an independent formal investigation.
Garry Kibble, Batley school's head teacher, said: "The member of staff has also given their most sincere apologies. We have immediately withdrawn teaching on this part of the course and we are reviewing how we go forward with the support of all the communities represented in our school."
Baroness Warsi, former chairwoman of the Conservative party, told Radio 4's Today programme on Friday that learning environments should be "positive and unifying."
"I think this is about children, it's about child safeguarding and making sure the school look again, as should every school, to ensure that every pupil in their school is being taught in a way which creates a positive, unifying learning environment.
"Unfortunately, this matter has been hijacked by extremists on both sides to kind of create this culture war. What we're forgetting in all of this is the most important party in all of this, which is the kids and their learning."
The peer said she had spoken to pupils and parents over the past 24 hours, and "it's obvious that many pupils were left distressed because of what happened".
Appearing on BBC Asian Network on Friday, Qari Asim MBE, imam at Leeds Makkah Mosque, said he sympathised with parents and pupils, as it is "not the first time offensive images have been shown", saying that teachers have a responsibility "to exercise better judgement for sensitive classroom content".
He said the key issue is that teachers must "respect whether there was any value in sharing offensive images of Prophet Mohammed", adding that he thinks protests should stop and be replaced with "constructive dialogue".
Mr Asim urged caution against people "coming in and stoking up hatred on both sides", warning: "We do not want to fan the flames of Islamophobia in all of this."
The MP for Batley and Spen, Tracy Brabin called for the welfare of pupils to be prioritised, saying: "No teacher should be facing intimidation or threats, there is no excuse for that. The focus must be on the welfare and education of the children at this school."
Ms Brabin said she welcomed the school's apology and called for conversations to proceed "in a dignified and respectful matter".
The Labour MP added: "Those who seek to fan the flames of this incident will only provoke hate and division in our community and I would encourage all involved to work together and calm the situation."
In a statement on Thursday, the Muslim Council of Britain commended the "swift and unequivocal action taken by the school to address the deep distress caused", saying the school was "right to acknowledge that the use of such materials – universally understood to be highly offensive to Muslims – is inappropriate".
Robert Jenrick, the communities secretary, condemned the "censoring" of teaching, saying: "This is a country based on free speech and teachers should be able to tackle difficult and controversial issues in the classroom – and issues should not be censored."
The minister added that he did not know "exactly what happened in the classroom", making it "difficult to comment with confidence".
Gavin Williamson, the education secretary, also intervened, with a spokesperson saying on Thursday that although the government encourage "dialogue between parents and schools" when there are issues, it is "never acceptable to threaten or intimidate teachers".
Join our commenting forum
Join thought-provoking conversations, follow other Independent readers and see their replies