Soldiers' families condemn MoD plans to make itself immune from prosecution for negligence
Law Society president warns that 'soldiers and their families must not be shut out of our justice system'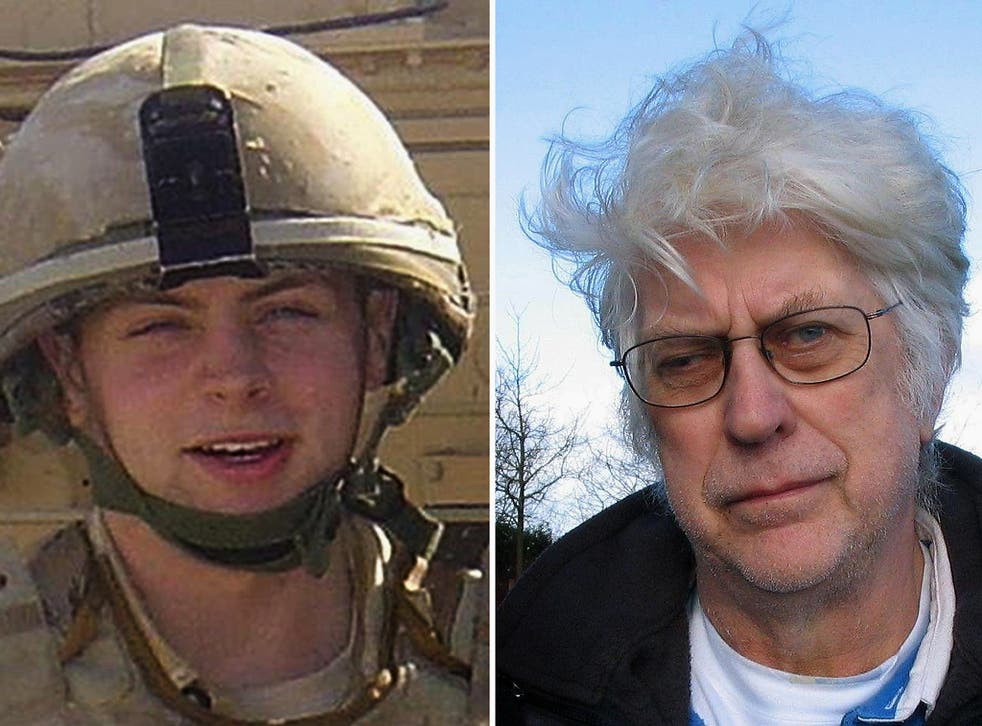 The grandfather of a soldier killed in Iraq has said government proposals to reduce legal protections for British troops are "disgusting".
New plans would prevent service personnel from suing the Ministry of Defence for negligence, leaving decisions about compensation to an MoD-appointed assessor.
David Godfrey, 73, who launched a campaign called Operation Braveheart to fight for truth and justice after the death of his grandson Rifleman Daniel Coffey, said the proposals were "appalling".
This month marks the 10th anniversary of the 21-year-old's death, which occurred when his four-vehicle patrol of Warrior and Bulldog armoured vehicles were fired on near Basra on 27 February 2007.
Asked about the proposals, Mr Godfrey, from Cullompton in Devon, told the Press Association: "I think it's absolutely disgusting, because the MoD, I believe, are shirking their responsibilities to our forces."
Referring to the MoD-appointed assessor, he said: "Well, that says a lot, doesn't it? If they appoint someone on their behalf then what chance have our soldiers got? Where are they going to get all the finances for legal battles and goodness knows what else? I think it's appalling."
The MoD plans, which are currently being consulted on, would also include a "no-fault" compensation scheme for injured troops and family members of those killed.
Last year, the Chilcot inquiry found a string of MoD failings in the preparation for the Iraq War, including a delay in replacing the lightly-armoured Snatch Land Rovers, which are vulnerable to bombs.
Mr Godfrey, who is building a memorial garden as part of Operation Braveheart, said of the MoD: "They've lost the respect of our forces, they've lost the respect of families, they've lost the respect of the public."
Lawyer Jocelyn Cockburn, of the law firm Hodge Jones & Allen, who has represented the families of some of the service personnel killed in Snatch Land Rovers, believes the proposals focus on the compensation rather than the protections that will be removed from soldiers.
She said: "The consultation proposes an extension to 'combat immunity' to cover all deaths and injuries in combat, even where the failings occurred far from the battlefield. The impact, and possibly the intention, of this change is to protect the MoD from scrutiny by the courts regarding equipment failures.
"If the MoD are immune from legal action, there is a real risk that safety standards will fall.
"It is telling that the first step by the MoD in response to the highly critical Chilcot report isn't to introduce new measures to protect soldiers, but instead measures to remove their own duty to operate a safe system of work where our troops are deployed. It is a shameful response."
Law Society president Robert Bourns said: "The Ministry of Defence wants to make it impossible for soldiers and their families to bring claims against it to court when these relate to actions in combat.
"Any claimant would only have recourse to an internal Ministry of Defence compensation scheme that would rule on cases brought against itself.
"This means cases would not be heard by an independent judge, facts would not be independently investigated, responsibility would not be established and a state institution, if liable, would not be held to account.
"Soldiers and their families must not be shut out of our justice system."
Defence Secretary Sir Michael Fallon said the changes would "remove the stress of lengthy legal action" and ensure more money for compensation.
He said: "Our armed forces put their lives on the line to keep us safe. This new scheme will mean more generous payments to anyone injured, or the families of those who are killed, in combat."
An MoD spokesman said: "This is about better compensation and, regardless of legal action, we already prioritise learning lessons from any incidents involving the safety of our personnel.
UK news in pictures

Show all 50
"Where there have been serious injuries or fatalities, we have robust systems and processes in place that allow us to record and investigate these accordingly and, in the unfortunate case of a death, the requirement for an independent inquest to determine the cause will of course remain."
Mr Bourns added: "The Law Society has a range of concerns over the proposed new definition of combat immunity. For instance, if it is inappropriately extended in this way it could cover any UK-based operation in preparation for war, such as the ordering of Snatch Land Rovers or a training exercise in the Brecon Beacons.
"A decision about equipment or training, made from a desk in Whitehall, should be subject to the same scrutiny as similar decisions about specialist training or equipment made by other employers."
Mr Bourns said the proposals create "a David and Goliath situation where the MoD would be both judge and jury", adding: "A young squaddie trying to prove that his employer failed in its duty of care could be faced by the might of the MoD, in a forum defined and run by that same employer."
Geraldine McCool, a specialist lawyer who leads the military team at law firm Irwin Mitchell, said: "The priority has to be on getting the best outcome for our troops. On occasion that will be compensation provided by the new proposed scheme. In other instances that may be via a civil case against the MoD brought by a specialist legal team on behalf of the injured soldier.
"Rather than excluding soldiers from bringing civil claims against the MoD by legislation, they should give soldiers affected the choice of how they want to proceed. Some may feel they want to enter into the MoD scheme, others may want a more independent view at what has happened to them and may want a lawyer to help investigate for them or advise on the adequacy of the compensation they are offered under the new scheme."
She added: "The MoD is proposing that it will decide itself which cases should be covered by combat immunity and those solders would be forced into a compensation scheme with no independent view from their own lawyers - this will include other instances of negligence, not just those injuries sustained on the battlefield.
"Without full independent scrutiny, where is the incentive for the MoD to ensure that it doesn't cut costs too far in terms of the quality and scale of equipment available?
"We have already seen major issues with transport vehicles and body armour in recent years. There are serious concerns that, by closing the door to potential legal action, it removes this level of independent scrutiny which keeps our soldiers safe."
Press Association
Join our new commenting forum
Join thought-provoking conversations, follow other Independent readers and see their replies