'It's not ok at all': BBC captions Dawn Butler's name underneath image of different black MP
'This is what happens when the media does not represent the society it reports on,' says MP Marsha de Cordova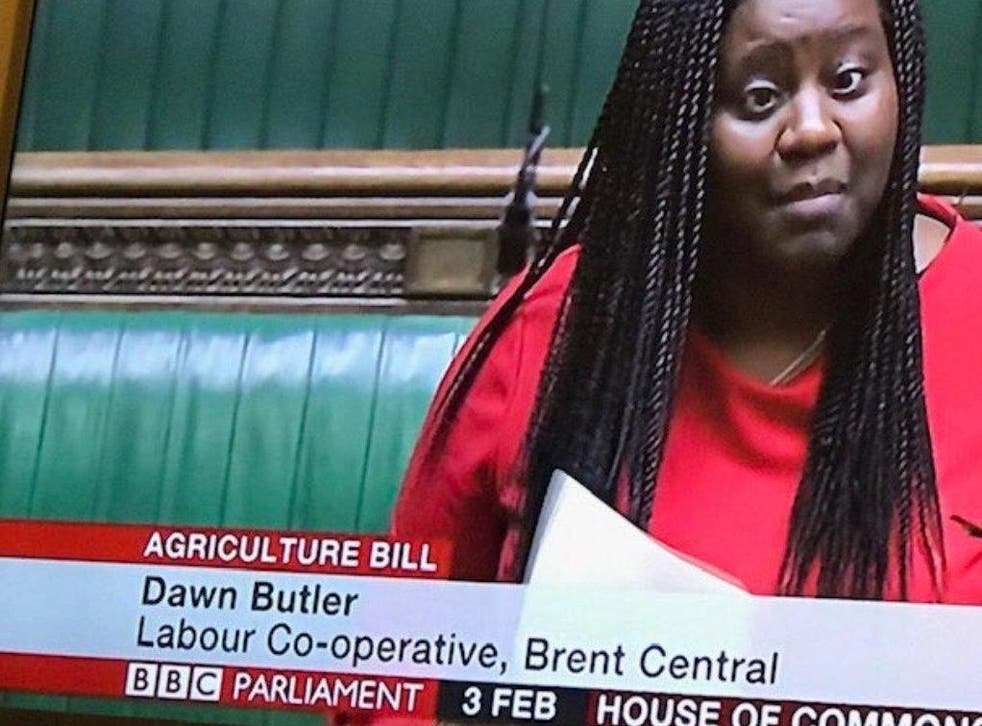 Labour MPs Dawn Butler and Marsha de Cordova have called out the BBC for a lack of diversity after the broadcaster mistakenly used Ms Butler's name while broadcasting a clip of Ms Cordova on television.
Ms Butler tweeted an image of the blunder on Monday evening and said: "I love my sister @MarshadeCordova but we are two different people. Marsha is amazing and deserves to be called by her own name.
"Diversity in the workplace matters, it also helps to avoid making simple mistakes like this," she added.
Ms Cordova, who is a Labour MP for Battersea and a disability rights campaigner, said: "This is what happens when the media does not represent the society it reports on.
"Representation matters. Diversity matters. This cannot continue."
UK news in pictures

Show all 50
She added in tweet early on Tuesday morning: "It's not ok at all."
BBC Parliament, which aired the clip, apologised on Twitter several hours later and said: "We sincerely apologise for this mistake. Sometimes we incorrectly identify MPs at the moment when they stand to speak.
"This error was immediately corrected on screen."
The mistake comes just over a week after the BBC used footage of LeBron James while reporting on the death of basketball legend Kobe Bryant, who died on 26 January.
An on-air apology was later issued by Paul Royall, editor of BBC News at Six and Ten, who said it was a case of "human error".
He said: "In tonight's coverage of the death of Kobe Bryant we mistakenly used pictures of LeBron James in one section of the report.
"We apologise for this human error which fell below our usual standards on the programme."
The mix-up drew ire from social media users, who called the broadcaster "ignorant" and "appalling".
Dr Shola Mos-Shogbamimu, a political and women's rights activist and lawyer, said: "Clearly there's no threshold of shame for @BBC to keep demonstrating an ineptitude worthy of an institutionally dysfunctional organisation projecting bias and feeding negative stereotypes.
"Black. People. Are. Not. The. Same."
Journalist and author Gary Younge, who has written about being mistaken for Tottenham MP David Lammy in the street, also weighed in on the matter and said: "For the love of God. These aren't old mistakes – they are the same old mistakes.
"It's not as if there are so many non-white MPs, candidates and knights of the realm that they cannot keep it straight."
In its reporting of the BBC gaffe, the Evening Standard was also put in the firing line after it used a photo of shadow immigration minister Bell Ribeiro-Addy on its social media instead of Ms Cordova.
The newspaper apologised after the mistake was pointed out by journalist Omar Baggili on Twitter and said: "It had been wrongly captioned by one of our picture suppliers, Getty Images. We have apologised to both @MarshadeCordova and @BellRibeiroAddy this morning."
Mr Lammy criticised the Evening Standard's oversight and called for more diversity in newsrooms. He said: "This cannot go on. Black people are not all the same. We need more diversity in our newsrooms."
Join our new commenting forum
Join thought-provoking conversations, follow other Independent readers and see their replies