BBC's Sebastian Gorka interview prompts disbelief as national security adviser says US will be ready to act
'When a group of people repeatedly say that they want to kill you sooner or later you should take them seriously'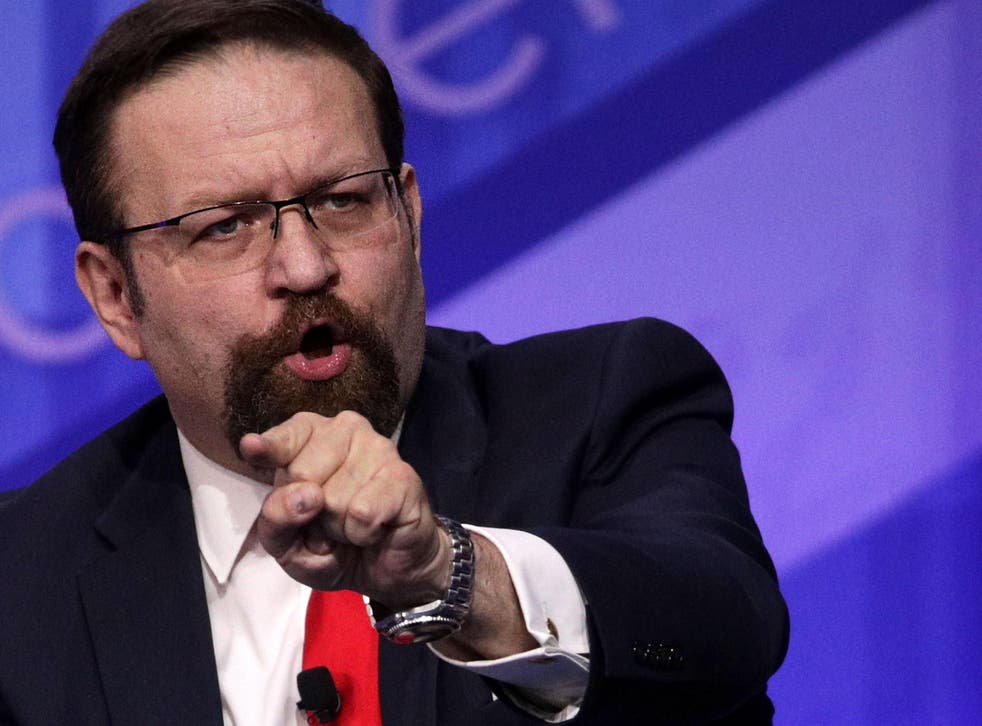 One of Donald Trump's national security advisers gave a "terrifying" interview on British radio, prompting disbelief among listeners.
Sebastian Gorka, the deputy assistant to the US President, told Radio 4's Today programme that the threats from North Korea should be taken "seriously" and that there should be no doubts about the Trump's administration "decisiveness" when time will come to act.
A hardliner in the White House, Mr Gorka also dismissed the idea that Secretary of State Rex Tillerson would discuss military matters with North Korea as "nonsensical".
He made the comments after Mr Tillerson sought to downplay the escalating diplomatic crisis by saying Americans "should sleep well at night" and seemed to suggest there still was the possibility of dialogue between the two countries.
Mr Gorka said: "The idea that Secretary Tillerson is going to discuss military matters is simply nonsensical. It is the job of Secretary Mattis, the Secretary of Defense to talk about the military options and he has done so unequivocally.
"Secretary Tillerson is the chief diplomat of the United States and it is his portfolio to handle those issues."
When asked whether the US would interpret as war a threatening action by North Korea, Mr Gorka said: "If you threaten a nation then what should you expect? A stiffly worded letter to be sent by Korea? Is that what the UK would do if a nation threatened a nuclear-tipped missile launch against any of the United Kingdom's territories?"
Mr Gorka was asked to clarify whether this would apply solely to an attack, or also to the threat of it.
"Well, there is a quote that I use when I'm teaching my courses on brand strategy," he said. "It's from a survivor of the Holocaust who had his whole family whipped out in the death chambers of the concentration camps.
"'What is your one taker? What is your one lesson learnt from the horrors of the millions killed?' And he said that it is very simple: when a group of people repeatedly say that they want to kill you sooner or later you should take them seriously.
World news in pictures

Show all 50
"North Korea has said they wish to annihilate the United States and use nuclear weapons. Sooner or later someone should take them seriously," he added.
Mr Gorka said the US would "not give in to nuclear blackmail".
Asked whether he believed Mr Trump would be "ready to act" against North Korea, Mr Gorka replied: "I'm saying Donald Trump has been unequivocal. We will use any appropriate measures to protect the United States and her citizens".
He said the Trump administration will not "telegraph" how it will react to future scenarios but that the US has sent "a clear message": "Do not challenge the United States because you will pay a cost if you do so."
Mr Gorka added that the Trump administration had been "decisive from day one" and that no-one needed "to worry about our decisiveness".
Social media users were quick to react to the interview.
Pippa Sturt tweeted: "Sebastian Gorka on #radio4today terrifying & horribly pompous. If that is with whom Trump is surrounding himself, we really are screwed."
Lee Jones added: "The idea of Sebastian Gorka teaching students is almost as frightening as Trump having control of nuclear weapons. #r4today"
Register for free to continue reading
Registration is a free and easy way to support our truly independent journalism
By registering, you will also enjoy limited access to Premium articles, exclusive newsletters, commenting, and virtual events with our leading journalists
Already have an account? sign in
Register for free to continue reading
Registration is a free and easy way to support our truly independent journalism
By registering, you will also enjoy limited access to Premium articles, exclusive newsletters, commenting, and virtual events with our leading journalists
Already have an account? sign in
Join our new commenting forum
Join thought-provoking conversations, follow other Independent readers and see their replies