BBC viewers baffled as news presenter Simon McCoy mistakes printing paper for iPad - but unflappable professional soldiers on
51-year-old has previous when it comes to on camera lapses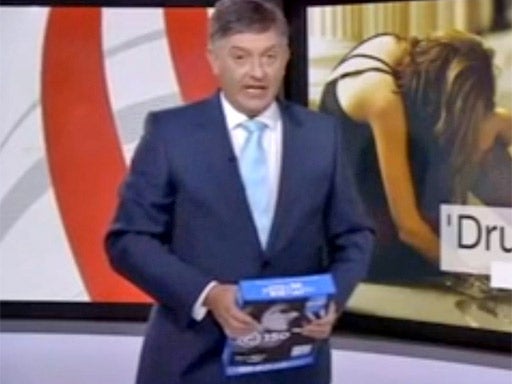 Nothing stands between a BBC News anchor and a story. After a brief checklist before going on air - is the tie is straight and teeth free of spinach? – they grab their iPad and go live.
But this morning, in a graphic and embarrassing illustration of the perils of rolling news, a BBC presenter mistook his top of the range tablet for a ream of photocopier paper and was left to read the news clutching only blank pages.
Ever the professional, BBC news presenter Simon McCoy bravely soldiered on and presented his piece to camera on police proposals for "drunk tanks" at 10.01am while clutching the copier paper. Meanwhile, observers commented on the "calm and unflappable" nature of his body language.
"Why is @simonmccoy using a pack of printer paper as his iPad???" tweeted the BBC Radio1 Newsbeat reporter Steve Holden.
The 51-year-old presenter has previous when it comes to on camera lapses. In March last year he was seen "resting his head" on the BBC News desk before suddenly sitting bold upright as he attempted to regain his composure next to co-presenter Martine Croxall.
"I was not asleep," he protested at the time. "It was a long desk head-banging that wasn't meant to be picked in the BBC1 opt!!." He later courted controversy when he said of Prince George's birth: "None of this is news, of course, but that won't stop us."
The corporation – ever alive to the potential for bad publicity from the "photocopier paper incident" – released a statement on today's events.
It said: "This morning as Simon McCoy was preparing to introduce this story, instead of picking up his tablet to hold as he went to air, he mistakenly picked up a ream of paper that was sitting next to it.
"In the rush of live news, he didn't have an opportunity to swap the items, so simply went with it."
The latest rolling news gaffe followed the BBC consumer affairs correspondent Karen Bowerman interviewing what she thought was IT journalist Guy Kewney about the legal battle between the Beatles' Apple Corps and Apple Computer Inc over the use of the symbol as the logo in 2007. But her guest was in fact taxi driver Guy Goma.
The gaffe was worthy of fictional Anchorman broadcaster Ron Burgundy. Indeed, Mr McCoy later seemed to acknowledge he had had his Burgundy moment. "Stay classy, United Kingdom," he tweeted.
Join our commenting forum
Join thought-provoking conversations, follow other Independent readers and see their replies